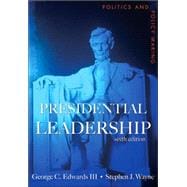 Presidential Leadership : Politics and Policy Making
by
EDWARDS/WAYNE
Questions About This Book?
What version or edition is this?
This is the 6th edition with a publication date of 8/8/2002.
What is included with this book?
The New copy of this book will include any supplemental materials advertised. Please check the title of the book to determine if it should include any CDs, lab manuals, study guides, etc.
Summary
From routine operations to the workings of a White House in crisis, this comprehensive, best-selling text examines all facets of the presidency in rich detail. George C. Edwards and Stephen J. Wayne use an engaging combination of analytical prose and timely, fascinating examples to examine the presidency from two theoretical standpoints--the President as "facilitator," and the President as "director of change." Their theoretical (versus chronological) approach, combined with the currency and relevance of the material covered in the text, have made PRESIDENTIAL LEADERSHIP: POLITICS AND POLICY MAKING the most comprehensive and best-selling text available today for your presidential studies course.
Table of Contents
Preface
xvi

| | |
| --- | --- |
| | Presidential Leadership: An Introduction |

1
(27)
2
(4)

| | |
| --- | --- |
| | The Creation of the Institution |

3
(1)
4
(2)

| | |
| --- | --- |
| | The Evolution of the Presidency |

6
(5)
6
(1)
7
(2)
9
(2)

| | |
| --- | --- |
| | Problems of Contemporary Leadership |

11
(2)

| | |
| --- | --- |
| | Approaches to Studying the Presidency |

13
(6)
14
(1)
15
(1)
16
(1)
17
(1)
18
(1)

| | |
| --- | --- |
| | Orientation and Organization of This Book |

19
(5)

| | |
| --- | --- |
| | Thinking About Leadership: Two Perspectives |

19
(3)
22
(1)
23
(1)
24
(1)
25
(3)
28
(32)

| | |
| --- | --- |
| | The Evolution of the System |

29
(3)

| | |
| --- | --- |
| | Changes in the Political Arena |

32
(12)
32
(3)
35
(3)
38
(6)

| | |
| --- | --- |
| | The Quest for the Nomination: A Strategic Gameplan |

44
(3)
45
(1)
46
(1)
46
(1)

| | |
| --- | --- |
| | The Noncompetitive Phase of the Nomination Process |

47
(8)

| | |
| --- | --- |
| | Launching the Presidential Campaign: The National Conventions |

50
(4)

| | |
| --- | --- |
| | Characteristics of the Nominees |

54
(1)
55
(1)
56
(1)
56
(1)
57
(1)
58
(2)

| | |
| --- | --- |
| | The Presidential Election |

60
(40)

| | |
| --- | --- |
| | The Strategic Environment |

61
(17)
61
(5)
66
(4)
70
(5)
75
(3)

| | |
| --- | --- |
| | The Presidential Campaign |

78
(9)
79
(2)
81
(1)

| | |
| --- | --- |
| | Projecting a Partisan Appeal |

82
(1)

| | |
| --- | --- |
| | Building a Winning Coalition |

83
(1)
84
(3)

| | |
| --- | --- |
| | The Meaning of the Election |

87
(7)
87
(2)
89
(3)
92
(1)

| | |
| --- | --- |
| | Converting the Electoral Coalition for Governance |

93
(1)
94
(1)
95
(1)
95
(1)
96
(1)
96
(4)

| | |
| --- | --- |
| | The President and the Public |

100
(53)

| | |
| --- | --- |
| | Understanding Public Opinion |

101
(5)
101
(1)
102
(2)

| | |
| --- | --- |
| | Presidential Election Results |

104
(1)
104
(1)

| | |
| --- | --- |
| | Acting Contrary to Public Opinion |

105
(1)

| | |
| --- | --- |
| | Public Expectations of the President |

106
(6)
107
(3)

| | |
| --- | --- |
| | Contradictory Expectations |

110
(2)

| | |
| --- | --- |
| | Public Approval of the President |

112
(12)
113
(1)
113
(1)
114
(1)

| | |
| --- | --- |
| | The Persistence of Approval |

115
(1)
116
(2)
118
(1)
119
(1)
119
(1)

| | |
| --- | --- |
| | Hot Button Issue: Why Was Bill Clinton So Popular When No One Seemed to Like Him? |

120
(2)
122
(2)
124
(21)

| | |
| --- | --- |
| | Direct Opinion Leadership |

124
(4)
128
(3)
131
(3)
134
(4)

| | |
| --- | --- |
| | Success of Opinion Leadership |

138
(3)

| | |
| --- | --- |
| | The Presidency in Action: Just How Persuasive Was ``The Great Communicator''? |

141
(1)
142
(3)
145
(1)
145
(1)
146
(1)
146
(1)
147
(6)

| | |
| --- | --- |
| | The President and the Media |

153
(37)

| | |
| --- | --- |
| | The Evolution of Media Coverage |

154
(1)

| | |
| --- | --- |
| | Relations Between the President and the Press |

155
(11)

| | |
| --- | --- |
| | The Presidency in Action: The President Assesses the Press |

156
(1)

| | |
| --- | --- |
| | The White House Press Corps |

156
(1)

| | |
| --- | --- |
| | The Presidential Press Operation |

157
(2)

| | |
| --- | --- |
| | The Presidential Press Conference |

159
(2)
161
(4)
165
(1)

| | |
| --- | --- |
| | Press Coverage of the President |

166
(11)
167
(2)
169
(4)
173
(4)
177
(6)

| | |
| --- | --- |
| | Setting the Public's Agenda |

177
(1)
178
(1)

| | |
| --- | --- |
| | Limiting the President's Options |

179
(1)

| | |
| --- | --- |
| | Hot Button Issue: The Rush to Judgment |

180
(1)

| | |
| --- | --- |
| | Undermining the President |

181
(1)
182
(1)
183
(1)
183
(1)
184
(1)
184
(1)
185
(5)
190
(33)

| | |
| --- | --- |
| | Organizing Executive Advice |

191
(9)

| | |
| --- | --- |
| | The Evolution of the Cabinet |

191
(4)

| | |
| --- | --- |
| | The Creation of a Presidential Bureaucracy |

195
(3)

| | |
| --- | --- |
| | Consequences of Structural Change |

198
(2)

| | |
| --- | --- |
| | Providing a Presidential Staffing System |

200
(16)
200
(1)

| | |
| --- | --- |
| | The Personalized White House, 1939 to 1960 |

201
(1)

| | |
| --- | --- |
| | The Institutionalized White House, 1960 to the Present |

202
(7)

| | |
| --- | --- |
| | Trends in White House Staffing |

209
(2)

| | |
| --- | --- |
| | Hot Button Issue: The Privacy of Internal Communications |

211
(1)

| | |
| --- | --- |
| | The Growth of the Vice Presidency |

212
(4)
216
(2)
218
(1)
219
(1)
219
(1)
220
(1)
220
(3)

| | |
| --- | --- |
| | Presidential Decision Making |

223
(29)
224
(1)
225
(1)

| | |
| --- | --- |
| | Organization and Style of Decision Making |

226
(7)
226
(2)

| | |
| --- | --- |
| | The Presidency in Action: Getting a New Chief of Staff |

228
(1)
229
(1)
230
(2)
232
(1)

| | |
| --- | --- |
| | Relationships with Advisers |

233
(5)

| | |
| --- | --- |
| | Disagreeing with the President |

233
(2)
235
(1)
236
(1)
236
(1)
237
(1)
237
(1)

| | |
| --- | --- |
| | Hot Button Issue: What Difference Does the Decision-Making Process Make? |

238
(1)

| | |
| --- | --- |
| | Bureaucratic Politics and Decision Making |

238
(10)

| | |
| --- | --- |
| | Organizational Parochialism |

239
(2)

| | |
| --- | --- |
| | Maintaining the Organization |

241
(2)

| | |
| --- | --- |
| | Organizational and Personal Influence |

243
(2)
245
(3)
248
(1)
249
(1)
249
(1)
249
(1)
250
(2)

| | |
| --- | --- |
| | The Psychological Presidency |

252
(33)

| | |
| --- | --- |
| | Qualifications for Office |

253
(1)

| | |
| --- | --- |
| | Social and Political Background |

254
(1)

| | |
| --- | --- |
| | Physical Attributes and General Health |

255
(4)

| | |
| --- | --- |
| | Psychological Orientation |

259
(5)
259
(4)

| | |
| --- | --- |
| | Hot Button Issue: How Important is Character? |

263
(1)
264
(9)
264
(4)
268
(5)
273
(3)

| | |
| --- | --- |
| | White House Staff Relationships |

276
(3)
279
(1)
280
(1)
280
(1)
280
(1)
281
(4)

| | |
| --- | --- |
| | The President and the Executive Branch |

285
(45)

| | |
| --- | --- |
| | Lack of Attention to Implementation |

287
(1)

| | |
| --- | --- |
| | Communication of Presidential Decisions |

288
(7)

| | |
| --- | --- |
| | The Presidency in Action: The National Performance Review |

289
(1)
290
(2)
292
(2)
294
(1)
295
(7)
295
(1)
295
(4)
299
(2)

| | |
| --- | --- |
| | Hot Button Issue: The Use of Executive Orders to Bypass Congress |

301
(1)
302
(1)
302
(11)
303
(1)

| | |
| --- | --- |
| | Bureaucratic Responsiveness to the President |

304
(3)
307
(5)
312
(1)

| | |
| --- | --- |
| | The Bureaucratic Structure |

313
(6)

| | |
| --- | --- |
| | Standard Operating Procedures |

314
(1)
315
(4)
319
(3)
322
(1)
323
(1)
323
(1)
324
(1)
324
(6)

| | |
| --- | --- |
| | The President and Congress |

330
(47)

| | |
| --- | --- |
| | Formal Legislative Powers |

331
(1)

| | |
| --- | --- |
| | Sources of Conflict between the Executive and Legislative Branches |

332
(4)
333
(1)
333
(2)

| | |
| --- | --- |
| | Information and Expertise |

335
(1)
335
(1)
336
(1)
336
(11)

| | |
| --- | --- |
| | Party Support of the President |

336
(1)
337
(10)
347
(3)
348
(2)
350
(1)

| | |
| --- | --- |
| | Evaluating Strategic Position |

350
(2)

| | |
| --- | --- |
| | Presidential Legislative Skills |

352
(14)
353
(2)
355
(1)
356
(2)
358
(1)
359
(1)
360
(1)
361
(2)
363
(1)
364
(1)
364
(1)

| | |
| --- | --- |
| | The Presidency in Action: Bill Clinton Tries to Define Himself |

365
(1)

| | |
| --- | --- |
| | The Impact of Legislative Skills |

366
(1)
366
(4)

| | |
| --- | --- |
| | Hot Button Issue: The Line-Item Veto |

368
(2)
370
(2)
372
(1)
372
(1)
373
(1)
373
(4)

| | |
| --- | --- |
| | The President and the Judiciary |

377
(30)
378
(10)

| | |
| --- | --- |
| | Selection of Lower-Court Judges |

378
(2)

| | |
| --- | --- |
| | Backgrounds of Lower-Court Judges |

380
(3)

| | |
| --- | --- |
| | Selection of Supreme Court Justices |

383
(3)

| | |
| --- | --- |
| | Characteristics of Justices |

386
(2)

| | |
| --- | --- |
| | President-Supreme Court Relations |

388
(6)
388
(3)

| | |
| --- | --- |
| | The Presidency in Action: Bill Clinton Decides Not to Pack the Courts |

391
(1)
391
(1)

| | |
| --- | --- |
| | Enforcing Court Decisions |

392
(2)
394
(1)
394
(6)
395
(2)

| | |
| --- | --- |
| | Hot Button Issue: Is the President Immune from Lawsuits? |

397
(1)

| | |
| --- | --- |
| | Deference to the President |

398
(2)
400
(2)
402
(1)
402
(1)
402
(1)
403
(1)
404
(3)
407
(33)

| | |
| --- | --- |
| | The Development of a Policy Role |

408
(4)

| | |
| --- | --- |
| | Institutionalizing Presidential Initiatives |

409
(1)

| | |
| --- | --- |
| | Chancing Policy Environment |

410
(2)

| | |
| --- | --- |
| | The Office of Management and Budget and the Executive Branch |

412
(8)

| | |
| --- | --- |
| | Exercising Central Clearance |

412
(2)

| | |
| --- | --- |
| | Coordinating Executive Advice |

414
(2)
416
(1)

| | |
| --- | --- |
| | Reviewing Agency Regulations |

416
(1)

| | |
| --- | --- |
| | Presenting an Annual Program |

417
(3)

| | |
| --- | --- |
| | The Domestic Policy Office and the White House |

420
(3)
421
(2)
423
(1)

| | |
| --- | --- |
| | Strategies for Policy Making |

423
(12)

| | |
| --- | --- |
| | Accommodating External Forces |

423
(3)
426
(6)

| | |
| --- | --- |
| | The Presidency in Action: The President Gets His Education |

432
(3)
435
(1)
436
(1)
436
(1)
437
(1)
438
(2)

| | |
| --- | --- |
| | Budgetary and Economic Policy Making |

440
(36)
441
(5)

| | |
| --- | --- |
| | The Battle of the Budget: President versus Congress |

446
(3)
449
(9)
449
(1)

| | |
| --- | --- |
| | The Office of Management and Budget |

450
(4)

| | |
| --- | --- |
| | The Executive Departments and Agencies |

454
(1)
455
(3)

| | |
| --- | --- |
| | Presidential Leadership and the Budget |

458
(2)

| | |
| --- | --- |
| | Domestic Economic Policy Making |

460
(3)

| | |
| --- | --- |
| | Foreign Economic Policy Making |

463
(2)
465
(3)

| | |
| --- | --- |
| | The Department of the Treasury |

465
(1)

| | |
| --- | --- |
| | The Federal Reserve Board |

465
(1)

| | |
| --- | --- |
| | The Council of Economic Advisers |

466
(1)

| | |
| --- | --- |
| | The Office of Management and Budget |

467
(1)

| | |
| --- | --- |
| | International Economic Advisers |

467
(1)

| | |
| --- | --- |
| | The Coordination of Economic Advice |

468
(2)

| | |
| --- | --- |
| | The Politics of Economic Policy Making |

470
(1)
471
(2)
473
(1)
473
(1)
473
(1)
474
(2)

| | |
| --- | --- |
| | Foreign and Defense Policy Making |

476
(28)

| | |
| --- | --- |
| | Constitutional and Statutory Authority |

477
(11)
477
(1)
478
(10)

| | |
| --- | --- |
| | The Expansion of a Policy-Making Role |

488
(5)

| | |
| --- | --- |
| | Incentives for Presidential Leadership |

488
(2)

| | |
| --- | --- |
| | Policy Goals and Presidential Success: The Two Presidencies Thesis |

490
(3)

| | |
| --- | --- |
| | The Development of an Advisory System |

493
(5)

| | |
| --- | --- |
| | The Executive Departments |

493
(2)

| | |
| --- | --- |
| | The National Security Council |

495
(1)

| | |
| --- | --- |
| | The Special Assistant for National Security Affairs |

496
(2)

| | |
| --- | --- |
| | Assessing the Advisory System |

498
(1)
499
(1)
500
(1)
500
(1)
501
(1)
502
(2)

| | |
| --- | --- |
| | Epilogue: The Crisis Presidency |

504
(14)
504
(3)
505
(1)

| | |
| --- | --- |
| | Rallying 'Round the President |

506
(1)

| | |
| --- | --- |
| | Exercising the Prerogative |

507
(6)

| | |
| --- | --- |
| | Historical Presidential Precedents |

507
(4)
511
(1)

| | |
| --- | --- |
| | Congressional Acquiescence |

511
(1)

| | |
| --- | --- |
| | Bush's Unilateral Presidency |

512
(1)

| | |
| --- | --- |
| | Returning to Normalcy: Checks and Balances Restored |

513
(2)
515
(1)
516
(1)
516
(1)
516
(1)
517
(1)
Appendix A Methods of Studying the Presidency
518
(10)
Appendix B Nonelectoral Succession, Removal, and Tenure
528
(5)
Appendix C Provisions of the Constitution of the United States That Relate to the Presidency
533
(10)
Appendix D 2000 Electoral and Popular Vote Summary
543
(3)
Index
546