Note: Supplemental materials are not guaranteed with Rental or Used book purchases.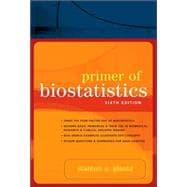 Related Products
Summary
Extremely popular, this student-friendly text presents the practical areas of statistics in terms of their relevance to medicine and the life sciences. Includes many illustrative examples and challenging problems that reinforce the author's unique and intuitive approach to the subject. The new edition features a new two-color design, examples taken from current biomedical literature, and review questions within each chapter.
Author Biography
Stanton A. Glantz, PhD: Professor of Medicine, also Member, Cardiovascular Research Institute, Institute for Health Policy Studies, and Cancer Center, University of California, San Francisco.
Table of Contents
Location of Tables for Tests of Significance
xv
Preface
xvii

| | |
| --- | --- |
| | Biostatistics and Clinical Practice |

1
(10)
2
(3)

| | |
| --- | --- |
| | What Do Statistical Procedures Tell You? |

5
(2)

| | |
| --- | --- |
| | Why Not Depend on the Journals? |

7
(2)

| | |
| --- | --- |
| | Why Has the Problem Persisted? |

9
(2)
11
(29)
13
(1)
14
(1)
15
(1)
16
(5)
21
(9)
21
(3)
24
(2)

| | |
| --- | --- |
| | Experiments and Observational Studies |

26
(3)

| | |
| --- | --- |
| | Randomized Clinical Trials |

29
(1)

| | |
| --- | --- |
| | How to Estimate the Mean and Standard Deviation from a Sample |

30
(1)

| | |
| --- | --- |
| | How Good Are These Estimates? |

31
(7)
38
(1)
38
(2)

| | |
| --- | --- |
| | How to Test for Differences between Groups |

40
(33)
41
(5)

| | |
| --- | --- |
| | Two Different Estimates of the Population Variance |

46
(2)
48
(8)
56
(11)

| | |
| --- | --- |
| | Glucose Levels in Children of Parents with Diabetes |

56
(4)

| | |
| --- | --- |
| | Halothane versus Morphine for Open-Heart Surgery |

60
(4)

| | |
| --- | --- |
| | Menstrual Dysfunction in Distance Runners |

64
(3)
67
(6)

| | |
| --- | --- |
| | The Special Case of Two Groups: The t Test |

73
(53)
75
(2)

| | |
| --- | --- |
| | The Standard Deviation of a Difference or a Sum |

77
(3)

| | |
| --- | --- |
| | Use of t to Test Hypotheses about Two Groups |

80
(7)

| | |
| --- | --- |
| | What If the Two Samples Are Not the Same Size? |

87
(1)
88
(4)

| | |
| --- | --- |
| | Glucose Levels in Children of Parents with Diabetes |

88
(1)

| | |
| --- | --- |
| | Halothane versus Morphine for Open-Heart Surgery |

88
(4)

| | |
| --- | --- |
| | The t Test Is an Analysis of Variance |

92
(3)

| | |
| --- | --- |
| | Common Errors in the Use of the t Test and How to Compensate for Them |

95
(3)

| | |
| --- | --- |
| | How to Use t Tests to Isolate Differences between Groups in Analysis of Variance |

98
(8)
98
(2)

| | |
| --- | --- |
| | More on Menstruation and Jogging |

100
(1)

| | |
| --- | --- |
| | A Better Approach to Multiple Comparisons: The Holm t Test |

101
(3)
104
(2)

| | |
| --- | --- |
| | Other Approaches to Multiple Comparison Testing: The Student-Newman-Keuls Test |

106
(5)

| | |
| --- | --- |
| | Still More on Menstruation and Jogging |

107
(3)
110
(1)

| | |
| --- | --- |
| | Which Multiple Comparison Procedure Should You Use? |

111
(1)

| | |
| --- | --- |
| | Multiple Comparisons against a Single Control |

112
(5)
112
(1)
113
(1)
113
(4)
117
(6)

| | |
| --- | --- |
| | Statistical versus Real (Clinical) Thinking |

119
(2)
121
(2)
123
(3)

| | |
| --- | --- |
| | How to Analyze Rates and Proportions |

126
(53)
127
(5)

| | |
| --- | --- |
| | Estimating Proportions from Samples |

132
(5)

| | |
| --- | --- |
| | Hypothesis Tests for Proportions |

137
(8)

| | |
| --- | --- |
| | The Yates Correction for Continuity |

139
(1)

| | |
| --- | --- |
| | Mortality Associated with Anesthesia for Open-Heart Surgery with Halothane or Morphine |

140
(2)

| | |
| --- | --- |
| | Prevention of Thrombosis in People Receiving Hemodialysis |

142
(3)

| | |
| --- | --- |
| | Another Approach to Testing Nominal Data: Analysis of Contingency Tables |

145
(7)

| | |
| --- | --- |
| | The Chi-Square Test Statistic |

148
(4)

| | |
| --- | --- |
| | Chi-Square Applications to Experiments with More Than Two Treatments or Outcomes |

152
(6)

| | |
| --- | --- |
| | Subdividing Contingency Tables |

155
(3)
158
(5)

| | |
| --- | --- |
| | Measures of Association Between Two Nominal Variables |

163
(7)

| | |
| --- | --- |
| | Prospective Studies and Relative Risk |

164
(2)

| | |
| --- | --- |
| | Case-Control Studies and the Odds Ratio |

166
(2)

| | |
| --- | --- |
| | Passive Smoking and Breast Cancer |

168
(2)
170
(9)

| | |
| --- | --- |
| | What Does ``Not Significant'' Really Mean? |

179
(40)
180
(5)
185
(1)

| | |
| --- | --- |
| | What Determines a Test's Power? |

186
(18)

| | |
| --- | --- |
| | The Size of the Type I Error α |

187
(6)

| | |
| --- | --- |
| | The Size of the Treatment Effect |

193
(2)

| | |
| --- | --- |
| | The Population Variability |

195
(2)

| | |
| --- | --- |
| | Bigger Samples Mean More Powerful Tests |

197
(4)

| | |
| --- | --- |
| | What Determines Power? A Summary |

201
(2)

| | |
| --- | --- |
| | Another Look at Halothane versus Morphine for Open-Heart Surgery |

203
(1)

| | |
| --- | --- |
| | Power and Sample Size for Analysis of Variance |

204
(4)

| | |
| --- | --- |
| | Power, Menstruation, and Running |

206
(2)

| | |
| --- | --- |
| | Power and Sample Size for Comparing Two Proportions |

208
(3)

| | |
| --- | --- |
| | Mortality Associated with Anesthesia for Open-Heart Surgery |

210
(1)

| | |
| --- | --- |
| | Sample Size for Comparing Two Proportions |

211
(1)

| | |
| --- | --- |
| | Power and Sample Size for Relative Risk and Odds Ratio |

211
(1)

| | |
| --- | --- |
| | Power and Sample Size for Contingency Tables |

212
(2)

| | |
| --- | --- |
| | Physicians, Perspiration, and Power |

213
(1)

| | |
| --- | --- |
| | Practical Problems in Using Power |

214
(1)

| | |
| --- | --- |
| | What Difference Does It Make? |

215
(3)
218
(1)
219
(34)

| | |
| --- | --- |
| | The Size of the Treatment Effect Measured as the Difference of Two Means |

220
(3)
223
(4)
224
(3)

| | |
| --- | --- |
| | What Does ``Confidence'' Mean? |

227
(2)

| | |
| --- | --- |
| | Confidence Intervals Can Be Used to Test Hypotheses |

229
(2)

| | |
| --- | --- |
| | Confidence Interval for the Population Mean |

231
(2)

| | |
| --- | --- |
| | The Size of the Treatment Effect Measured as the Difference of Two Rates or Proportions |

233
(7)

| | |
| --- | --- |
| | Difference in Mortality Associated with Anesthesia for Open-Heart Surgery |

234
(1)

| | |
| --- | --- |
| | Difference in Thrombosis with Aspirin in People Receiving Hemodialysis |

235
(1)

| | |
| --- | --- |
| | How Negative Is a ``Negative'' Clinical Trial? |

236
(1)
236
(4)

| | |
| --- | --- |
| | Confidence Interval for Rates and Proportions |

240
(5)

| | |
| --- | --- |
| | Quality of Evidence Used as a Basis for Interventions to Improve Hospital Antibiotic Prescribing |

241
(1)

| | |
| --- | --- |
| | Exact Confidence Intervals for Rates and Proportions |

242
(3)

| | |
| --- | --- |
| | Confidence Intervals for Relative Risk and Odds Ratio |

245
(2)

| | |
| --- | --- |
| | Difference in Thrombosis with Aspirin in People Receiving Hemodialysis |

246
(1)

| | |
| --- | --- |
| | Passive Smoking and Breast Cancer |

247
(1)

| | |
| --- | --- |
| | Confidence Interval for the Entire Population |

247
(4)
251
(2)
253
(68)
254
(5)

| | |
| --- | --- |
| | The Population Parameters |

257
(2)

| | |
| --- | --- |
| | How to Estimate the Trend from a Sample |

259
(19)

| | |
| --- | --- |
| | The Best Straight Line through the Data |

259
(8)

| | |
| --- | --- |
| | Variability about the Regression Line |

267
(1)

| | |
| --- | --- |
| | Standard Errors of the Regression Coefficients |

268
(4)

| | |
| --- | --- |
| | How Convincing Is the Trend? |

272
(2)

| | |
| --- | --- |
| | Confidence Interval for the Line of Means |

274
(1)

| | |
| --- | --- |
| | Confidence Interval for an Observation |

275
(3)

| | |
| --- | --- |
| | How to Compare Two Regression Lines |

278
(7)

| | |
| --- | --- |
| | Overall Test for Coincidence of Two Regression Lines |

280
(1)

| | |
| --- | --- |
| | Relationship between Weakness and Muscle Wasting in Rheumatoid Arthritis |

281
(4)

| | |
| --- | --- |
| | Correlation and Correlation Coefficients |

285
(11)

| | |
| --- | --- |
| | The Pearson Product-Moment Correlation Coefficient |

287
(3)

| | |
| --- | --- |
| | The Relationship between Regression and Correlation |

290
(2)

| | |
| --- | --- |
| | How to Test Hypotheses about Correlation Coefficients |

292
(1)

| | |
| --- | --- |
| | Journal Size and Selectivity |

293
(3)

| | |
| --- | --- |
| | The Spearman Rank Correlation Coefficient |

296
(6)

| | |
| --- | --- |
| | Variation among Interns in Use of Laboratory Tests: Relation to Quality of Care |

300
(2)

| | |
| --- | --- |
| | Power and Sample Size in Regression and Correlation |

302
(3)

| | |
| --- | --- |
| | Comparing Two Different Measurements of the Same Thing: The Bland-Altman Method |

305
(5)

| | |
| --- | --- |
| | Assessing Mitral Regurgitation with Echocardiography |

306
(4)
310
(1)
310
(11)

| | |
| --- | --- |
| | Experiments When Each Subject Receives More than One Treatment |

321
(42)

| | |
| --- | --- |
| | Experiments When Subjects Are Observed before and after a Single Treatment: The Paired t Test |

322
(8)

| | |
| --- | --- |
| | Cigarette Smoking and Platelet Function |

325
(5)

| | |
| --- | --- |
| | Another Approach to Analysis of Variance |

330
(12)
331
(8)

| | |
| --- | --- |
| | Accounting for All the Variability in the Observations |

339
(3)

| | |
| --- | --- |
| | Experiments When Subjects Are Observed after Many Treatments: Repeated-Measures Analysis of Variance |

342
(12)

| | |
| --- | --- |
| | Anti-Asthmatic Drugs and Endotoxin |

348
(4)

| | |
| --- | --- |
| | How to Isolate Differences in Repeated-Measures Analysis of Variance |

352
(1)

| | |
| --- | --- |
| | Power in Repeated-Measures Analysis of Variance |

353
(1)

| | |
| --- | --- |
| | Experiments When Outcomes Are Measured on a Nominal Scale: McNemar's Test |

354
(3)

| | |
| --- | --- |
| | p7 Antigen Expression in Human Breast Cancer |

354
(3)
357
(6)

| | |
| --- | --- |
| | Alternatives to Analysis of Variance and the t Test Based on Ranks |

363
(50)

| | |
| --- | --- |
| | How to Choose between Parametric and Nonparametric Methods |

364
(3)

| | |
| --- | --- |
| | Two Different Samples: The Mann-Whitney Rank-Sum Test |

367
(11)

| | |
| --- | --- |
| | The Leboyer Approach to Childbirth |

374
(4)

| | |
| --- | --- |
| | Each Subject Observed before and after One Treatment: The Wilcoxon Signed-Rank Test |

378
(8)

| | |
| --- | --- |
| | Cigarette Smoking and Platelet Function |

385
(1)

| | |
| --- | --- |
| | Experiments with Three or More Groups When Each Group Contains Different Individuals: The Kruskal-Wallis Statistic |

386
(9)

| | |
| --- | --- |
| | Prenatal Marijuana Exposure and Child Behavior |

389
(1)

| | |
| --- | --- |
| | Nonparametric Multiple Comparisons |

390
(2)
392
(3)

| | |
| --- | --- |
| | Experiments in Which Each Subject Receives More than One Treatment: The Friedman Test |

395
(10)

| | |
| --- | --- |
| | Anti-Asthmatic Drugs and Endotoxin |

399
(2)

| | |
| --- | --- |
| | Multiple Comparisons after Friedman's Test |

401
(1)

| | |
| --- | --- |
| | Effect of Secondhand Smoke on Angina Pectoris |

401
(4)
405
(1)
406
(7)

| | |
| --- | --- |
| | How to Analyze Survival Data |

413
(31)
414
(3)

| | |
| --- | --- |
| | Estimating the Survival Curve |

417
(10)
423
(1)

| | |
| --- | --- |
| | Standard Errors and Confidence Limits for the Survival Curve |

424
(3)

| | |
| --- | --- |
| | Comparing Two Survival Curves |

427
(10)

| | |
| --- | --- |
| | Bone Marrow Transplantation to Treat Adult Leukemia |

429
(7)

| | |
| --- | --- |
| | The Yates Correction for the Log-Rank Test |

436
(1)
437
(1)
438
(2)
440
(1)
440
(4)

| | |
| --- | --- |
| | What Do the Data Really Show? |

444
(22)
445
(2)
447
(8)

| | |
| --- | --- |
| | Internal Mammary Artery Ligation to Treat Angina Pectoris |

448
(1)

| | |
| --- | --- |
| | The Portacaval Shunt to Treat Cirrhosis of the Liver |

449
(3)

| | |
| --- | --- |
| | Is Randomization of People Ethical? |

452
(2)

| | |
| --- | --- |
| | Is a Randomized Controlled Trial Always Necessary? |

454
(1)

| | |
| --- | --- |
| | Does Randomization Ensure Correct Conclusions? |

455
(5)

| | |
| --- | --- |
| | Problems with the Population |

460
(2)

| | |
| --- | --- |
| | How You Can Improve Things |

462
(4)
Appendix A Computational Forms
466
(6)
Appendix B Power Charts
472
(9)
Appendix C Answers to Exercises
481
(16)
Index
497