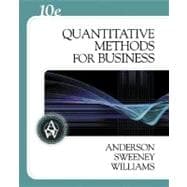 Questions About This Book?
Why should I rent this book?
Renting is easy, fast, and cheap! Renting from eCampus.com can save you hundreds of dollars compared to the cost of new or used books each semester. At the end of the semester, simply ship the book back to us with a free UPS shipping label! No need to worry about selling it back.
How do rental returns work?
Returning books is as easy as possible. As your rental due date approaches, we will email you several courtesy reminders. When you are ready to return, you can print a free UPS shipping label from our website at any time. Then, just return the book to your UPS driver or any staffed UPS location. You can even use the same box we shipped it in!
What version or edition is this?
This is the 10th edition with a publication date of 10/17/2005.
What is included with this book?
The Used copy of this book is not guaranteed to include any supplemental materials. Typically, only the book itself is included.
The Rental copy of this book is not guaranteed to include any supplemental materials. You may receive a brand new copy, but typically, only the book itself.
Summary
This revision of QUANTITATIVE METHODS FOR BUSINESS provides students with a conceptual understanding of the role that quantitative methods play in the decision-making process. This text describes the many quantitative methods that have been developed over the years, explains how they work, and shows how the decision-maker can apply and interpret data. Written with the non-mathematician in mind, this text is applications-oriented. Its "Problem-Scenario Approach" motivates and helps students understand and apply mathematical concepts and techniques. In addition, the managerial orientation motivates students by using examples that illustrate situations in which quantitative methods are useful in decision making.
Table of Contents
Preface
xiii
1
(28)

| | |
| --- | --- |
| | Problem Solving and Decision Making |

3
(1)

| | |
| --- | --- |
| | Quantitative Analysis and Decision Making |

4
(2)
6
(7)
7
(3)
10
(1)
11
(1)
12
(1)

| | |
| --- | --- |
| | A Note Regarding Implementation |

12
(1)

| | |
| --- | --- |
| | Models of Cost, Revenue, and Profit |

13
(3)
14
(1)

| | |
| --- | --- |
| | Revenue and Volume Models |

14
(1)
15
(1)
15
(1)

| | |
| --- | --- |
| | Quantitative Methods in Practice |

16
(13)

| | |
| --- | --- |
| | Methods Used Most Frequently |

17
(1)
18
(1)
18
(1)
19
(4)

| | |
| --- | --- |
| | Case Problem: Scheduling a Golf League |

23
(1)

| | |
| --- | --- |
| | Appendix 1.1 The Management Scientist Software |

23
(2)

| | |
| --- | --- |
| | Appendix 1.2 Using Excel for Breakeven Analysis |

25
(4)

| | |
| --- | --- |
| | Introduction to Probability |

29
(30)

| | |
| --- | --- |
| | Experiments and the Sample Space |

31
(1)

| | |
| --- | --- |
| | Assigning Probabilities to Experimental Outcomes |

32
(2)
32
(1)

| | |
| --- | --- |
| | Relative Frequency Method |

33
(1)
33
(1)

| | |
| --- | --- |
| | Events and Their Probabilities |

34
(1)

| | |
| --- | --- |
| | Some Basic Relationships of Probability |

34
(9)
35
(1)
36
(2)
38
(4)
42
(1)
43
(16)
47
(1)
48
(1)
49
(1)
50
(6)

| | |
| --- | --- |
| | Case Problem: Hamilton County Judges |

56
(3)

| | |
| --- | --- |
| | Probability Distributions |

59
(37)
60
(1)

| | |
| --- | --- |
| | Discrete Random Variables |

61
(4)

| | |
| --- | --- |
| | Probability Distribution of a Discrete Random Variable |

62
(1)
63
(1)
64
(1)

| | |
| --- | --- |
| | Binomial Probability Distribution |

65
(5)

| | |
| --- | --- |
| | Nastke Clothing Store Problem |

66
(2)

| | |
| --- | --- |
| | Expected Value and Variance for the Binomial Distribution |

68
(2)

| | |
| --- | --- |
| | Poisson Probability Distribution |

70
(2)

| | |
| --- | --- |
| | An Example Involving Time Intervals |

70
(1)

| | |
| --- | --- |
| | An Example Involving Length or Distance Intervals |

71
(1)

| | |
| --- | --- |
| | Continuous Random Variables |

72
(3)

| | |
| --- | --- |
| | Applying the Uniform Distribution |

72
(1)

| | |
| --- | --- |
| | Area as a Measure of Probability |

73
(2)

| | |
| --- | --- |
| | Normal Probability Distribution |

75
(8)

| | |
| --- | --- |
| | Standard Normal Distribution |

76
(1)

| | |
| --- | --- |
| | Computing Probabilities for Any Normal Distribution |

77
(4)

| | |
| --- | --- |
| | Grear Tire Company Problem |

81
(2)

| | |
| --- | --- |
| | Exponential Probability Distribution |

83
(13)

| | |
| --- | --- |
| | Computing Probabilities for the Exponential Distribution |

84
(1)

| | |
| --- | --- |
| | Relationship Between the Poisson and Exponential Distributions |

84
(1)
85
(1)
85
(1)
86
(6)

| | |
| --- | --- |
| | Case Problem: Specialty Toys |

92
(1)

| | |
| --- | --- |
| | Appendix 3.1 Computing Discrete Probabilities with Excel |

93
(1)

| | |
| --- | --- |
| | Appendix 3.2 Computing Probabilities for Continuous Distributions with Excel |

94
(2)
96
(57)
98
(3)
99
(1)
99
(1)
99
(2)

| | |
| --- | --- |
| | Decision Making Without Probabilities |

101
(2)
101
(1)
101
(1)
102
(1)

| | |
| --- | --- |
| | Decision Making with Probabilities |

103
(5)

| | |
| --- | --- |
| | Expected Value of Perfect Information |

106
(2)

| | |
| --- | --- |
| | Risk Analysis and Sensitivity Analysis |

108
(5)
108
(1)
108
(5)

| | |
| --- | --- |
| | Decision Analysis with Sample Information |

113
(11)
113
(1)
114
(2)
116
(4)
120
(2)

| | |
| --- | --- |
| | Expected Value of Sample Information |

122
(1)

| | |
| --- | --- |
| | Efficiency of Sample Information |

123
(1)

| | |
| --- | --- |
| | Computing Branch Probabilities |

124
(29)
128
(1)
129
(2)
131
(13)

| | |
| --- | --- |
| | Case Problem 1: Property Purchase Strategy |

144
(1)

| | |
| --- | --- |
| | Case Problem 2: Lawsuit Defense Strategy |

145
(1)

| | |
| --- | --- |
| | Appendix 4.1 Decision Analysis with TreePlan |

146
(7)
153
(26)
154
(1)

| | |
| --- | --- |
| | Utility and Decision Making |

155
(5)

| | |
| --- | --- |
| | The Expected Utility Approach |

158
(1)

| | |
| --- | --- |
| | Summary of Steps for Determining the Utility of Money |

159
(1)

| | |
| --- | --- |
| | Utility: Other Considerations |

160
(4)

| | |
| --- | --- |
| | Risk Avoiders Versus Risk Takers |

160
(3)

| | |
| --- | --- |
| | Expected Monetary Value Versus Expected Utility |

163
(1)

| | |
| --- | --- |
| | Introduction to Game Theory |

164
(3)

| | |
| --- | --- |
| | Competing for Market Share |

165
(1)

| | |
| --- | --- |
| | Identifying a Pure Strategy |

166
(1)
167
(12)

| | |
| --- | --- |
| | A Larger Mixed Strategy Game |

170
(1)

| | |
| --- | --- |
| | Summary of Steps for Solving Two-Person, Zero-Sum Games |

171
(1)
171
(1)
172
(1)
172
(1)
173
(6)
179
(52)

| | |
| --- | --- |
| | Components of a Time Series |

182
(2)
182
(1)
183
(1)
184
(1)
184
(1)
184
(9)
184
(3)
187
(1)
188
(5)
193
(3)

| | |
| --- | --- |
| | Trend and Seasonal Components |

196
(9)
196
(1)

| | |
| --- | --- |
| | Calculating the Seasonal Indexes |

197
(4)

| | |
| --- | --- |
| | Deseasonalizing the Time Series |

201
(1)

| | |
| --- | --- |
| | Using Deseasonalized Time Series to Identify Trend |

201
(3)
204
(1)

| | |
| --- | --- |
| | Models Based on Monthly Data |

205
(1)
205
(1)
205
(7)

| | |
| --- | --- |
| | Using Regression Analysis as a Causal Forecasting Method |

206
(5)

| | |
| --- | --- |
| | Using Regression Analysis with Time Series Data |

211
(1)
212
(19)
213
(1)
213
(1)
213
(1)
213
(1)
213
(1)
214
(1)
215
(9)

| | |
| --- | --- |
| | Case Problem 1: Forecasting Sales |

224
(1)

| | |
| --- | --- |
| | Case Problem 2: Forecasting Lost Sales |

225
(1)

| | |
| --- | --- |
| | Appendix 6.1 Using Excel for Forecasting |

226
(1)

| | |
| --- | --- |
| | Appendix 6.2 Using CB Predictor for Forecasting |

227
(4)

| | |
| --- | --- |
| | Introduction to Linear Programming |

231
(59)

| | |
| --- | --- |
| | A Simple Maximization Problem |

233
(4)
234
(2)

| | |
| --- | --- |
| | Mathematical Model for the RMC Problem |

236
(1)

| | |
| --- | --- |
| | Graphical Solution Procedure |

237
(12)
246
(1)

| | |
| --- | --- |
| | Summary of the Graphical Solution Procedure for Maximization Problems |

247
(1)
248
(1)

| | |
| --- | --- |
| | Extreme Points and the Optimal Solution |

249
(2)

| | |
| --- | --- |
| | Computer Solution of the RMC Problem |

251
(2)

| | |
| --- | --- |
| | Interpretation of Computer Output |

252
(1)

| | |
| --- | --- |
| | A Simple Minimization Problem |

253
(6)

| | |
| --- | --- |
| | Summary of the Graphical Solution Procedure for Minimization Problems |

256
(1)
256
(2)

| | |
| --- | --- |
| | Computer Solution of the M&D Chemicals Problem |

258
(1)
259
(4)

| | |
| --- | --- |
| | Alternative Optimal Solutions |

259
(1)
260
(1)
261
(2)

| | |
| --- | --- |
| | General Linear Programming Notation |

263
(27)
264
(2)
266
(1)
267
(14)

| | |
| --- | --- |
| | Case Problem 1: Workload Balancing |

281
(1)

| | |
| --- | --- |
| | Case Problem 2: Production Strategy |

282
(1)

| | |
| --- | --- |
| | Case Problem 3: Hart Venture Capital |

283
(1)

| | |
| --- | --- |
| | Appendix 7.1 Solving Linear Programs with The Management Scientist |

283
(1)

| | |
| --- | --- |
| | Appendix 7.2 Solving Linear Programs with LINDO® |

284
(2)

| | |
| --- | --- |
| | Appendix 7.3 Solving Linear Programs with Excel |

286
(4)

| | |
| --- | --- |
| | Linear Programming: Sensitivity Analysis and Interpretation of Solution |

290
(58)

| | |
| --- | --- |
| | Introduction to Sensitivity Analysis |

292
(1)

| | |
| --- | --- |
| | Objective Function Coefficients |

293
(5)
296
(2)
298
(7)
301
(1)
302
(2)

| | |
| --- | --- |
| | Cautionary Note on the Interpretation of Dual Prices |

304
(1)

| | |
| --- | --- |
| | More Than Two Decision Variables |

305
(9)
305
(6)
311
(3)

| | |
| --- | --- |
| | Electronic Communications Problem |

314
(34)
315
(1)

| | |
| --- | --- |
| | Computer Solution and Interpretation |

316
(3)
319
(1)
320
(1)
321
(21)

| | |
| --- | --- |
| | Case Problem 1: Product Mix |

342
(1)

| | |
| --- | --- |
| | Case Problem 2: Investment Strategy |

343
(1)

| | |
| --- | --- |
| | Case Problem 3: Truck Leasing Strategy |

344
(1)

| | |
| --- | --- |
| | Appendix 8.1 Sensitivity Analysis with Excel |

345
(3)

| | |
| --- | --- |
| | Linear Programming Applications |

348
(76)
349
(6)
350
(3)
353
(2)
355
(8)
355
(4)
359
(4)

| | |
| --- | --- |
| | Production Management Applications |

363
(15)
363
(4)
367
(5)
372
(6)
378
(5)

| | |
| --- | --- |
| | Data Envelopment Analysis |

383
(8)

| | |
| --- | --- |
| | Evaluating the Performance of Hospitals |

384
(1)

| | |
| --- | --- |
| | Overview of the DEA Approach |

385
(1)

| | |
| --- | --- |
| | DEA Linear Programming Model |

385
(5)

| | |
| --- | --- |
| | Summary of the DEA Approach |

390
(1)
391
(33)
396
(1)
396
(1)
397
(16)

| | |
| --- | --- |
| | Case Problem 1: Planning an Advertising Campaign |

413
(1)

| | |
| --- | --- |
| | Case Problem 2: Phoenix Computer |

414
(1)

| | |
| --- | --- |
| | Case Problem 3: Textile Mill Scheduling |

415
(1)

| | |
| --- | --- |
| | Case Problem 4: Workforce Scheduling |

416
(1)

| | |
| --- | --- |
| | Case Problem 5: Cinergy Coal Allocation |

417
(3)

| | |
| --- | --- |
| | Appendix 9.1 Excel Solution of Hewlitt Corporation Financial Planning Problem |

420
(4)

| | |
| --- | --- |
| | Transportation, Assignment, and Transshipment Problems |

424
(48)

| | |
| --- | --- |
| | The Transportation Problem: The Network Model and a Linear Programming Formulation |

425
(7)
428
(3)

| | |
| --- | --- |
| | A General Linear Programming Model of the Transportation Problem |

431
(1)

| | |
| --- | --- |
| | The Assignment Problem: The Network Model and a Linear Programming Formulation |

432
(6)
435
(1)

| | |
| --- | --- |
| | A General Linear Programming Model of the Assignment Problem |

436
(1)
436
(2)

| | |
| --- | --- |
| | The Transshipment Problem: The Network Model and a Linear Programming Formulation |

438
(7)
443
(1)

| | |
| --- | --- |
| | A General Linear Programming Model of the Transshipment Problem |

444
(1)

| | |
| --- | --- |
| | A Production and Inventory Application |

445
(27)
448
(1)
449
(1)
449
(14)

| | |
| --- | --- |
| | Case Problem 1: Solutions Plus |

463
(1)

| | |
| --- | --- |
| | Case Problem 2: Distribution System Design |

464
(2)

| | |
| --- | --- |
| | Appendix 10.1 Excel Solution of Transportation, Assignment, and Transshipment Problems |

466
(6)

| | |
| --- | --- |
| | Integer Linear Programming |

472
(45)

| | |
| --- | --- |
| | Types of Integer Linear Programming Models |

474
(2)

| | |
| --- | --- |
| | Graphical and Computer Solutions for an All-Integer Linear Program |

476
(4)

| | |
| --- | --- |
| | Graphical Solution of the LP Relaxation |

476
(1)

| | |
| --- | --- |
| | Rounding to Obtain an Integer Solution |

477
(1)

| | |
| --- | --- |
| | Graphical Solution of the All-Integer Problem |

478
(1)

| | |
| --- | --- |
| | Using the LP Relaxation to Establish Bounds |

479
(1)
479
(1)

| | |
| --- | --- |
| | Application Involving 0-1 Variables |

480
(16)
480
(2)
482
(2)

| | |
| --- | --- |
| | Distribution System Design |

484
(5)
489
(2)

| | |
| --- | --- |
| | Product Design and Market Share Optimization |

491
(5)

| | |
| --- | --- |
| | Modeling Flexibility Provided by 0-1 Integer Variables |

496
(21)

| | |
| --- | --- |
| | Multiple-Choice and Mutually Exclusive Constraints |

496
(1)

| | |
| --- | --- |
| | k Out of n Alternatives Constraint |

497
(1)

| | |
| --- | --- |
| | Conditional and Corequisite Constraints |

497
(1)

| | |
| --- | --- |
| | A Cautionary Note About Sensitivity Analysis |

497
(2)
499
(1)
499
(1)
500
(11)

| | |
| --- | --- |
| | Case Problem 1: Textbook Publishing |

511
(1)

| | |
| --- | --- |
| | Case Problem 2: Yeager National Bank |

512
(1)

| | |
| --- | --- |
| | Case Problem 3: Production Scheduling with Changeover Costs |

513
(1)

| | |
| --- | --- |
| | Appendix 11.1 Excel Solution of Integer Linear Programs |

514
(3)

| | |
| --- | --- |
| | Project Scheduling: PERT/CPM |

517
(37)

| | |
| --- | --- |
| | Project Scheduling with Known Activity Times |

518
(10)

| | |
| --- | --- |
| | The Concept of a Critical Path |

519
(2)

| | |
| --- | --- |
| | Determining the Critical Path |

521
(4)

| | |
| --- | --- |
| | Contributions of PERT/CPM |

525
(1)

| | |
| --- | --- |
| | Summary of the PERT/CPM Critical Path Procedure |

526
(2)

| | |
| --- | --- |
| | Project Scheduling with Uncertain Activity Times |

528
(8)

| | |
| --- | --- |
| | The Daugherty Porta-Vac Project |

528
(1)
529
(2)
531
(2)

| | |
| --- | --- |
| | Variability in Project Completion Time |

533
(3)

| | |
| --- | --- |
| | Considering Time-Cost Trade-Offs |

536
(18)
536
(3)

| | |
| --- | --- |
| | Linear Programming Model for Crashing |

539
(2)
541
(1)
542
(1)
542
(10)

| | |
| --- | --- |
| | Case Problem: R. C. Coleman |

552
(2)
554
(47)

| | |
| --- | --- |
| | Economic Order Quantity (EOQ) Model |

555
(9)

| | |
| --- | --- |
| | The How-Much-to-Order Decision |

559
(2)

| | |
| --- | --- |
| | The When-to-Order Decision |

561
(1)

| | |
| --- | --- |
| | Sensitivity Analysis for the EOQ Model |

562
(1)

| | |
| --- | --- |
| | Excel Solution of the EOQ Model |

563
(1)

| | |
| --- | --- |
| | Summary of the EOQ Model Assumptions |

563
(1)

| | |
| --- | --- |
| | Economic Production Lot Size Model |

564
(4)
565
(2)

| | |
| --- | --- |
| | Economic Production Lot Size |

567
(1)

| | |
| --- | --- |
| | Inventory Model with Planned Shortages |

568
(4)

| | |
| --- | --- |
| | Quantity Discounts for the EOQ Model |

572
(2)

| | |
| --- | --- |
| | Single-Period Inventory Model with Probabilistic Demand |

574
(6)
575
(3)
578
(2)

| | |
| --- | --- |
| | Order-Quantity, Reorder Point Model with Probabilistic Demand |

580
(4)

| | |
| --- | --- |
| | The How-Much-to-Order Decision |

581
(1)

| | |
| --- | --- |
| | The When-to-Order Decision |

582
(2)

| | |
| --- | --- |
| | Periodic Review Model with Probabilistic Demand |

584
(17)

| | |
| --- | --- |
| | More Complex Periodic Review Models |

587
(1)
588
(1)
589
(1)
590
(7)

| | |
| --- | --- |
| | Case Problem 1: Wagner Fabricating Company |

597
(1)

| | |
| --- | --- |
| | Case Problem 2: River City Fire Department |

598
(1)

| | |
| --- | --- |
| | Appendix 13.1 Development of the Optimal Order Quantity (Q) Formula for the EOQ Model |

599
(1)

| | |
| --- | --- |
| | Appendix 13.2 Development of the Optimal Lot Size (Q*) Formula for the Production Lot Size Model |

600
(1)
601
(40)

| | |
| --- | --- |
| | Structure of a Waiting Line System |

603
(4)

| | |
| --- | --- |
| | Single-Channel Waiting Line |

603
(1)
603
(2)

| | |
| --- | --- |
| | Distribution of Service Times |

605
(1)
606
(1)
606
(1)

| | |
| --- | --- |
| | Single-Channel Waiting Line Model with Poisson Arrivals and Exponential Service Times |

607
(4)

| | |
| --- | --- |
| | Operating Characteristics |

607
(1)

| | |
| --- | --- |
| | Operating Characteristics for the Burger Dome Problem |

608
(1)

| | |
| --- | --- |
| | Managers' Use of Waiting Line Models |

609
(1)

| | |
| --- | --- |
| | Improving the Waiting Line Operation |

609
(1)

| | |
| --- | --- |
| | Excel Solution of Waiting Line Model |

610
(1)

| | |
| --- | --- |
| | Multiple-Channel Waiting Line Model with Poisson Arrivals and Exponential Service Times |

611
(5)

| | |
| --- | --- |
| | Operating Characteristics |

612
(2)

| | |
| --- | --- |
| | Operating Characteristics for the Burger Dome Problem |

614
(2)

| | |
| --- | --- |
| | Some General Relationships for Waiting Line Models |

616
(2)

| | |
| --- | --- |
| | Economic Analysis of Waiting Lines |

618
(1)

| | |
| --- | --- |
| | Other Waiting Line Models |

619
(1)

| | |
| --- | --- |
| | Single-Channel Waiting Line Model with Poisson Arrivals and Arbitrary Service Times |

620
(3)

| | |
| --- | --- |
| | Operating Characteristics for the M/G/1 Model |

620
(2)
622
(1)

| | |
| --- | --- |
| | Multiple-Channel Model with Poisson Arrivals, Arbitrary Service Times, and No Waiting Line |

623
(2)

| | |
| --- | --- |
| | Operating Characteristics for the M/G/k Model with Blocked Customers Cleared |

623
(2)

| | |
| --- | --- |
| | Waiting Line Models with Finite Calling Populations |

625
(16)

| | |
| --- | --- |
| | Operating Characteristics for the M/M/1 Model with a Finite Calling Population |

626
(2)
628
(2)
630
(1)
630
(8)

| | |
| --- | --- |
| | Case Problem 1: Regional Airlines |

638
(1)

| | |
| --- | --- |
| | Case Problem 2: Office Equipment, Inc. |

639
(2)
641
(59)
644
(13)
644
(1)
644
(2)
646
(7)

| | |
| --- | --- |
| | Simulation of the PortaCom Problem |

653
(4)
657
(5)

| | |
| --- | --- |
| | Simulation of the Butler Inventory Problem |

660
(2)
662
(11)

| | |
| --- | --- |
| | Hammondsport Savings Bank ATM Waiting Line |

662
(1)
663
(1)
664
(1)
664
(4)

| | |
| --- | --- |
| | Simulation of the Hammondsport Savings Bank ATM Problem |

668
(1)
669
(2)

| | |
| --- | --- |
| | Simulation Results with Two ATMs |

671
(2)
673
(27)
673
(1)

| | |
| --- | --- |
| | Verification and Validation |

674
(1)

| | |
| --- | --- |
| | Advantages and Disadvantages of Using Simulation |

674
(1)
675
(1)
676
(1)
677
(7)

| | |
| --- | --- |
| | Case Problem 1: Tri-State Corporation |

684
(2)

| | |
| --- | --- |
| | Case Problem 2: Harbor Dunes Golf Course |

686
(1)

| | |
| --- | --- |
| | Case Problem 3: County Beverage Drive-Thru |

687
(2)

| | |
| --- | --- |
| | Appendix 15.1 Simulation with Excel |

689
(6)

| | |
| --- | --- |
| | Appendix 15.2 Simulation Using Crystal Ball |

695
(5)
700
(25)
702
(7)

| | |
| --- | --- |
| | Accounts Receivable Analysis |

709
(16)

| | |
| --- | --- |
| | Fundamental Matrix and Associated Calculations |

711
(1)

| | |
| --- | --- |
| | Establishing the Allowance for Doubtful Accounts |

712
(2)
714
(1)
715
(1)
715
(4)

| | |
| --- | --- |
| | Case Problem: Dealer's Absorbing State Probabilities in Blackjack |

719
(1)

| | |
| --- | --- |
| | Appendix 16.1 Matrix Notation and Operations |

720
(4)

| | |
| --- | --- |
| | Appendix 16.2 Matrix Inversion with Excel |

724
(1)
725
(43)

| | |
| --- | --- |
| | Goal Programming: Formulation and Graphical Solution |

726
(8)

| | |
| --- | --- |
| | Developing the Constraints and the Goal Equations |

727
(2)

| | |
| --- | --- |
| | Developing an Objective Function with Preemptive Priorities |

729
(1)

| | |
| --- | --- |
| | Graphical Solution Procedure |

729
(3)
732
(2)

| | |
| --- | --- |
| | Goal Programming: Solving More Complex Problems |

734
(5)

| | |
| --- | --- |
| | Suncoast Office Supplies Problem |

734
(1)

| | |
| --- | --- |
| | Formulating the Goal Equations |

735
(1)

| | |
| --- | --- |
| | Formulating the Objective Function |

736
(1)
737
(2)
739
(5)

| | |
| --- | --- |
| | Analytic Hierarchy Process |

744
(2)
745
(1)

| | |
| --- | --- |
| | Establishing Priorities Using AHP |

746
(8)
746
(2)

| | |
| --- | --- |
| | Pairwise Comparison Matrix |

748
(1)
749
(1)
750
(2)

| | |
| --- | --- |
| | Other Pairwise Comparisons for the Car Selection Problem |

752
(2)

| | |
| --- | --- |
| | Using AHP to Develop an Overall Priority Ranking |

754
(14)
755
(1)
756
(1)
756
(9)

| | |
| --- | --- |
| | Case Problem: EZ Trailers, Inc. |

765
(1)

| | |
| --- | --- |
| | Appendix 17.1 Scoring Models with Excel |

766
(2)
Appendix A. Binomial Probabilities
768
(7)
Appendix B. Poisson Probabilities
775
(6)
Appendix C. Areas for the Standard Normal Distribution
781
(1)
Appendix D. Values of e-λ
782
(1)
Appendix E. References and Bibliography
783
(2)
Appendix F. Self-Test Solutions and Answers to Even-Numbered Problems
785
(30)
Index
815