Note: Supplemental materials are not guaranteed with Rental or Used book purchases.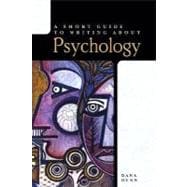 Short Guide to Writing About Psychology, A
ISBN13:
9780321094247
by
Dunn, Dana S.
Summary
Combining up-to-date writing techniques with APA-style, this brief guide will help readers master the skills necessary for writing in psychology. This guide takes readers step-by-step through the writing process--from researching psychological literature, to choosing a topic, all the way through writing, formatting, and presenting their findings in written and oral formats. Special attention is given to interpreting and reporting the results of statistical tests, as well as preparing data displays in tables and figures. This guide also provides practical tips for more general types of writing encountered in psychology and the other social sciences. Ideal for individuals who need to learn the required writing style for professional writing in APA style.
Table of Contents
PREFACE
xi

| | |
| --- | --- |
| | 1 WRITING ABOUT PSYCHOLOGY |

1
(12)
1
(3)
2
(2)

| | |
| --- | --- |
| | Forms of Writing in Psychology |

4
(2)
5
(1)
6
(2)

| | |
| --- | --- |
| | Planning Your Writing: Timing is Everything |

8
(3)

| | |
| --- | --- |
| | Answering a Test Question |

8
(1)
9
(1)
9
(2)
11
(1)
12
(1)

| | |
| --- | --- |
| | 2 SEARCHING THE PSYCHOLOGICAL LITERATURE |

13
(25)

| | |
| --- | --- |
| | Selecting a Research Topic |

13
(5)

| | |
| --- | --- |
| | Maintaining a Research Notebook |

15
(1)
16
(2)

| | |
| --- | --- |
| | Process Overview: Searching the Psychological Literature |

18
(1)
19
(9)

| | |
| --- | --- |
| | A Brief Guide to Reference Works in Psychology |

21
(1)
21
(3)

| | |
| --- | --- |
| | Psychology Online: Using Databases |

24
(4)

| | |
| --- | --- |
| | Manually Searching the Psychological Literature |

28
(1)
28
(6)
30
(1)
30
(3)

| | |
| --- | --- |
| | Using the Internet: Caveat Emptor |

33
(1)

| | |
| --- | --- |
| | Keeping Track of References |

34
(3)

| | |
| --- | --- |
| | Logging References in a Working Bibliography |

35
(2)
37
(1)

| | |
| --- | --- |
| | 3 READING THE PSYCHOLOGICAL LITERATURE |

38
(16)

| | |
| --- | --- |
| | The Scientific Pecking Order: Why Journals Are First |

39
(1)

| | |
| --- | --- |
| | How to Read and Evaluate the Literature |

40
(6)

| | |
| --- | --- |
| | How to Read a Journal Article |

41
(2)

| | |
| --- | --- |
| | Skimming: Doing a Quick Prereading |

43
(3)

| | |
| --- | --- |
| | Taking Notes on What You Read |

46
(1)
46
(1)

| | |
| --- | --- |
| | Using Your Research Notebook |

47
(1)

| | |
| --- | --- |
| | Recognizing and Preventing Plagiarism |

47
(6)

| | |
| --- | --- |
| | Try This Plagiarism-Awareness Exercise |

49
(3)
52
(1)
53
(1)

| | |
| --- | --- |
| | 4 GETTING STARTED WRITING |

54
(27)

| | |
| --- | --- |
| | Getting Started: Prewriting Activities |

55
(9)
56
(2)
58
(6)
64
(5)

| | |
| --- | --- |
| | "Trick Drafts": Starting With the Roughest Draft |

64
(1)

| | |
| --- | --- |
| | Writing a Hypothesis and Composing Paragraphs |

65
(2)

| | |
| --- | --- |
| | A Recommended Order for Drafting APA-Style Papers |

67
(2)

| | |
| --- | --- |
| | Writing Subsequent Drafts |

69
(4)
69
(2)

| | |
| --- | --- |
| | Suggestions for Further Improvement |

71
(1)
72
(1)

| | |
| --- | --- |
| | Revising: Top to Bottom Every Time |

73
(4)
74
(3)
77
(3)

| | |
| --- | --- |
| | Professor, Peer, or Writing Center? |

77
(1)

| | |
| --- | --- |
| | How to (Graciously) Receive Feedback |

78
(1)

| | |
| --- | --- |
| | How to (Graciously) Give Feedback |

79
(1)
80
(1)

| | |
| --- | --- |
| | 5 WRITING APA-STYLE PAPERS: CONTENT AND GUIDANCE |

81
(38)
81
(2)

| | |
| --- | --- |
| | Bem's Hourglass Model for Empirical Writings |

83
(1)

| | |
| --- | --- |
| | Writing the Empirical, or Research, Paper in APA Style |

83
(20)
83
(2)
85
(2)
87
(5)
92
(5)
97
(1)
98
(3)
101
(1)
101
(1)
102
(1)
102
(1)
103
(11)

| | |
| --- | --- |
| | Writing an Article Critique |

114
(1)

| | |
| --- | --- |
| | Writing a Research Proposal |

114
(1)

| | |
| --- | --- |
| | Writing a Literature Review Paper |

115
(2)
117
(1)
117
(2)
119
(11)

| | |
| --- | --- |
| | Conveying Statistical Results In Words |

119
(7)

| | |
| --- | --- |
| | Starting With a Hypothetical Research Result |

119
(4)

| | |
| --- | --- |
| | Organizing the Results Section |

123
(3)

| | |
| --- | --- |
| | Reflecting Further on Your Results |

126
(3)

| | |
| --- | --- |
| | New APA Guidelines on Statistical Methods |

126
(2)

| | |
| --- | --- |
| | Meaning Before Numbers: The MAGIC Criteria |

128
(1)
129
(1)

| | |
| --- | --- |
| | 7 CITING REFERENCES IN APA STYLE |

130
(20)
130
(2)

| | |
| --- | --- |
| | Learn the Psychological Literature by Reading Reference Sections |

131
(1)
132
(9)

| | |
| --- | --- |
| | Citing References Within Text |

132
(2)
134
(6)
140
(1)

| | |
| --- | --- |
| | Formats for APA-Style References |

141
(8)
142
(1)
143
(1)
144
(1)
144
(1)

| | |
| --- | --- |
| | Magazine or Newspaper Articles |

144
(1)

| | |
| --- | --- |
| | Presentations at Professional Meetings or Conferences |

145
(1)

| | |
| --- | --- |
| | Electronic (Online) Sources |

145
(1)
146
(1)
146
(1)
146
(1)

| | |
| --- | --- |
| | Dissertations and Masters Theses |

147
(1)

| | |
| --- | --- |
| | Unpublished Manuscripts or Data |

147
(2)
149
(1)

| | |
| --- | --- |
| | 8 DISPLAYING DATA IN TABLES AND FIGURES |

150
(10)
150
(4)
151
(3)
154
(5)
156
(3)
159
(1)

| | |
| --- | --- |
| | 9 FORMATTING AND PROOFREADING YOUR PAPER |

160
(23)
160
(4)
164
(3)

| | |
| --- | --- |
| | Some Common Usage Errors in Student Writing |

167
(2)
169
(1)

| | |
| --- | --- |
| | Check Your Writing Voice: Be Active, Not Passive |

170
(1)
171
(4)
173
(2)
175
(1)

| | |
| --- | --- |
| | Guidelines for Formatting in APA Style |

175
(4)
176
(1)
177
(1)
177
(2)

| | |
| --- | --- |
| | Quickly Checking a Paper's Format |

179
(1)

| | |
| --- | --- |
| | Proofreading the Penultimate Draft: Once More with Feeling |

179
(3)
182
(1)
10 BEYOND WRITING: PRESENTING PSYCHOLOGICAL RESEARCH
183
(26)
183
(5)

| | |
| --- | --- |
| | Understanding Call Types and Requirements |

184
(2)
186
(2)
188
(7)
189
(1)

| | |
| --- | --- |
| | Preparing Overheads, Slides, and Handouts |

190
(1)
190
(1)

| | |
| --- | --- |
| | Practice, Practice, Practice |

191
(1)

| | |
| --- | --- |
| | Giving the Talk: Be a Pro, Avoid the Cons |

191
(4)

| | |
| --- | --- |
| | Symposia: Talks in Common |

195
(2)
197
(1)
197
(5)
198
(1)

| | |
| --- | --- |
| | Creating a Poster: Less Is More-and More Is a Bore |

199
(3)

| | |
| --- | --- |
| | Return to Writing: Submitting Your Research to a Journal |

202
(6)
202
(1)
203
(2)

| | |
| --- | --- |
| | Submission, Peer Review, and Editorial Decision: A Process Outline |

205
(2)

| | |
| --- | --- |
| | Patience, Patience, Patience |

207
(1)
208
(1)
APPENDIX
209
(2)
REFERENCES
211
(9)
CREDITS
220
(3)
INDEX
223