Note: Supplemental materials are not guaranteed with Rental or Used book purchases.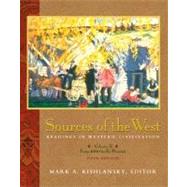 Sources of the West: Readings in Western Civilization, Volume II
ISBN13:
9780321105516
by
Kishlansky, Mark
Summary
Sources of the West presents a well-balanced selection of readings that integrate coverage of social, economic, religious, and cultural history within a traditional, political framework. The text includes constitutional documents, political theory, philosophy, imaginative literature, and social description that raise significant issues for classroom discussions or lectures. By reading the voices of the past, students can connect them to the present, learn to understand and respect other cultures, and think critically about history.
Table of Contents
Preface
ix
How to Read a Document
xiii
Part IV The Ancien Regime
1
(2)
The Wars of Religion
3
(14)

| | |
| --- | --- |
| | The Edict of Nantes (1598) |

3
(2)

| | |
| --- | --- |
| | William of Orange, Apology (1580) |

5
(4)

| | |
| --- | --- |
| | The Political Testament (1638) |

9
(3)
12
(5)
Subjects and Sovereigns
17
(28)

| | |
| --- | --- |
| | True Law of a Free Monarchy (1598) |

17
(5)

| | |
| --- | --- |
| | A Defense of Liberty Against Tyrants (1579) |

22
(5)

| | |
| --- | --- |
| | Philippe Duplessis-Mornay |

| | |
| --- | --- |
| | The Putney Debates (1647) |

27
(6)
33
(4)

| | |
| --- | --- |
| | Second Treatise of Government (1689) |

37
(4)
41
(4)
Science and Commerce
45
(17)

| | |
| --- | --- |
| | Letter to the Grand Duchess Christina (1615) |

45
(4)

| | |
| --- | --- |
| | Discourse on Method (1637) |

49
(4)

| | |
| --- | --- |
| | England's Treasure by Foreign Trade (1664) |

53
(5)

| | |
| --- | --- |
| | The Wealth of Nations (1776) |

58
(4)
Enlightened Monarchy
62
(10)

| | |
| --- | --- |
| | Catherine the Great, Memoirs (ca. 1755) |

62
(3)
65
(4)

| | |
| --- | --- |
| | The Idea of a Patriot King (1749) |

69
(3)
The Enlightenment
72
(26)
72
(4)

| | |
| --- | --- |
| | The Social Contract (1762) |

76
(4)

| | |
| --- | --- |
| | Montesquieu, Spirit of the Laws (1748) |

80
(4)

| | |
| --- | --- |
| | Notes on the French Slave Trade (1784--1785) |

84
(4)

| | |
| --- | --- |
| | Joseph Crassons de Medeuil |

| | |
| --- | --- |
| | The Declaration of Independence (1776) |

88
(4)

| | |
| --- | --- |
| | On Crimes and Punishments (1764) |

92
(3)

| | |
| --- | --- |
| | The Progress of the Human Mind (1793) |

95
(3)
The French Revolution
98
(19)

| | |
| --- | --- |
| | What Is the Third Estate? (1789) |

98
(5)

| | |
| --- | --- |
| | The Declaration of the Rights of Man (1789); Olympe de Gouges, The Declaration of the Rights of Woman (1791) |

103
(5)

| | |
| --- | --- |
| | Reflections on the Revolution in France (1790) |

108
(3)
111
(6)
Part V The Age of Reform
117
(2)
Industrialization in Britain
119
(18)

| | |
| --- | --- |
| | Political Arithmetic (1774) |

119
(4)
123
(4)

| | |
| --- | --- |
| | Inquiry into the Condition of the Poor (1842) |

127
(5)

| | |
| --- | --- |
| | The Condition of the Working Class in England (1845) |

132
(5)
Nineteenth-Century Society and Culture
137
(13)

| | |
| --- | --- |
| | Pride and Prejudice (1813) |

137
(4)

| | |
| --- | --- |
| | Madame de la Tour du Pin, Memoirs (1820--43) |

141
(4)

| | |
| --- | --- |
| | Modern Housewife (1850); Isabella Beeton, Mrs. Beeton's Book of Household Management (1861) |

145
(5)
Political Critiques
150
(37)
150
(4)
154
(4)
158
(4)

| | |
| --- | --- |
| | Letter to the Shogun (1844); Bakufu, Reply to the Government of Holland (1845) |

162
(4)

| | |
| --- | --- |
| | The Communist Manifesto (1848) |

166
(4)

| | |
| --- | --- |
| | The Emancipation of the Serfs (1861) |

170
(3)

| | |
| --- | --- |
| | Reflections and Reminiscences (1898) and Speech to the Reichstag (1879) |

173
(6)

| | |
| --- | --- |
| | Rerum Novarum (The Condition of Labor) (1891) |

179
(8)
Emancipating the Mind and the Body
187
(23)

| | |
| --- | --- |
| | The Descent of Man (1871) |

187
(3)

| | |
| --- | --- |
| | Beyond Good and Evil (1886) |

190
(5)

| | |
| --- | --- |
| | The Interpretation of Dreams (1899) |

195
(4)

| | |
| --- | --- |
| | History of the Suffrage Movement (1912) |

199
(5)

| | |
| --- | --- |
| | Women and the Factory Acts (1896) |

204
(6)
Thoughts on Empire
210
(21)
210
(3)

| | |
| --- | --- |
| | Confession of Faith (1877) |

213
(3)

| | |
| --- | --- |
| | Social Life of the Swahilis (late 19th century) |

216
(6)

| | |
| --- | --- |
| | ``The White Man's Burden'' (1899) |

222
(2)

| | |
| --- | --- |
| | ``Shooting an Elephant'' (1936) |

224
(7)
Part VI Twentieth-Century Europe
231
(2)
War and Revolution
233
(22)

| | |
| --- | --- |
| | Voices from the Battle of the Somme (1916) |

233
(6)
239
(3)

| | |
| --- | --- |
| | The Fourteen Points (1918) |

242
(3)

| | |
| --- | --- |
| | What Is to Be Done? (1902) |

245
(4)

| | |
| --- | --- |
| | ``Theses on Communist Morality in the Sphere of Marital Relations'' (1921) |

249
(6)
The Second World War
255
(28)

| | |
| --- | --- |
| | The Economic Consequences of the Peace (1919) |

255
(3)

| | |
| --- | --- |
| | Women and a Changing Civilization (1934) |

258
(4)
262
(4)
266
(4)

| | |
| --- | --- |
| | Memories of the Holocaust (1938--45) |

270
(6)
276
(3)
279
(4)
The Twentieth-Century Imagination
283
(18)

| | |
| --- | --- |
| | A Room of One's Own (1929) |

283
(5)

| | |
| --- | --- |
| | One Day in the Life of Ivan Denisovich (1962) |

288
(5)
293
(3)
296
(5)
The Transformation of Eastern Europe
301
(21)

| | |
| --- | --- |
| | ``The Iron Curtain'' (1946) |

301
(4)

| | |
| --- | --- |
| | Report to the Communist Party Congress (1961) |

305
(4)
309
(6)

| | |
| --- | --- |
| | The End of History? (1989) |

315
(7)
Toward a New World
322
(19)

| | |
| --- | --- |
| | Charter of the United Nations (1946) |

322
(4)

| | |
| --- | --- |
| | The Charter of Economic Rights and Duties of States (1974) |

326
(6)

| | |
| --- | --- |
| | Report on the Fall of Srebrenica (1999) |

332
(9)
Acknowledgments
341
(4)
Photo Credits
345