Note: Supplemental materials are not guaranteed with Rental or Used book purchases.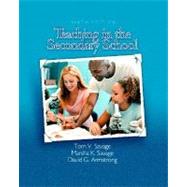 Questions About This Book?
What version or edition is this?
This is the 6th edition with a publication date of 1/1/2006.
What is included with this book?
The Used copy of this book is not guaranteed to include any supplemental materials. Typically, only the book itself is included.
Related Products
Summary
For General Secondary Methods and Introduction to Secondary Schools courses.Preparing secondary school teachers for the realities of teaching in today's classrooms can be daunting. Teaching in the Secondary School: An Introduction, 6th Edition, which takes a reflective approach to learning, prepares teachers for today's classroom through increased emphasis on curriculum, differentiated instruction, assessment, and unit and lesson planning. Teachers enter the classroom prepared with practical skills and lessons to create a successful environment for learning where all students succeed.
Table of Contents
| | |
| --- | --- |
| | Part 1: The Setting Today |

2
(86)

| | |
| --- | --- |
| | The Changing World of Teaching |

5
(28)
6
(1)
6
(2)
8
(4)

| | |
| --- | --- |
| | Making a Contribution to Society |

8
(1)

| | |
| --- | --- |
| | Enjoying Freedom to Work with Few Constraints |

9
(1)

| | |
| --- | --- |
| | Transmitting Academic Content |

9
(1)

| | |
| --- | --- |
| | Helping Students Develop as Individuals |

10
(1)

| | |
| --- | --- |
| | Being Rewarded for Good Performance |

11
(1)

| | |
| --- | --- |
| | Historical Development of Secondary Education |

12
(4)
12
(2)
14
(1)
14
(2)
16
(5)
18
(2)

| | |
| --- | --- |
| | Breaking Ranks: Changing an American Institution |

20
(1)
21
(5)

| | |
| --- | --- |
| | Standards-Based Education |

21
(2)
23
(1)
24
(2)

| | |
| --- | --- |
| | Improving Teacher Quality |

26
(2)

| | |
| --- | --- |
| | Interstate New Teacher Assessment and Support Consortium (1999) |

26
(1)

| | |
| --- | --- |
| | National Board for Professional Teaching Standards |

26
(2)
28
(1)
29
(1)
29
(1)
30
(3)
33
(26)
34
(1)
34
(1)

| | |
| --- | --- |
| | Diversity of the Student Population |

35
(4)

| | |
| --- | --- |
| | Racial and Ethnic Diversity |

35
(2)

| | |
| --- | --- |
| | Poverty and Success at School |

37
(1)

| | |
| --- | --- |
| | Students with Disabilities |

38
(1)
39
(1)

| | |
| --- | --- |
| | Patterns of Adolescent Development |

39
(4)

| | |
| --- | --- |
| | Characteristics of Quality Secondary Schools |

43
(3)
44
(1)
45
(1)
46
(8)

| | |
| --- | --- |
| | Coalition of Essential Schools |

46
(1)

| | |
| --- | --- |
| | Breakthrough High Schools |

47
(2)

| | |
| --- | --- |
| | Advanced Placement Program |

49
(1)

| | |
| --- | --- |
| | International Baccalaureate Program |

50
(1)

| | |
| --- | --- |
| | Safe Schools: The Issue of Violence in Schools |

50
(4)
54
(1)
55
(1)
56
(3)
59
(29)
60
(1)
60
(1)
61
(9)
61
(1)

| | |
| --- | --- |
| | Historic Views of Minorities |

62
(2)

| | |
| --- | --- |
| | Guidelines for Promoting Academic Success |

64
(6)
70
(13)

| | |
| --- | --- |
| | Legislative Foundations of Programs |

71
(2)

| | |
| --- | --- |
| | Students with Disabilities |

73
(7)

| | |
| --- | --- |
| | Gifted and Talented Students |

80
(3)
83
(1)
84
(1)
85
(1)
86
(2)

| | |
| --- | --- |
| | Part 2: Preparing for Teaching |

88
(140)
91
(26)
92
(1)
92
(2)

| | |
| --- | --- |
| | What Is Reflective Teaching? |

94
(2)

| | |
| --- | --- |
| | Reflective Decision Making |

96
(14)
97
(4)
101
(1)
102
(7)
109
(1)

| | |
| --- | --- |
| | Formal and Informal Professional Growth Opportunities |

110
(1)

| | |
| --- | --- |
| | The Professional Development Portfolio |

110
(2)
112
(2)
114
(1)
114
(1)
114
(3)

| | |
| --- | --- |
| | Content Selection and Development of Objectives |

117
(28)
118
(1)
118
(1)

| | |
| --- | --- |
| | Factors Influencing Content Selection |

118
(7)
118
(1)

| | |
| --- | --- |
| | State Standards and Frameworks |

119
(1)
119
(2)

| | |
| --- | --- |
| | International Comparisons of Student Achievement |

121
(1)
122
(1)

| | |
| --- | --- |
| | Availability of Support Materials |

123
(1)
124
(1)

| | |
| --- | --- |
| | Understanding the Structure of Knowledge |

125
(5)
126
(1)
126
(2)

| | |
| --- | --- |
| | Generalizations, Principles, and Laws |

128
(2)

| | |
| --- | --- |
| | Developing Goals and Instructional Objectives |

130
(12)
130
(1)
131
(5)

| | |
| --- | --- |
| | Putting It All Together: The ABCD Format |

136
(6)
142
(1)
142
(1)
143
(2)

| | |
| --- | --- |
| | Planning Units and Lessons |

145
(30)
146
(1)
146
(1)
146
(2)
147
(1)

| | |
| --- | --- |
| | Intermediate-Term Planning |

147
(1)
147
(1)

| | |
| --- | --- |
| | Variables That Influence Planning |

148
(3)
148
(1)
148
(1)
149
(1)
149
(1)
150
(1)
151
(9)

| | |
| --- | --- |
| | Basic Unit Types: Single Subject and Interdisciplinary |

152
(1)
152
(1)
153
(7)
160
(11)
166
(3)

| | |
| --- | --- |
| | Providing for the Needs of Special Groups of Students |

169
(1)
169
(2)
171
(1)
171
(1)
172
(1)
172
(3)

| | |
| --- | --- |
| | Differentiating Instruction |

175
(28)
176
(1)
176
(2)

| | |
| --- | --- |
| | Defining Differentiated Instruction |

178
(1)

| | |
| --- | --- |
| | Altering Variables to Accommodate Individual Differences |

178
(8)

| | |
| --- | --- |
| | Altering the Rate of Learning |

179
(2)

| | |
| --- | --- |
| | Altering the Context of Learning |

181
(2)

| | |
| --- | --- |
| | Altering the Method of Learning |

183
(1)

| | |
| --- | --- |
| | Altering the Goals of Learning |

184
(2)

| | |
| --- | --- |
| | Committing to Differentiated Approaches |

186
(10)
186
(2)
188
(1)
189
(2)

| | |
| --- | --- |
| | Computers and Differentiated Instruction |

191
(2)
193
(2)

| | |
| --- | --- |
| | Differentiation Through Sheltered Instruction |

195
(1)
196
(2)
198
(1)
199
(1)
200
(1)
200
(3)

| | |
| --- | --- |
| | Management and Discipline |

203
(25)
204
(1)
204
(1)

| | |
| --- | --- |
| | Why Do Students Misbehave? |

205
(1)

| | |
| --- | --- |
| | Defining Management and Discipline |

206
(3)
206
(2)
208
(1)

| | |
| --- | --- |
| | The Management Dimension: Preventing Problems |

209
(6)

| | |
| --- | --- |
| | Teacher Leadership and Authority |

209
(3)
212
(1)

| | |
| --- | --- |
| | Managing the Physical Environment |

212
(3)

| | |
| --- | --- |
| | The Discipline Dimension: Preventing Problems |

215
(4)

| | |
| --- | --- |
| | Maximizing Student Involvement |

215
(2)

| | |
| --- | --- |
| | Teaching Conflict Resolution |

217
(1)

| | |
| --- | --- |
| | Emphasizing Private Correction |

218
(1)

| | |
| --- | --- |
| | Choosing Misbehavior Means Choosing to Experience the Consequences |

218
(1)

| | |
| --- | --- |
| | The Discipline Dimension: Responding Systematically to Problems |

219
(5)

| | |
| --- | --- |
| | Responses Supporting Self-Control |

219
(2)

| | |
| --- | --- |
| | Providing Situational Assistance |

221
(1)

| | |
| --- | --- |
| | Implementing Severe Consequences |

222
(2)
224
(1)
225
(1)
226
(1)
226
(1)
226
(2)

| | |
| --- | --- |
| | Part 3: The Instructional Act |

228
(142)

| | |
| --- | --- |
| | Models of Direct Instruction |

231
(26)
232
(1)
232
(1)

| | |
| --- | --- |
| | Determining the Instructional ``Worth'' of Direct Instruction |

233
(1)

| | |
| --- | --- |
| | Basic Characteristics of Direct Instruction |

234
(3)
234
(1)

| | |
| --- | --- |
| | Formal Delivery to the Whole Class |

234
(2)

| | |
| --- | --- |
| | Constant Monitoring to Check for Understanding |

236
(1)

| | |
| --- | --- |
| | Controlled Classroom Practice |

236
(1)

| | |
| --- | --- |
| | Underlying Principles of Direct Instruction |

237
(1)

| | |
| --- | --- |
| | Direct Instruction: Lesson Models |

238
(9)
240
(1)
241
(1)

| | |
| --- | --- |
| | Recalling Previous Learning |

242
(1)

| | |
| --- | --- |
| | Presenting New Information |

242
(2)
244
(1)
245
(1)
245
(2)

| | |
| --- | --- |
| | Implementing Direct Learning |

247
(2)

| | |
| --- | --- |
| | Teaching at the Appropriate Level of Difficulty |

247
(1)

| | |
| --- | --- |
| | Conducting Appropriate Task Analyses |

248
(1)

| | |
| --- | --- |
| | Attending to Lesson Closure |

248
(1)

| | |
| --- | --- |
| | Conducting Periodic Reviews |

249
(1)

| | |
| --- | --- |
| | Reflecting on Direct Instruction |

249
(2)

| | |
| --- | --- |
| | Direct Instruction and Student Characteristics |

251
(1)

| | |
| --- | --- |
| | This Chapter as an Example of Direct Instruction |

251
(2)
253
(1)
254
(1)
254
(1)
255
(2)

| | |
| --- | --- |
| | Teaching for Higher-Level Outcomes |

257
(32)
258
(1)
258
(1)
259
(4)
260
(1)
261
(2)
263
(9)

| | |
| --- | --- |
| | Comparing, Contrasting, and Generalizing |

264
(2)
266
(5)
271
(1)
272
(1)
272
(1)
273
(2)
273
(2)
275
(3)
278
(6)

| | |
| --- | --- |
| | An Example of a Basic Decision-Making Lesson |

279
(1)

| | |
| --- | --- |
| | Issues, Values, and Consequences Analysis |

280
(4)
284
(1)
285
(1)
286
(1)
287
(2)

| | |
| --- | --- |
| | Small-Group and Cooperative Learning |

289
(28)
290
(1)
290
(1)

| | |
| --- | --- |
| | Creating Conditions That Facilitate Small-Group Learning |

291
(2)

| | |
| --- | --- |
| | Teaching Prerequisite Skills |

292
(1)

| | |
| --- | --- |
| | Understanding Peer Relationships |

292
(1)

| | |
| --- | --- |
| | Creating a Climate of Respect and Trust |

293
(1)

| | |
| --- | --- |
| | Decreasing the Number of Risk Factors |

293
(3)

| | |
| --- | --- |
| | Implementing Cooperative Goal Structures |

294
(2)

| | |
| --- | --- |
| | Preparing Students to Work in Small Groups |

296
(2)
296
(1)
296
(1)
297
(1)
297
(1)
298
(1)

| | |
| --- | --- |
| | Two Popular Small-Group Techniques |

298
(3)
298
(2)
300
(1)

| | |
| --- | --- |
| | Cooperative Learning Approaches |

301
(11)

| | |
| --- | --- |
| | Student Teams-Achievement Divisions |

304
(1)
305
(2)
307
(2)
309
(1)
310
(2)

| | |
| --- | --- |
| | Cooperative Learning in Diverse Classrooms |

312
(1)
313
(1)
314
(1)
314
(1)
315
(2)

| | |
| --- | --- |
| | Reading Across the Curriculum |

317
(26)
318
(1)
318
(1)

| | |
| --- | --- |
| | Creating Conditions to Stimulate Reading |

318
(1)
319
(17)
320
(9)

| | |
| --- | --- |
| | Assistance Phase: Building Comprehension |

329
(4)

| | |
| --- | --- |
| | Reflection Phase: Questioning, Writing, and Discussing |

333
(3)

| | |
| --- | --- |
| | Using Trade Books in the Content Classroom |

336
(2)
338
(1)
339
(1)
340
(3)

| | |
| --- | --- |
| | Assessing Student Learning |

343
(27)
344
(1)
344
(1)

| | |
| --- | --- |
| | Assessment and Evaluation |

345
(1)

| | |
| --- | --- |
| | Basic Assessment Principles |

345
(1)

| | |
| --- | --- |
| | Connecting Instruction and Assessment |

346
(2)

| | |
| --- | --- |
| | Focusing on Important Outcomes |

347
(1)
348
(15)
348
(7)

| | |
| --- | --- |
| | Authentic, Natural Assessment |

355
(6)
361
(2)
363
(4)
365
(1)

| | |
| --- | --- |
| | Establishing a Grading Plan |

366
(1)
367
(1)
368
(1)
369
(1)

| | |
| --- | --- |
| | Part 4: The Professional Context |

370
(57)
373
(26)
374
(1)
374
(1)

| | |
| --- | --- |
| | Legal Issues Affecting Students |

375
(10)
375
(2)
377
(8)

| | |
| --- | --- |
| | Legal Issues Affecting Teachers |

385
(10)
385
(1)
386
(2)

| | |
| --- | --- |
| | Dismissal and Due Process |

388
(1)

| | |
| --- | --- |
| | Reporting Suspected Child Abuse |

389
(1)
389
(2)

| | |
| --- | --- |
| | Academic Freedom and Freedom of Expression |

391
(2)
393
(1)
394
(1)
395
(1)
396
(1)
397
(2)

| | |
| --- | --- |
| | Career-Long Professional Growth |

399
(28)
400
(1)
400
(1)
401
(2)

| | |
| --- | --- |
| | Specialized Knowledge and Skill |

401
(1)

| | |
| --- | --- |
| | Selective Admission to Preparation Programs |

402
(1)

| | |
| --- | --- |
| | Students as a Top Priority |

402
(1)

| | |
| --- | --- |
| | Autonomy and High Standards |

403
(1)

| | |
| --- | --- |
| | Professional Development Stages |

403
(5)
404
(3)
407
(1)
407
(1)

| | |
| --- | --- |
| | Teacher Development Stages: Summary |

408
(1)

| | |
| --- | --- |
| | Evaluating Classroom Performance |

408
(5)
409
(2)
411
(1)
412
(1)

| | |
| --- | --- |
| | Professional Growth Opportunities |

413
(5)

| | |
| --- | --- |
| | Staff Development Activities |

414
(1)

| | |
| --- | --- |
| | College and University Courses |

414
(1)

| | |
| --- | --- |
| | Professional Organization Work |

415
(3)
418
(4)
418
(1)
419
(1)
419
(1)
419
(1)

| | |
| --- | --- |
| | State Education Agency Employee |

420
(1)
420
(1)

| | |
| --- | --- |
| | Opportunities Outside of Education |

421
(1)
422
(1)
423
(1)
423
(1)
424
(1)
424
(3)
Name Index
427
(4)
Subject Index
431