Note: Supplemental materials are not guaranteed with Rental or Used book purchases.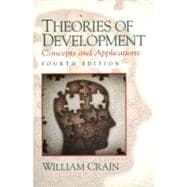 Theories of Development : Concepts and Applications
ISBN13:
9780139554025
by
Crain, William
Related Products
Summary
For courses in Theories of Development at the undergraduate or graduate level. As a supplement to Child/Life Span/Adolescent Development courses or for any course where instructors need additional coverage of developmental theories. The result of extensive scholarship and consultation with leading scholars, written in an engaging narrative for undergraduates and graduates alike, this text introduces students to twenty-four different theorists and compares and contrasts their theories on how we develop as individuals. Emphasizing the theories that follow and build upon the developmental tradition established by Rousseau, this text also covers theories in the environmental/learning tradition.
Author Biography
William Crain is professor of psychology at the City College of New York.
Table of Contents
Preface
ix
Introduction
xi

| | |
| --- | --- |
| | Early Theories: Preformationism, Locke, and Rousseau |

1
(19)
1
(3)
4
(7)

| | |
| --- | --- |
| | Rousseau's Romantic Naturalism |

11
(9)

| | |
| --- | --- |
| | Gesell's Maturational Theory |

20
(13)

| | |
| --- | --- |
| | Biographical Introduction |

20
(1)

| | |
| --- | --- |
| | Principles of Development |

21
(6)

| | |
| --- | --- |
| | Philosophy of Child-Rearing |

27
(3)
30
(3)

| | |
| --- | --- |
| | Ethological Theories: Darwin, Lorenz and Tinbergen, and Bowlby and Ainsworth |

33
(31)

| | |
| --- | --- |
| | Darwin and the Theory of Evolution |

33
(3)

| | |
| --- | --- |
| | Modern Ethology: Lorenz and Tinbergen |

36
(8)

| | |
| --- | --- |
| | Bowlby and Ainsworth on Human Attachment |

44
(20)

| | |
| --- | --- |
| | Montessori's Educational Philosophy |

64
(22)

| | |
| --- | --- |
| | Biographical Introduction |

64
(2)
66
(3)

| | |
| --- | --- |
| | Early Education in the Home |

69
(2)
71
(11)
82
(4)

| | |
| --- | --- |
| | Werner's Organismic and Comparative Theory |

86
(24)

| | |
| --- | --- |
| | Biographical Introduction |

86
(2)

| | |
| --- | --- |
| | Werner's View of Development |

88
(6)
94
(5)

| | |
| --- | --- |
| | Symbol Formation: An Organismic View |

99
(2)
101
(4)
105
(2)
107
(3)

| | |
| --- | --- |
| | Piaget's Cognitive-Developmental Theory |

110
(37)

| | |
| --- | --- |
| | Biographical Introduction |

110
(2)
112
(2)

| | |
| --- | --- |
| | Period I. Sensori-Motor Intelligence (Birth to 2 Years) |

114
(5)

| | |
| --- | --- |
| | Periods II and III. Preoperational Thought (2 to 7) and Concrete Operations (7 to 11) |

119
(11)

| | |
| --- | --- |
| | Period IV. Formal Operations (11 to Adulthood) |

130
(2)
132
(3)

| | |
| --- | --- |
| | Implications for Education |

135
(4)
139
(8)

| | |
| --- | --- |
| | Kohlberg's Stages of Moral Development |

147
(23)

| | |
| --- | --- |
| | Biographical Introduction |

147
(1)

| | |
| --- | --- |
| | Piaget's Stages of Moral Judgment |

148
(1)
149
(1)
150
(5)
155
(8)

| | |
| --- | --- |
| | Gilligan on the Feminine Voice |

163
(2)

| | |
| --- | --- |
| | Implications for Education |

165
(3)
168
(2)

| | |
| --- | --- |
| | Learning Theory: Pavlov, Watson, and Skinner |

170
(23)

| | |
| --- | --- |
| | Pavlov and Classical Conditioning |

170
(3)
173
(4)

| | |
| --- | --- |
| | Skinner and Operant Conditioning |

177
(16)

| | |
| --- | --- |
| | Bandura's Social Learning Theory |

193
(20)

| | |
| --- | --- |
| | Biographical Introduction |

193
(1)
194
(3)
197
(5)
202
(2)

| | |
| --- | --- |
| | Abstract Modeling and Piaget's Stages |

204
(4)
208
(2)
210
(3)

| | |
| --- | --- |
| | Vygotsky's Social-Historical Theory of Cognitive Development |

213
(31)

| | |
| --- | --- |
| | Biographical Introduction |

213
(2)

| | |
| --- | --- |
| | Marx's Views on Human Nature |

215
(2)

| | |
| --- | --- |
| | Vygotsky's Theory of Psychological Tools |

217
(4)
221
(1)
222
(9)
231
(6)
237
(2)
239
(5)

| | |
| --- | --- |
| | Freud's Psychoanalytic Theory |

244
(27)

| | |
| --- | --- |
| | Biographical Introduction |

244
(3)

| | |
| --- | --- |
| | The Stages of Psychosexual Development |

247
(13)
260
(6)
266
(1)
267
(4)

| | |
| --- | --- |
| | Erikson and the Eight Stages of Life |

271
(26)

| | |
| --- | --- |
| | Biographical Introduction |

271
(2)
273
(14)
287
(5)
292
(2)
294
(3)

| | |
| --- | --- |
| | Mahler's Separation/Individuation Theory |

297
(14)

| | |
| --- | --- |
| | Biographical Introduction |

297
(1)

| | |
| --- | --- |
| | Overview of Concepts and Methods |

298
(2)

| | |
| --- | --- |
| | Phases of Normal Development |

300
(6)
306
(2)
308
(3)

| | |
| --- | --- |
| | A Case Study in Psychoanalytic Treatment: Bettelheim on Autism |

311
(9)

| | |
| --- | --- |
| | Biographical Introduction |

311
(1)
312
(1)
313
(5)
318
(2)

| | |
| --- | --- |
| | Schachtel on Childhood Experiences |

320
(7)

| | |
| --- | --- |
| | Biographical Introduction |

320
(1)
321
(3)

| | |
| --- | --- |
| | Implications for Education |

324
(1)
325
(2)

| | |
| --- | --- |
| | Jung's Theory of Adulthood |

327
(13)

| | |
| --- | --- |
| | Biographical Introduction |

327
(3)
330
(3)
333
(4)
337
(1)
338
(2)

| | |
| --- | --- |
| | Chomsky's Theory of Language Development |

340
(21)

| | |
| --- | --- |
| | Biographical Introduction |

340
(1)
341
(6)

| | |
| --- | --- |
| | Notes on the Growth of Grammar |

347
(4)

| | |
| --- | --- |
| | Chomsky and Learning Theory |

351
(5)
356
(2)

| | |
| --- | --- |
| | Implications for Education |

358
(1)
359
(2)

| | |
| --- | --- |
| | Conclusion: Humanistic Psychology and Development Theory |

361
(13)
361
(7)

| | |
| --- | --- |
| | Developmentalists as Humanists |

368
(6)
Epilogue: A Developmental Perspective on the Standards Movement
374
(11)
374
(3)
377
(8)
References
385
(19)
Name Index
404
(5)
Subject Index
409