Note: Supplemental materials are not guaranteed with Rental or Used book purchases.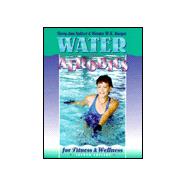 Questions About This Book?
What version or edition is this?
This is the 2nd edition with a publication date of 4/1/1999.
What is included with this book?
The New copy of this book will include any supplemental materials advertised. Please check the title of the book to determine if it should include any CDs, lab manuals, study guides, etc.
Summary
This completely revised and updated second edition offers the latest information for obtaining and maintaining wellness through water aerobics. Full of photos and illustrations, the book is appropriate for water aerobic classes or activity programs in colleges and universities, health/fitness clubs, and health promotion programs in general. Since most theoretical information is often overlooked, the use of this text will provide an excellent resource guide to all participants.
Table of Contents
1
(6)
2
(1)
2
(1)
3
(1)

| | |
| --- | --- |
| | Advantages of Water Aerobics |

3
(1)

| | |
| --- | --- |
| | Benefits of a Water Aerobics Fitness Program |

4
(1)
5
(2)
7
(18)

| | |
| --- | --- |
| | Fitness Assessment Battery |

8
(1)

| | |
| --- | --- |
| | Cardiorespiratory Endurance |

9
(2)
10
(1)

| | |
| --- | --- |
| | Muscular Strength and Endurance |

11
(4)
12
(1)

| | |
| --- | --- |
| | Muscular Endurance Testing |

12
(1)
12
(1)
12
(1)
13
(1)
13
(1)
14
(1)

| | |
| --- | --- |
| | Interpreting the Strength Test |

15
(1)
15
(3)

| | |
| --- | --- |
| | Assessment of Flexibility |

16
(1)

| | |
| --- | --- |
| | Modified Sit-and-Reach Test |

16
(1)
17
(1)

| | |
| --- | --- |
| | Interpretation of Flexibility Tests |

18
(1)
18
(6)
20
(1)
21
(3)
24
(1)

| | |
| --- | --- |
| | Water Aerobics Fitness Programming |

25
(18)

| | |
| --- | --- |
| | Basic Principles of Water Exercise |

26
(2)

| | |
| --- | --- |
| | General Training Principles |

26
(1)
26
(1)
26
(1)
26
(1)
26
(1)
27
(1)
27
(1)
27
(1)
27
(1)
27
(1)
28
(1)

| | |
| --- | --- |
| | Special Considerations for Water Aerobics |

28
(4)
28
(1)

| | |
| --- | --- |
| | Body Alignment and Abdominal Stabilization |

29
(1)
30
(1)
30
(1)
30
(1)
31
(1)
31
(1)

| | |
| --- | --- |
| | Water Exercise and Cramps |

31
(1)

| | |
| --- | --- |
| | Water Aerobics and Pregnancy |

31
(1)
32
(7)

| | |
| --- | --- |
| | Setting Realistic Fitness Goals |

32
(1)
32
(2)
34
(1)
34
(1)
35
(1)
35
(2)
37
(1)
38
(1)
38
(1)
38
(1)
39
(1)
39
(1)
40
(1)
40
(1)
40
(1)
41
(2)

| | |
| --- | --- |
| | Shallow- and Deep-Water Exercise |

43
(46)

| | |
| --- | --- |
| | Shallow-Water Aerobic Exercise |

44
(1)
44
(1)
44
(1)

| | |
| --- | --- |
| | Contact with Bottom of Pool |

44
(1)
44
(1)

| | |
| --- | --- |
| | Deep-Water Aerobic Exercise |

45
(2)
45
(1)
46
(1)

| | |
| --- | --- |
| | Body Alignment and Abdominal Stabilization |

46
(1)

| | |
| --- | --- |
| | Warming-up for Deep Water |

46
(1)

| | |
| --- | --- |
| | Shallow- and Deep-Water Aerobic Exercises |

46
(1)

| | |
| --- | --- |
| | Sample Class Sequence: Shallow-Water Aerobics |

47
(2)
49
(1)
49
(29)

| | |
| --- | --- |
| | Sample Class Sequence: Deep-Water Aerobics |

78
(1)
79
(9)
88
(1)
89
(12)
90
(2)
90
(1)
90
(1)
91
(1)
91
(1)
91
(1)
92
(1)
92
(5)

| | |
| --- | --- |
| | Recommended Dietary Allowances and Daily Values |

92
(1)
93
(1)

| | |
| --- | --- |
| | Antioxidants: Free Radical Combatants |

93
(4)
97
(2)
97
(1)
98
(1)

| | |
| --- | --- |
| | Dietary Guidelines for North Americans |

99
(1)

| | |
| --- | --- |
| | A Lifetime Commitment to Good Nutrition |

100
(1)
100
(1)
101
(20)
102
(1)

| | |
| --- | --- |
| | Principles of Weight Management |

103
(3)

| | |
| --- | --- |
| | Exercise: The Key to Successful Weight Management |

106
(2)

| | |
| --- | --- |
| | Designing Your Own Weight-Loss Program |

108
(4)

| | |
| --- | --- |
| | Estimating Your Caloric Intake |

108
(3)

| | |
| --- | --- |
| | Monitoring Your Diet With Daily Food Logs |

111
(1)

| | |
| --- | --- |
| | Tips for Behavior Modification and Adherence to a Lifetime Weight Management Program |

112
(2)
114
(5)
119
(2)

| | |
| --- | --- |
| | A Healthy Lifestyle Approach |

121
(24)

| | |
| --- | --- |
| | Diseases of the Cardiovascular System |

122
(10)
124
(1)
124
(1)

| | |
| --- | --- |
| | High Blood Pressure (Hypertension) |

125
(1)

| | |
| --- | --- |
| | Excessive Body Fat (Obesity) |

125
(1)

| | |
| --- | --- |
| | Abnormal Cholesterol Profile |

125
(2)
127
(1)
128
(1)
128
(1)

| | |
| --- | --- |
| | Abnormal Electrocardiograms (ECGs) |

129
(1)
129
(1)
130
(2)

| | |
| --- | --- |
| | Personal and Family History |

132
(1)
132
(1)
132
(6)

| | |
| --- | --- |
| | Guidelines for Cancer Prevention |

133
(1)
133
(2)
135
(1)

| | |
| --- | --- |
| | Avoiding Excessive Sun Exposure |

135
(1)

| | |
| --- | --- |
| | Monitoring Estrogen, Radiation Exposure, and Potential Occupational Hazards |

136
(1)
136
(1)
136
(1)
136
(1)
137
(1)

| | |
| --- | --- |
| | Chronic Obstructive Pulmonary Disease |

138
(1)
138
(1)
138
(1)
139
(1)
139
(1)
139
(1)
140
(1)

| | |
| --- | --- |
| | Sexually Transmitted Diseases |

140
(3)
140
(1)

| | |
| --- | --- |
| | Guidelines for Preventing STDs |

141
(2)
143
(2)
Bibliography
145
(8)
Appendices

| | |
| --- | --- |
| | A Health History Questionnaire |

147
(2)

| | |
| --- | --- |
| | B Personal Fitness Profile: Pre-Test |

149
(2)

| | |
| --- | --- |
| | C Personal Fitness Profile: Post-Test |

151
(2)
Index
153