Note: Supplemental materials are not guaranteed with Rental or Used book purchases.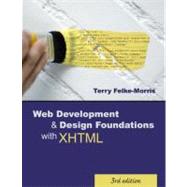 Questions About This Book?
What version or edition is this?
This is the 3rd edition with a publication date of 1/1/2007.
What is included with this book?
The Used copy of this book is not guaranteed to include any supplemental materials. Typically, only the book itself is included.
Summary
Web Development and Design Foundations with XHTML, 3/E includes everything begineers need to develop highly effective Web sites. Besides providing comprehensive coverage of XHTML, this book introduces the Web design and development process and offers successful strategies for promoting Web sites, including accessibility and standards. This is the only Web development and design book that explains concepts and provides step-by-step presentations that show you how to implement them. With Hands-On Practice, Hands-On Exercises, Web site Case Studies, and valuable reference material, this book has everything a beginning Web developer needs.
Table of Contents
Introduction to the Internet and World Wide Web
p. 1
The Evolution of the Internet
p. 2
The Internet, Intranets, and Extranets
p. 3
The Evolution of the World Wide Web
p. 3
Internet Standards and Coordination
p. 3
Web Standards and the World Wide Web Consortium
p. 5
Accessibility and the Web
p. 5
Ethical Use of Information on the Web
p. 6
Network Overview
p. 7
The Client/Server Model
p. 9
Internet Protocols
p. 10
File Transfer Protocol (FTP)
p. 10
E-mail Protocols
p. 10
Hypertext Transfer Protocol (HTTP)
p. 10
Transmission Control Protocol/Internet Protocol (TCP/IP)
p. 10
URLs and Domain Names
p. 12
URLs
p. 12
Domain Names
p. 13
Markup Languages
p. 15
Standard Generalized Markup Language (SGML)
p. 15
Hypertext Markup Language (HTML)
p. 15
Extensible Markup Language (XML)
p. 15
Extensible Hypertext Markup Language (XHTML)
p. 16
Internet and Web Trends
p. 16
Chapter 1 Review
p. 20
Summary
p. 20
Key Terms
p. 20
Review Questions
p. 21
Hands-On Exercise
p. 22
Web Research
p. 22
XHTML Basics
p. 23
What Is HTML?
p. 24
Why XHTML and Not HTML?
p. 24
Document Type Definition
p. 26
Your First Web Page
p. 26
XHTML-Body and Text Basics
p. 31
The Body Tag
p. 31
The Heading Tag
p. 32
Accessibility and Headings
p. 33
The Paragraph Tag
p. 34
The Line Break Tag
p. 35
XHTML-List Basics
p. 38
Definition Lists
p. 38
Ordered Lists
p. 40
Unordered Lists
p. 41
XHTML-More Block-Level Tags
p. 43
Preformatted Text
p. 43
Indenting Text
p. 45
XHTML-Text Formatting
p. 46
The [left angle bracket]font[right angle bracket] Tag
p. 46
Logical Style Tags
p. 49
Physical Style Tags
p. 51
Special XHTML Characters
p. 52
XHTML Validation
p. 54
Chapter 2 Review
p. 57
Summary
p. 57
Key Terms
p. 57
Review Questions
p. 57
Apply Your Knowledge
p. 58
Hands-On Exercises
p. 60
Web Site Case Study
p. 61
Web Research
p. 70
XHTML Links and Tables
p. 71
XHTML-Hyperlinks
p. 72
The Anchor Tag
p. 72
Absolute and Relative Links
p. 72
Accessibility and Links
p. 76
More on Relative Linking
p. 77
Relative Link Examples
p. 77
Opening a Link in a New Browser Window
p. 78
Internal Links
p. 78
E-mail Links
p. 82
Using Tables on Web Pages
p. 83
Overview of an XHTML Table
p. 83
XHTML Table Headings
p. 84
XHTML Table Captions
p. 85
XHTML Table Attributes
p. 86
Applying Attributes to Rows and Cells
p. 91
Accessibility and Tables
p. 96
XHTML-Formatting a Web Page with a Table
p. 97
Accessibility and Layout Tables
p. 99
More Sample Page Layout Tables
p. 100
Flexible and Fixed Table Widths
p. 101
Nested Tables
p. 103
Chapter 3 Review
p. 105
Summary
p. 105
Key Terms
p. 105
Review Questions
p. 105
Apply Your Knowledge
p. 106
Hands-On Exercises
p. 108
Web Site Case Study: Adding Links, Using Tables
p. 110
Web Research
p. 121
XHTML Color and Visual Elements
p. 123
Using Color on Web Pages
p. 124
Web Color Palette
p. 124
Color and the Body Tag
p. 125
Accessibility and Color
p. 126
Horizontal Rules
p. 126
Horizontal Rule Attributes
p. 127
Types of Graphics
p. 129
GIF Images
p. 130
JPEG Images
p. 132
PNG Images
p. 134
Using Graphics
p. 134
The ImageTag
p. 134
Accessibility and Images
p. 136
Page Backgrounds
p. 137
Image Links
p. 141
XHTML Images and More
p. 144
The [left angle bracket]nobr[right angle bracket] Tag
p. 144
Using a Table to Format Images
p. 145
Image Maps
p. 146
Thumbnail Images
p. 149
Advanced Techniques: Image Slicing
p. 149
Sources and Guidelines for Graphics
p. 149
Sources of Graphics
p. 149
Guidelines for Using Images
p. 150
Web Accessibility
p. 152
Chapter 4 Review
p. 153
Summary
p. 153
Key Terms
p. 153
Review Questions
p. 153
Apply Your Knowledge
p. 155
Hands-On Exercises
p. 156
Web Site Case Study: Using Graphics
p. 159
Web Research
p. 173
XHTML Frames
p. 175
Overview of Frames
p. 176
Advantages of Using Frames
p. 177
Disadvantages of Using Frames
p. 178
Accessibility and Frames
p. 179
XHTML-Using Frames
p. 180
Your First Frameset
p. 180
The [left angle bracket]frameset[right angle bracket] Tag
p. 186
The [left angle bracket]frame /[right angle bracket] Tag
p. 188
The [left angle bracket]noframes[right angle bracket] Tag
p. 191
The Target Attribute
p. 191
The [left angle bracket]base /[right angle bracket] Tag
p. 192
Inline Frames
p. 192
Frames, Links, and Ethics
p. 198
Chapter 5 Review
p. 199
Summary
p. 199
Key Terms
p. 199
Review Questions
p. 199
Apply Your Knowledge
p. 200
Hands-On Exercises
p. 202
Web Site Case Study: Using Frames
p. 205
Web Research
p. 218
XHTML Forms
p. 219
Overview of Forms
p. 220
XHTML-Using Forms
p. 221
The [left angle bracket]form[right angle bracket] Tag
p. 223
Basic Form Elements
p. 225
Form Enhancements
p. 240
The [left angle bracket]label[right angle bracket] Tag
p. 240
The [left angle bracket]fieldset[right angle bracket] and [left angle bracket]legend[right angle bracket] Tags
p. 240
The tabindex Attribute
p. 241
The accesskey Attribute
p. 242
Accessibility and Forms
p. 242
Image Buttons and [left angle bracket]button[right angle bracket] Tag
p. 242
CGI Server-Side Processing
p. 246
Steps in Utilizing CGI
p. 247
Using CGI
p. 247
Privacy and Forms
p. 250
CGI Resources
p. 250
Other Technologies Used for Server-Side Processing
p. 252
Chapter 6 Review
p. 253
Summary
p. 253
Key Terms
p. 253
Review Questions
p. 253
Apply Your Knowledge
p. 255
Hands-On Exercises
p. 256
Web Site Case Study: Adding a Form
p. 258
Web Research
p. 267
Web Site Design
p. 269
Web Site Organization
p. 271
Hierarchical Organization
p. 271
Linear Organization
p. 274
Random Organization
p. 275
Web Site Navigation-Best Practices
p. 276
Ease of Navigation
p. 276
Navigation Bars
p. 277
Short Pages
p. 279
Table of Contents
p. 280
Site Map and Site Search Features
p. 280
Design Principles
p. 281
Repetition: Repeat Visual Elements throughout Design
p. 281
Contrast: Add Visual Excitement and Draw Attention
p. 282
Proximity: Group-Related Items
p. 282
Alignment: Align Elements to Create Visual Unity
p. 283
Web Page Design-Best Practices
p. 283
Load Time
p. 283
Perceived Load Time
p. 285
Above the Fold
p. 285
Web Page "Real Estate"
p. 285
Horizontal Scrolling
p. 285
Adequate White Space
p. 286
Target Audience
p. 286
Browser-Friendly
p. 289
Screen Resolution
p. 289
Page Layout
p. 290
Page Layout Design Techniques
p. 292
Ice Design
p. 292
Jello Design
p. 292
Liquid Design
p. 292
Text Design-Best Practices
p. 296
Graphic Design-Best Practices
p. 297
Design to Provide Accessibility
p. 301
Best Practices Checklist
p. 303
Chapter 7 Review
p. 307
Summary
p. 307
Key Terms
p. 307
Review Questions
p. 307
Hands-On Exercises
p. 308
Web Site Case Study: Focus on Web Design
p. 310
Web Research
p. 313
Web Site Development
p. 315
Successful Large-Scale Project Development
p. 316
Project Manager
p. 316
Information Architect
p. 316
Marketing Representative
p. 316
Copywriter and Editor
p. 316
Content Manager
p. 316
Graphic Designer
p. 317
Database Administrator
p. 317
Network Administrator
p. 317
Web Developer
p. 317
Project Staffing Criteria
p. 317
The Development Process
p. 317
Conceptualization
p. 319
Analysis
p. 319
Design
p. 322
Production
p. 323
Testing
p. 324
Launch
p. 326
Maintenance
p. 327
Evaluation
p. 327
Web Hosting
p. 327
Types of Web Host Providers
p. 327
Hosting Needs
p. 328
Choosing a Virtual Host
p. 330
Chapter 8 Review
p. 331
Summary
p. 331
Key Terms
p. 331
Review Questions
p. 331
Hands-On Exercises
p. 332
Web Site Case Study: Design Phase
p. 335
Web Project
p. 335
Web Research
p. 336
Cascading Style Sheets Introduction
p. 337
Overview of Cascading Style Sheets
p. 338
Advantages of Cascading Style Sheets
p. 338
Types of Cascading Style Sheets
p. 339
Introduction to CSS Syntax
p. 339
Using Inline Styles
p. 342
Using Embedded Style Sheets
p. 346
Using External Style Sheets
p. 351
The "Cascade"
p. 353
CSS Pseudo-Classes and Links
p. 357
CSS and Fonts
p. 366
CSS Strategies
p. 367
Chapter 9 Review
p. 369
Summary
p. 369
Key Terms
p. 369
Review Questions
p. 369
Apply Your Knowledge
p. 370
Hands-On Exercises
p. 373
Web Site Case Study: Implementing CSS
p. 375
Web Research
p. 379
Cascading Style Sheets-Page Layout
p. 381
CSS Page Layout Overview
p. 382
Advantages of Using CSS for Page Layout
p. 384
Disadvantages of Using CSS for Page Layout
p. 385
The Box Model
p. 385
CSS Positioning Properties
p. 388
Relative and Absolute Positioning
p. 388
The float Property
p. 391
The display Property
p. 394
The z-index Property
p. 395
Two-Column Page Layout
p. 408
Navigation Layout Using Lists
p. 414
Three-Column Page Layout
p. 416
Using CSS to Style a Form
p. 423
CSS Styling for Print
p. 427
CSS Debugging Tips
p. 430
CSS Page Layout Resources
p. 431
Chapter 10 Review
p. 433
Summary
p. 433
Key Terms
p. 433
Review Questions
p. 433
Apply Your Knowledge
p. 434
Hands-On Exercises
p. 437
Web Site Case Study: Implementing CSS Page Layout
p. 440
Web Research
p. 449
Web Media and Interactivity
p. 451
Helper Applications and Plug-Ins
p. 452
Audio File Types
p. 453
Obtaining Audio Files
p. 454
Using Sound on a Web Page
p. 455
The [left angle bracket]embed[right angle bracket] Tag
p. 456
The [left angle bracket]object[right angle bracket] Tag
p. 458
Background Sounds
p. 460
Video File Types
p. 462
Obtaining Video Files
p. 462
Using Video on a Web Page
p. 462
The [left angle bracket]embed[right angle bracket] Tag
p. 463
The [left angle bracket]object[right angle bracket] Tag
p. 464
Internet Explorer Only Options
p. 465
Browser Compatibility and Accessibility
p. 466
Streaming Media
p. 466
Introduction to RealNetworks Streaming Media
p. 467
Authoring
p. 467
Distribution
p. 468
Playback
p. 468
Copyright Issues and Media Files
p. 469
Adobe Macromedia Flash
p. 470
Common Uses of Flash
p. 470
Web Design and Flash
p. 472
Adding a Flash Animation to a Web Page
p. 473
Flash Resources
p. 477
Java
p. 477
Common Uses of Java Applets
p. 478
Adding a Java Applet to a Web Page
p. 480
Free Java Applet Resources
p. 483
JavaScript
p. 484
Common Uses of JavaScript
p. 485
Free JavaScript Resources
p. 485
Dynamic HTML (DHTML)
p. 486
Common Uses of DHTML
p. 487
Sources of Free DHTML
p. 488
Ajax-An Advanced Web Technology
p. 488
Common Uses of Ajax
p. 489
Ajax Resources
p. 489
Accessibility and Multimedia/Interactivity
p. 490
Chapter 11 Review
p. 491
Summary
p. 491
Key Terms
p. 491
Review Questions
p. 491
Apply Your Knowledge
p. 493
Hands-On Exercises
p. 495
Web Site Case Study: Adding Media and Interactivity
p. 496
Web Research
p. 502
E-Commerce Overview
p. 505
What Is E-Commerce?
p. 506
Advantages of E-Commerce
p. 506
Risks of E-Commerce
p. 507
E-Commerce Business Models
p. 508
Electronic Data Interchange (EDI)
p. 508
E-Commerce Statistics
p. 509
E-Commerce Issues
p. 510
E-Commerce Security
p. 511
Encryption
p. 511
Integrity
p. 512
Secure Sockets Layer (SSL)
p. 513
Digital Certificate
p. 514
SSL and Digital Certificates
p. 515
Order and Payment Processing
p. 516
Cash Model
p. 517
Check Model
p. 517
Credit Model
p. 517
Smart Card
p. 518
E-Commerce Storefront Solutions
p. 518
Instant Online Storefront
p. 519
Off-the-Shelf Shopping Cart Software
p. 519
Custom-Built Solution
p. 520
Semi-Custom-Built Solutions on a Budget
p. 520
Chapter 12 Review
p. 523
Summary
p. 523
Key Terms
p. 523
Review Questions
p. 523
Hands-On Exercises
p. 524
Web Site Case Study: Adding a Catalog Page for an Online Store
p. 526
Web Research
p. 542
Promotion for Web Developers
p. 543
Search Engines and Search Indexes Overview
p. 544
Popular Search Engines and Search Indexes
p. 544
Components of a Search Engine
p. 545
Robot
p. 545
Database
p. 546
Search Form
p. 546
Designing Your Pages for Promotion
p. 546
Keywords
p. 546
Description
p. 547
Meta Tags
p. 547
Listing in a Search Engine and Search Index
p. 548
Preferential Placement
p. 549
Monitoring Search Engine and Search Index Listings
p. 551
Link Popularity
p. 552
Other Site Promotion Activities
p. 553
Affiliate Programs
p. 553
Banner Ads
p. 553
Banner Exchange
p. 554
Reciprocal Link Agreements
p. 555
Newsletters
p. 555
"Sticky" Site Features
p. 555
Personal Recommendations
p. 555
Blogs and RSS Feeds
p. 556
Web Rings
p. 556
Newsgroup and Listserv Postings
p. 556
Traditional Media Ads and Existing Marketing Materials
p. 557
Chapter 13 Review
p. 558
Summary
p. 558
Key Terms
p. 558
Review Questions
p. 558
Hands-On Exercises
p. 559
Web Site Case Study: Meta Tags to Promote Web Sites
p. 560
Web Research
p. 562
A Brief Look at JavaScript
p. 563
Overview of JavaScript
p. 564
The Development of JavaScript
p. 564
Popular Uses for JavaScript
p. 565
Alert Message
p. 565
Popup Windows
p. 566
Browser Sniffing
p. 566
Jump Menus
p. 567
Mouse Movement Techniques
p. 567
Adding JavaScript to a Web Page
p. 568
The [left angle bracket]script[right angle bracket] Tag
p. 568
JavaScript Statement Block Template
p. 569
Document Object Model Overview
p. 572
Events and Event Handlers
p. 575
Variables
p. 578
Writing a Variable to a Web Page
p. 579
Collecting Variable Values Using a Prompt
p. 581
Introduction to Programming Concepts
p. 483
Arithmetic Operators
p. 583
Decision Making
p. 584
Functions
p. 587
Form Handling
p. 590
Accessibility and JavaScript
p. 597
JavaScript Resources
p. 598
Chapter 14 Review
p. 599
Summary
p. 599
Key Terms
p. 599
Review Questions
p. 599
Apply Your Knowledge
p. 601
Hands-On Exercises
p. 602
Web Site Case Study: Adding JavaScript
p. 603
Web Research
p. 609
Web Developer's Handbook Appendixes
p. 611
XHTML Reference
p. 613
Special Characters
p. 649
CSS Property Reference
p. 653
Comparison of HTML and XHTML
p. 661
Tutorial: Using FTP to Publish to the Web
p. 669
Section 508 Standards
p. 687
Answers
p. 689
Index
p. 711
Table of Contents provided by Ingram. All Rights Reserved.