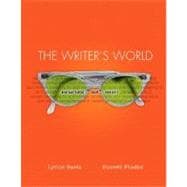 Questions About This Book?
What version or edition is this?
This is the CD edition with a publication date of 1/1/2006.
What is included with this book?
The Used copy of this book is not guaranteed to include any supplemental materials. Typically, only the book itself is included.
Summary
With a contemporary, open design, over 60 images and additional tables, charts, and graphs,The Writerrs"s Worldsupportsvisual learnerslike no other text. Many chapter-opening photos are linked to concepts to help students retain key information. The Visualizing Writing CD-Rom, included in every copy ofThe Writerrs"s World,features 55 audio and animated "mini-lectures" on key writing and grammar topics. These mini-lectures help engage visual and audio learners by providing pertinent information in additional format.
Table of Contents
Preface
x
2
(50)
3
(13)

| | |
| --- | --- |
| | The Paragraph and the Essay |

3
(1)
4
(1)
5
(1)
5
(2)
7
(2)
9
(4)

| | |
| --- | --- |
| | Journal and Portfolio Writing |

13
(3)
16
(22)
16
(2)
18
(1)
19
(5)
24
(7)
31
(4)
35
(3)
38
(14)

| | |
| --- | --- |
| | What Is Revising and Editing? |

38
(1)
39
(1)

| | |
| --- | --- |
| | Revise for Adequate Support |

40
(3)
43
(2)
45
(2)
47
(2)
49
(3)
52
(116)
53
(11)
53
(1)
54
(1)

| | |
| --- | --- |
| | The Illustration Paragraph |

54
(3)
57
(1)
57
(1)
58
(1)
59
(1)

| | |
| --- | --- |
| | Revise and Edit an Illustration Paragraph |

60
(4)
64
(12)
64
(1)
65
(1)
65
(3)
68
(2)
70
(1)
71
(1)
72
(1)

| | |
| --- | --- |
| | Revise and Edit a Narrative Paragraph |

72
(4)
76
(12)
76
(1)
77
(1)

| | |
| --- | --- |
| | The Descriptive Paragraph |

77
(3)
80
(1)
81
(1)
82
(1)
83
(1)

| | |
| --- | --- |
| | Revise and Edit a Descriptive Paragraph |

84
(4)
88
(12)
88
(1)
89
(1)
89
(3)
92
(1)
93
(1)
94
(1)
95
(1)

| | |
| --- | --- |
| | Revise and Edit a Process Paragraph |

96
(4)
100
(13)
100
(1)
101
(1)
101
(2)
103
(3)
106
(1)
107
(1)
108
(1)

| | |
| --- | --- |
| | Revise and Edit a Definition Paragraph |

109
(4)
113
(13)
113
(1)
114
(1)

| | |
| --- | --- |
| | The Classification Paragraph |

114
(5)
119
(1)
120
(1)
120
(1)
121
(1)

| | |
| --- | --- |
| | Revise and Edit a Classification Paragraph |

121
(5)
126
(14)
126
(1)

| | |
| --- | --- |
| | What Is Comparison and Contrast? |

127
(1)

| | |
| --- | --- |
| | The Comparison and Contrast Paragraph |

127
(5)
132
(2)
134
(1)
134
(1)
135
(1)

| | |
| --- | --- |
| | Revise and Edit a Comparison and Contrast Paragraph |

136
(4)
140
(13)
140
(1)

| | |
| --- | --- |
| | What Is Cause and Effect? |

141
(1)

| | |
| --- | --- |
| | The Cause and Effect Paragraph |

141
(3)
144
(2)
146
(1)
147
(1)
148
(1)

| | |
| --- | --- |
| | Revise and Edit a Cause and Effect Paragraph |

149
(4)
153
(15)
153
(1)
154
(1)
155
(2)
157
(1)
158
(4)
162
(1)
163
(1)

| | |
| --- | --- |
| | Revise and Edit an Argument Paragraph |

164
(4)
168
(84)
169
(24)
169
(2)
171
(3)
174
(4)
178
(3)
181
(4)
185
(1)
186
(1)

| | |
| --- | --- |
| | Revising and Editing the Essay |

187
(2)
189
(2)
191
(2)
193
(44)
194
(4)
198
(5)
203
(5)
208
(5)
213
(4)
217
(5)

| | |
| --- | --- |
| | The Comparison and Contrast Essay |

222
(5)

| | |
| --- | --- |
| | The Cause and Effect Essay |

227
(4)
231
(6)

| | |
| --- | --- |
| | Enhancing Your Writing with Research |

237
(15)
237
(1)

| | |
| --- | --- |
| | Research for Academic Writing |

237
(1)
238
(2)

| | |
| --- | --- |
| | Add a Paraphrase, Summary, or Quotation |

240
(6)
246
(6)

| | |
| --- | --- |
| | PART The Editing Handbook |

252
(2)

| | |
| --- | --- |
| | Grammar Section 1: Effective Sentences |

254
(52)
254
(12)
254
(3)

| | |
| --- | --- |
| | Identify Prepositional Phrases |

257
(2)
259
(2)
261
(5)
266
(12)

| | |
| --- | --- |
| | Compare Simple and Compound Sentences |

266
(1)

| | |
| --- | --- |
| | Combine Sentences Using Coordinating Conjunctions |

267
(3)

| | |
| --- | --- |
| | Combine Sentences Using Semicolons |

270
(2)

| | |
| --- | --- |
| | Combine Sentences Using Transitional Expressions |

272
(6)
278
(13)

| | |
| --- | --- |
| | What Is a Complex Sentence? |

278
(1)

| | |
| --- | --- |
| | Use Subordinating Conjunctions |

279
(6)
285
(2)
287
(4)
291
(15)

| | |
| --- | --- |
| | What Is Sentence Variety? |

291
(1)
292
(1)

| | |
| --- | --- |
| | Include a Question, a Quotation, or an Exclamation |

293
(1)
294
(2)

| | |
| --- | --- |
| | Combine Sentences with a Present Participle |

296
(2)

| | |
| --- | --- |
| | Combine Sentences with a Past Participle |

298
(2)

| | |
| --- | --- |
| | Combine Sentences with an Appositive |

300
(6)

| | |
| --- | --- |
| | Grammar Section 2: Common Sentence Errors |

306
(24)
306
(14)
306
(6)
312
(8)

| | |
| --- | --- |
| | Faulty Parallel Structure |

320
(10)

| | |
| --- | --- |
| | What Is Parallel Structure? |

320
(2)

| | |
| --- | --- |
| | Identify Faulty Parallel Structure |

322
(8)

| | |
| --- | --- |
| | Grammar Section 3: Problems with Verbs |

330
(38)
330
(15)
330
(1)
331
(4)
335
(6)
341
(4)
345
(13)
345
(3)

| | |
| --- | --- |
| | The Present Perfect Tense: have/has + Past Participle |

348
(2)

| | |
| --- | --- |
| | The Past Perfect Tense: had + Past Participle |

350
(1)

| | |
| --- | --- |
| | The Passive Voice: be + Past Participle |

351
(7)
358
(10)

| | |
| --- | --- |
| | Problems with Progressive Forms (-ing) Verbs |

358
(2)

| | |
| --- | --- |
| | Nonstandard Forms: gonna, gotta, wanna |

360
(2)

| | |
| --- | --- |
| | Problems with Conditional Forms |

362
(1)

| | |
| --- | --- |
| | Nonstandard Forms: would of, could of, should of |

363
(5)

| | |
| --- | --- |
| | Grammar Section 4: Verb Agreement and Consistency |

368
(21)
368
(15)

| | |
| --- | --- |
| | Basic Subject-Verb Agreement Rules |

368
(5)
373
(1)
374
(3)
377
(1)

| | |
| --- | --- |
| | Interrupting Words and Phrases |

378
(5)
383
(6)
383
(6)

| | |
| --- | --- |
| | Grammar Section 5: More Parts of Speech |

389
(36)

| | |
| --- | --- |
| | Nouns, Determiners, and Prepositions |

389
(16)

| | |
| --- | --- |
| | Singular and Plural Nouns |

389
(5)

| | |
| --- | --- |
| | Count Nouns and Noncount Nouns |

394
(2)
396
(3)
399
(6)
405
(20)
405
(6)

| | |
| --- | --- |
| | Relative Pronouns (who, whom, which, that, whose) |

411
(1)

| | |
| --- | --- |
| | Reflexive Pronouns (-self/-selves) |

412
(2)

| | |
| --- | --- |
| | Pronoun-Antecedent Agreement |

414
(1)
415
(4)
419
(1)
420
(5)

| | |
| --- | --- |
| | Grammar Section 6: Modifiers |

425
(25)
425
(14)
425
(3)
428
(4)

| | |
| --- | --- |
| | Comparative and Superlative Forms |

432
(7)
439
(11)
439
(4)
443
(7)

| | |
| --- | --- |
| | Grammar Section 7: Word Use and Spelling |

450
(27)
450
(9)

| | |
| --- | --- |
| | Use Specific and Detailed Vocabulary |

450
(3)

| | |
| --- | --- |
| | Avoid Wordiness and Redundancy |

453
(1)
454
(1)

| | |
| --- | --- |
| | Standard English vs. Slang |

455
(4)

| | |
| --- | --- |
| | Spelling and Commonly Confused Words |

459
(18)
459
(7)

| | |
| --- | --- |
| | 120 Commonly Misspelled Words |

466
(3)

| | |
| --- | --- |
| | Look-Alike and Sound-Alike Words |

469
(8)

| | |
| --- | --- |
| | Grammar Section 8: Punctuation and Mechanics |

477
(35)
477
(13)
477
(1)
478
(1)

| | |
| --- | --- |
| | Commas After Introductory Words or Phrases |

479
(1)

| | |
| --- | --- |
| | Commas Around Interrupting Words and Phrases |

480
(2)

| | |
| --- | --- |
| | Commas in Compound Sentences |

482
(1)

| | |
| --- | --- |
| | Commas in Complex Sentences |

483
(1)

| | |
| --- | --- |
| | Commas in Business Letters |

484
(6)

| | |
| --- | --- |
| | The Apostrophe, Quotation Marks, and Titles |

490
(13)
490
(5)
495
(3)
498
(5)

| | |
| --- | --- |
| | Capitalization and Other Punctuation Marks |

503
(9)
503
(3)
506
(6)

| | |
| --- | --- |
| | Grammar Section 9: Editing |

512
(12)

| | |
| --- | --- |
| | Editing Paragraphs and Essays |

512
(12)

| | |
| --- | --- |
| | PART Reading Strategies and Selections |

524
(89)
525
(88)
525
(5)
530
(63)
530
(3)

| | |
| --- | --- |
| | Reading 2: ``Dealing with People,'' |

533
(3)

| | |
| --- | --- |
| | Reading 3: ``How to Get All-Day Energy,'' |

536
(2)

| | |
| --- | --- |
| | Reading 4: ``When the Legal Thing Isn't the Right Thing,'' |

538
(3)

| | |
| --- | --- |
| | Reading 5: ``My Head Rolled in Syria,'' |

541
(4)

| | |
| --- | --- |
| | Reading 6: ``Enough Is Enough,'' |

545
(3)

| | |
| --- | --- |
| | Reading 7: ``Growing Up in Cyberspace,'' |

548
(4)

| | |
| --- | --- |
| | Reading 8: ``Nothing But Net,'' |

552
(2)
554
(3)

| | |
| --- | --- |
| | Reading 10: ``The Never-Ending Question: Who Am I?'' |

557
(3)

| | |
| --- | --- |
| | Reading 11: ``Dancing with Fear,'' |

560
(2)

| | |
| --- | --- |
| | Reading 12: ``Interview with Jimmy Baca,'' |

562
(3)

| | |
| --- | --- |
| | Reading 13: ``It's Class, Stupid!'' |

565
(3)

| | |
| --- | --- |
| | Reading 14: ``The Case for Affirmative Action: An Open Letter to Five Justices,'' |

568
(4)

| | |
| --- | --- |
| | Reading 15: ``Body Over Mind,'' |

572
(3)

| | |
| --- | --- |
| | Reading 16: ``Dying to Be Bigger,'' |

575
(5)

| | |
| --- | --- |
| | Reading 17: ``Bound Feet,'' |

580
(3)

| | |
| --- | --- |
| | Reading 18: ``The Old-Time Pueblo World,'' |

583
(3)

| | |
| --- | --- |
| | Reading 19: ``The Diagnosis,'' |

586
(3)

| | |
| --- | --- |
| | Reading 20: ``Religious Faith Versus Spirituality,'' |

589
(4)

| | |
| --- | --- |
| | Appendix 1: Grammar Glossary |

593
(2)

| | |
| --- | --- |
| | Appendix 2: Irregular Verbs |

595
(2)

| | |
| --- | --- |
| | Appendix 3: A Quick Guide to Verb Tenses |

597
(1)

| | |
| --- | --- |
| | Appendix 4: Combining Ideas in Sentences |

598
(1)

| | |
| --- | --- |
| | Appendix 5: Punctuation and Mechanics |

599
(3)

| | |
| --- | --- |
| | Appendix 6: Writing Paragraphs and Essays in Exams |

602
(6)

| | |
| --- | --- |
| | Appendix 7: Spelling, Grammar, and Vocabulary Logs |

608
(5)
Credits
613
(2)
Index
615