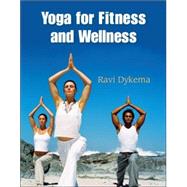 List Price: $65.33
Currently Available, Usually Ships in 24-48 Hours

More New and Used
from Private Sellers
Questions About This Book?
What version or edition is this?
This is the 1st edition with a publication date of 6/3/2005.
What is included with this book?
The New copy of this book will include any supplemental materials advertised. Please check the title of the book to determine if it should include any CDs, lab manuals, study guides, etc.
Summary
YOGA FOR FITNESS AND WELLNESS is designed for the basic Yoga course. In Chapter 1, we ask, What is Yoga? In Chapters 2 and 3, we explore the history and philosophy of Yoga, and then in Chapter 4, we focus on the theories of Hatha Yoga, which is the kind of Yoga upon which all modern exercise-focused Yoga systems are founded. The rest of the book explores the exercises of Yoga: breathing, stretching and strengthening exercises, relaxation and meditation. The overall goal of this text is that it, along with the Yoga class, will inspire students to include Yoga as one of the activities they can do to stay healthy for the rest of their lives!
Table of Contents
Preface
xi

| | |
| --- | --- |
| | Yoga: From Its Beginnings to Today |

1
(22)
2
(1)

| | |
| --- | --- |
| | The Big Question, ``Who Am I?'' |

3
(4)
7
(1)

| | |
| --- | --- |
| | Seven of the Most Important Yoga Systems |

8
(7)
8
(1)
8
(1)
9
(1)
10
(1)
11
(1)
11
(1)
12
(2)

| | |
| --- | --- |
| | What is the Same in All Yoga Systems? |

14
(1)
15
(8)
15
(1)

| | |
| --- | --- |
| | The Earliest Roots of Yoga |

15
(3)

| | |
| --- | --- |
| | The Yoga of Patanjali: Classical Yoga and the Yoga Sutra |

18
(2)

| | |
| --- | --- |
| | A New Era of Befriending the Body, Tantra Yoga |

20
(1)

| | |
| --- | --- |
| | Contemporary Yoga: Hatha Yoga and Asana Yoga |

21
(2)
23
(12)
24
(1)

| | |
| --- | --- |
| | The Ordinary vs. the Extraordinary vs. the Out of This World |

24
(1)
25
(1)
25
(6)
26
(2)
28
(2)

| | |
| --- | --- |
| | Other Lists of Yoga's Ethics and Morals |

30
(1)

| | |
| --- | --- |
| | Completing the Journey to One's True Self |

31
(4)
32
(1)
32
(1)

| | |
| --- | --- |
| | Applying Tantra Yoga Philosophy |

33
(2)

| | |
| --- | --- |
| | Hatha Yoga, the Yoga of Balanced Energy |

35
(12)

| | |
| --- | --- |
| | Overview of the Theory of Hatha Yoga |

36
(6)

| | |
| --- | --- |
| | The Energy Body and the Five Bodies |

36
(2)
38
(1)
39
(1)
40
(1)

| | |
| --- | --- |
| | ``Letting Go'' in the Practice of Yoga Poses and Yoga Breathing |

41
(1)

| | |
| --- | --- |
| | The Anatomy of Awakening: Kundalini and Chakras |

42
(4)

| | |
| --- | --- |
| | The Serpent Power: Kundalini |

42
(1)

| | |
| --- | --- |
| | Chakras, Wheels of Energy, and Kundalini's Ascent |

43
(1)

| | |
| --- | --- |
| | Special Exercises to Move and Enhance Subtle Body Energy |

44
(2)
46
(1)
47
(16)

| | |
| --- | --- |
| | Introduction to Yoga Breathing (Pranayama) |

48
(2)

| | |
| --- | --- |
| | Yoga Breath Practices (Yoga Pranayamas) |

50
(13)
50
(1)
50
(13)
63
(50)

| | |
| --- | --- |
| | The Benefits of Practicing Yoga Poses |

64
(8)
65
(1)

| | |
| --- | --- |
| | Strength and Extensibility: Healthy Muscles |

65
(5)
70
(1)
70
(1)
71
(1)

| | |
| --- | --- |
| | Guidelines for Practicing Yoga Poses |

72
(2)
72
(1)

| | |
| --- | --- |
| | Breath in the Performance of Poses |

72
(1)

| | |
| --- | --- |
| | Slowing Down, Going Nowhere, Paying More Attention |

73
(1)

| | |
| --- | --- |
| | Parasympathetic Nervous System |

73
(1)
73
(1)
74
(39)
74
(13)

| | |
| --- | --- |
| | Sitting and Kneeling Poses |

87
(10)
97
(12)
109
(2)

| | |
| --- | --- |
| | Salutation to the Sun (Surya Namaskar) |

111
(2)

| | |
| --- | --- |
| | Relaxation and Meditation |

113
(16)
114
(5)
115
(1)
115
(4)
119
(10)
119
(2)

| | |
| --- | --- |
| | Guidelines for Meditation |

121
(1)

| | |
| --- | --- |
| | Preparation for Meditation |

122
(1)
123
(3)

| | |
| --- | --- |
| | Using Meditation Practices Already Presented in This Book |

126
(1)

| | |
| --- | --- |
| | Integrating Meditation into Your Life |

126
(3)
129
(12)

| | |
| --- | --- |
| | Yoga Classes Are for Everybody |

130
(1)
130
(1)

| | |
| --- | --- |
| | How Yoga Became a Healing Tradition |

130
(1)

| | |
| --- | --- |
| | Practicing Yoga Safely, Whatever Your Condition |

131
(1)
131
(1)

| | |
| --- | --- |
| | Practicing Yoga Breathing |

131
(1)

| | |
| --- | --- |
| | How to Adapt Yoga Poses and Yoga Breathing to Specific Needs |

132
(8)

| | |
| --- | --- |
| | Adjusting Poses for When You Are Overweight or Out of Shape |

132
(1)

| | |
| --- | --- |
| | Adjusting Poses If You Are Experiencing Chronic Pain |

133
(1)

| | |
| --- | --- |
| | Adjusting Poses for When You Have Back Pain |

133
(4)

| | |
| --- | --- |
| | Adjusting Yoga Poses for Pregnancy |

137
(1)

| | |
| --- | --- |
| | Adjusting Yoga Poses If You Are Menstruating |

138
(2)
140
(1)

| | |
| --- | --- |
| | How to Continue Your Study of Yoga |

141
(14)

| | |
| --- | --- |
| | Taking Other Yoga Classes |

142
(5)
142
(2)

| | |
| --- | --- |
| | Choosing a Yoga Style or Lineage |

144
(3)
147
(2)

| | |
| --- | --- |
| | Designing Your Own Class or Practice Session |

147
(1)
148
(1)

| | |
| --- | --- |
| | Living the Yoga Lifestyle |

149
(1)
150
(2)

| | |
| --- | --- |
| | Instruction in Many Aspects of Hatha Yoga |

150
(1)

| | |
| --- | --- |
| | Refining Your Performance of Asanas |

150
(1)
150
(1)

| | |
| --- | --- |
| | Scholarly Writings on Yoga |

151
(1)

| | |
| --- | --- |
| | Essays and Stories about Using Yoga Every Day |

151
(1)
151
(1)
151
(1)
151
(1)

| | |
| --- | --- |
| | Correspondence Course in All Aspects of Yoga |

151
(1)

| | |
| --- | --- |
| | Training to Become a Yoga Teacher |

152
(1)

| | |
| --- | --- |
| | Personal Fulfillment or Professional Skill? |

152
(1)

| | |
| --- | --- |
| | The Economics of Teaching Yoga |

152
(1)

| | |
| --- | --- |
| | How Long Does It Take to Become a Yoga Teacher? |

153
(1)

| | |
| --- | --- |
| | How Does One Become a Yoga Therapist? |

153
(1)

| | |
| --- | --- |
| | How Does One Choose a Yoga System or Lineage in Which to Become a Teacher? |

153
(1)
153
(2)
Appendix A: Pronunciation Guide to Sanskrit Words
155
(2)
Appendix B: Yoga Resources
157
(6)
Glossary
163
(4)
Bibliography
167
(4)
Index
171