Note: Supplemental materials are not guaranteed with Rental or Used book purchases.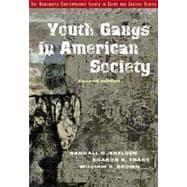 Questions About This Book?
What version or edition is this?
This is the 2nd edition with a publication date of 7/20/2000.
What is included with this book?
The New copy of this book will include any supplemental materials advertised. Please check the title of the book to determine if it should include any CDs, lab manuals, study guides, etc.
Related Products
Summary
This comprehensive survey of the literature on gangs and gang activities in America includes theoretical perspectives on why gangs exist, gang typologies, descriptions of gang activities, and various intervention strategies for dealing with gangs.
Table of Contents
Preface
xi
Foreword
xvii
1
(33)

| | |
| --- | --- |
| | A Brief History of Youth Gangs |

1
(7)

| | |
| --- | --- |
| | The Recent Growth of Gangs: A Focus on Los Angeles, Milwaukee, and Chicago |

8
(9)
9
(4)
13
(1)
14
(2)

| | |
| --- | --- |
| | Some Concluding Thoughts on the Recent Growth of Gangs |

16
(1)
17
(5)

| | |
| --- | --- |
| | Chicago's Use of Descriptors to Define Gang-Related Crime |

22
(2)
24
(1)

| | |
| --- | --- |
| | How Many Gangs and Gang Members Are There? |

25
(4)
29
(2)
31
(3)

| | |
| --- | --- |
| | What Do Gangs and Gang Members Look Like? |

34
(27)
34
(1)

| | |
| --- | --- |
| | An Overview of Gang Structures |

35
(2)

| | |
| --- | --- |
| | Illustrations of Gang Typologies |

37
(4)
37
(1)
38
(3)

| | |
| --- | --- |
| | The Supergangs of Chicago: People and Folks |

41
(1)

| | |
| --- | --- |
| | Ethnic and Racial Typologies of Gangs |

42
(7)
42
(2)
44
(1)
44
(3)
47
(1)
48
(1)
49
(1)
49
(4)
50
(1)
51
(1)
52
(1)

| | |
| --- | --- |
| | Some Common Characteristics of Gang Members |

53
(6)

| | |
| --- | --- |
| | Gang Members as Defiant Individualists |

54
(2)

| | |
| --- | --- |
| | Gang Members as Victims and Victimizers |

56
(3)
59
(2)
61
(36)

| | |
| --- | --- |
| | The Nature and Origins of and Socialization into the Gang Subculture |

62
(7)
69
(5)

| | |
| --- | --- |
| | Reasons for Deciding to Join a Gang |

69
(2)
71
(2)

| | |
| --- | --- |
| | Additional Comments on Gang Recruitment |

73
(1)

| | |
| --- | --- |
| | Who Does Not Join a Gang? |

74
(1)
74
(2)

| | |
| --- | --- |
| | Belief Systems of Gang Members |

76
(2)

| | |
| --- | --- |
| | A Case Example: The Code of the Streets |

78
(4)

| | |
| --- | --- |
| | Social Control in the Gang |

82
(1)

| | |
| --- | --- |
| | Gang Members and Their Families |

83
(4)

| | |
| --- | --- |
| | Gang Graffiti and Tattoos |

87
(7)

| | |
| --- | --- |
| | Purposes and Styles of Graffiti |

88
(6)
94
(3)

| | |
| --- | --- |
| | Criminal Activities of Gangs |

97
(31)

| | |
| --- | --- |
| | Introduction: An Overview of Gangs and Crime |

97
(4)

| | |
| --- | --- |
| | Entrepreneurial Activities of Gangs |

101
(3)

| | |
| --- | --- |
| | The Gang as a Business: A Case Study of the Diamonds |

104
(4)
108
(8)

| | |
| --- | --- |
| | Individual Violence by Gang Members |

111
(3)

| | |
| --- | --- |
| | Organizational Gang Violence |

114
(2)
116
(3)

| | |
| --- | --- |
| | The Drug-Dealing Business of Gangs: Skolnick's Study |

119
(6)
125
(3)
128
(31)

| | |
| --- | --- |
| | Trends in Girl Gang Membership |

131
(4)

| | |
| --- | --- |
| | Girl Gang Membership and Their Crimes |

132
(2)
134
(1)

| | |
| --- | --- |
| | Moving Beyond the Stereotypes: The Social Context of Girl Gangs |

135
(21)
136
(2)
138
(5)

| | |
| --- | --- |
| | Reasons for Joining the Gang |

143
(5)

| | |
| --- | --- |
| | Relationships with Males and Male Gangs |

148
(4)
152
(2)
154
(2)
156
(1)
157
(2)
159
(31)

| | |
| --- | --- |
| | Social Disorganization/Social Ecology Theory |

160
(5)
165
(7)

| | |
| --- | --- |
| | Strain Theory and the Institutional Structure of Society: Crime and the American Dream |

167
(3)

| | |
| --- | --- |
| | Differential Opportunity Structures |

170
(1)
171
(1)

| | |
| --- | --- |
| | Cultural Deviance Theories |

172
(3)

| | |
| --- | --- |
| | Cohen's Culture of the Gang |

173
(1)

| | |
| --- | --- |
| | Lower-Class Focal Concerns |

173
(2)
175
(2)
177
(3)

| | |
| --- | --- |
| | Gangs and Maslow's Hierarchy of Needs |

178
(2)
180
(2)
182
(2)

| | |
| --- | --- |
| | Critical/Marxist Perspectives |

184
(3)
187
(3)

| | |
| --- | --- |
| | Gangs in Context: Inequality in American Society |

190
(20)

| | |
| --- | --- |
| | Recent Changes in the U.S. Economy |

191
(2)

| | |
| --- | --- |
| | The Development of the Underclass |

193
(3)

| | |
| --- | --- |
| | Recent Changes in the Labor Market |

196
(4)

| | |
| --- | --- |
| | Isolation in the Inner Cities |

200
(3)

| | |
| --- | --- |
| | Poverty and Family Structure |

203
(2)

| | |
| --- | --- |
| | How These Changes Relate to the Growth in Gangs |

205
(3)
208
(2)

| | |
| --- | --- |
| | Community-Based and National Intervention Strategies |

210
(31)
210
(2)

| | |
| --- | --- |
| | Types of Intervention Strategies |

212
(8)

| | |
| --- | --- |
| | Spergel and Curry's Typology of Interventions |

213
(1)

| | |
| --- | --- |
| | The Perceived Effectiveness of These Strategies |

214
(1)

| | |
| --- | --- |
| | Other Intervention Typologies |

215
(5)
220
(1)

| | |
| --- | --- |
| | The Social Development Strategy |

221
(3)

| | |
| --- | --- |
| | Components of Successful Programs |

224
(1)

| | |
| --- | --- |
| | Some Specific Illustrations of Community-Based Interventions and Programs |

225
(7)

| | |
| --- | --- |
| | A Model Program: The Detention Diversion Advocacy Project |

229
(3)

| | |
| --- | --- |
| | Broad-Based National Strategies |

232
(7)
239
(2)

| | |
| --- | --- |
| | Legal Intervention Strategies |

241
(25)
241
(3)

| | |
| --- | --- |
| | The Legal Response to Youth Gangs |

244
(20)
244
(10)
254
(2)
256
(4)
260
(4)
264
(2)
266
(9)
References
275
(19)
Name Index
294
(5)
Subject Index
299