Top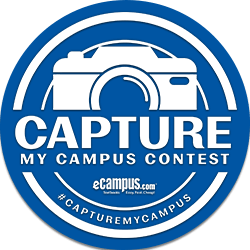 Enter & Win
4 Gold Prize Winners
Each Winner Receives:
$375 Visa Gift Card &
$25 Textbook Scholarship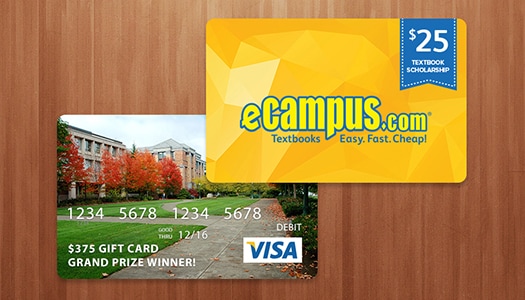 Gold Prize Entry
Follow eCampus.com on Instagram.
What makes your college campus awesome? Post a picture on Instagram that captures what makes your campus unique. Whether it's your favorite place to study, college tradition or rival sporting event, show it off! Use your caption to explain your photo. Make sure to use hashtag #CaptureMyCampus and mention @ecampusdotcom.
Tip: Make sure your Instagram is not set to Private. In order to consider your entry, we have to be able to see it!
4 Silver Prize Winners
Each Winner Receives:
$100 Textbook Scholarship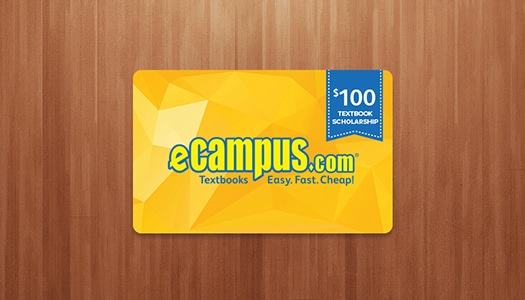 Silver Prize Entry
WINNER ANNOUNCEMENTS
Contest started on 8/8/2016 at 8:30 AM EST and ended on 9/5/2016 at 11:45 PM EST.
WEEK #1 GOLD PRIZE WINNER
Conner C.

The University of Oklahoma
@connerrenee "I love the fact that OUr campus has given me the opportunity to flourish in student life. OUr students are so passionate about academics, athletics, and their community. OUr campus is beautiful, day and night. OUr professors and faculty truly care about the success of each individual student inside and outside of the classroom. I have found life long friends here, and I am so excited for another semester of cheering on our Sooners, participating in my sorority's philanthropy: domestic violence awareness, helping 50+ new freshman love OU too, and continuing to grow as a student and an engaged citizen. Boomer Sooner!! #capturemycampus @ecampusdotcom"
WEEK #2 GOLD PRIZE WINNER
Christine C.

The Ohio State University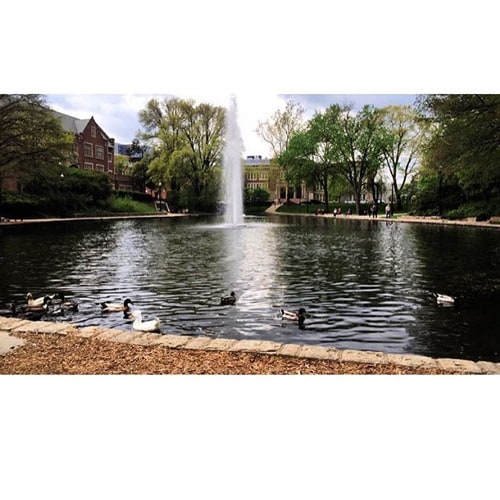 @teenycockley "The Ohio State University, located in the city of Columbus, has a piece of rural Ohio: Mirror Lake. This is a well known, relaxing area for students at OSU. In fact, people walk by Mirror Lake just to feed their duck friends (including the famous Afro Duck). I took this picture during finals of Spring semester, reminding myself in a time of stress, to find the peace in life. I am happy to #capturemycampus for @ecampusdotcom!"
WEEK #3 GOLD PRIZE WINNER
Jaime S.

Towson University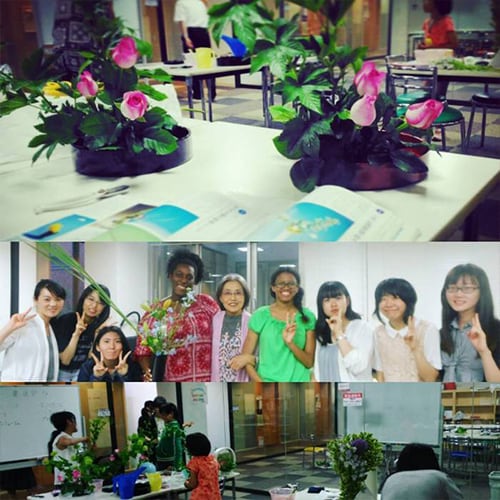 @aibyouka_chan "This past #summer, #Japan was my home and #JFOberlin was my campus. I experienced a new culture, made foreign friends, and improved in my second language. I loved it here and can't wait to return. The photo here shows my favorite place. Every Thursday, I'd go to Japanese flower arrangement (ikebana) club. The University Club is open to all ages, it was always peaceful, and the air smelled of sweet flowers. I loved it here. This collage is for @ecampusdotcom and their #CaptureMyCampus contest."
WEEK #4 GOLD PRIZE WINNER
Jared D.

Indiana University of Pennsylvania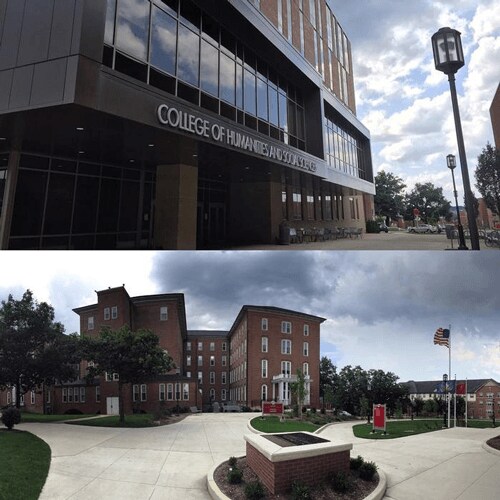 @itsmejaredd "The Indiana University of PA (IUP) has a beautiful campus that has a mixture of well preserved historic and newly built state of the art buildings for its student to foster learning potential while still retaining the original charm. IUP keeps the needs of its students in mind. The campus comes together in the Oak Grove, where students can often be found relaxing in between classes, mingling with groups, enjoying lunch, chalking on the sidewalks to promote awareness for a cause, etc. All in all, IUP has a beautiful campus and a true care for its students. I have had the pleasure of doing both my undergraduate and graduate degrees here, and it's awesome watching the campus evolve over time! :) @ecampusdotcom #capturemycampus #myiup #iup"
WEEK #1 SILVER PRIZE WINNER
Antoinette W.

Baylor University
"Between the challenging classes, engaging staff, great atmosphere and general beauty of the campus, it's hard to choose just one aspect. But the sense of community at Baylor probably takes the prize. There's no other place like it!"
WEEK #2 SILVER PRIZE WINNER
David C.

University of Michigan
"We have the most prolific Squirrel Club in the nation."
WEEK #3 SILVER PRIZE WINNER
Elizabeth D.

University of Texas at Dallas
"Most colleges have a football team... we have a internationally ranked chess team. On campus approximately 80% of the tables have chess boards printed on them. In the mall our common area there is life sized chess."
WEEK #4 SILVER PRIZE WINNER
Kayla N.

Cornell University
"The beautiful gorges and view overlooking Cayuga lake. There is no prettier campus. Also the outdoor community rocks!"