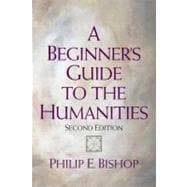 List Price: $32.80
Usually Ships in 2-3 Business Days
Questions About This Book?
What version or edition is this?
This is the 2nd edition with a publication date of 1/1/2007.
What is included with this book?
The Used copy of this book is not guaranteed to inclue any supplemental materials. Typically, only the book itself is included.
Summary
This practical beginner's guide to appreciating and experiencing culture provides a handy introduction to the world of art that teaches students how to observe, enjoy, and analyze the arts. Professor Philip Bishop wrote this book because there was no concise handbook on the market covering the arts as a whole. His text provides a succinct and affordable guide to the arts and humanities geared to students who are starting from scratch in their study of the arts. Self-contained chapters provide an essential companion guide to understanding a specific discipline-including painting, sculpture, music, and theater-with a clear and insightful explanation of the discipliners"s process of creation.
Table of Contents
Preface
ix
1
(15)
1
(1)
2
(1)

| | |
| --- | --- |
| | A Real Encounter: The Sense of Abstraction |

3
(2)

| | |
| --- | --- |
| | Extreme Art: The Symbolism of Dung |

4
(1)
5
(3)
5
(1)
5
(1)
6
(1)
7
(1)
8
(1)

| | |
| --- | --- |
| | The Experience: How to Look at a Picture |

8
(1)

| | |
| --- | --- |
| | Style Guide: Types and Traditions |

9
(2)
11
(5)
16
(14)

| | |
| --- | --- |
| | Giving Shape to the World |

16
(2)

| | |
| --- | --- |
| | A Real Encounter: A Shrine of Sorrow |

18
(2)

| | |
| --- | --- |
| | Extreme Art: Bust in Blood |

20
(1)
20
(2)
20
(1)
21
(1)
21
(1)
21
(1)
22
(1)
22
(1)

| | |
| --- | --- |
| | The Experience: Sizing Up a Sculpture |

22
(1)

| | |
| --- | --- |
| | Style Guide: Sculptors---Greats Since the Greeks |

23
(2)
25
(5)
30
(19)
30
(1)
31
(2)

| | |
| --- | --- |
| | A Real Encounter: The Magic of Fallingwater |

33
(1)

| | |
| --- | --- |
| | The Tool Kit: Architecture |

34
(7)
34
(1)
35
(1)
35
(1)
36
(1)
37
(1)
37
(1)
38
(1)
38
(2)
40
(1)

| | |
| --- | --- |
| | The Experience: How to Be in a Building |

41
(1)

| | |
| --- | --- |
| | Style Guide: Architecture in American Cities, c. 2000 |

42
(2)

| | |
| --- | --- |
| | A Companion To Architecture |

44
(5)
49
(16)
49
(1)
50
(2)

| | |
| --- | --- |
| | A Real Encounter: Four Seasons in a Gothic Light |

52
(1)

| | |
| --- | --- |
| | The Tool Kit: Music, Technically Speaking |

52
(7)
52
(1)
53
(1)
54
(1)
54
(1)
54
(2)
56
(1)
56
(1)
56
(3)

| | |
| --- | --- |
| | The Experience: How To Listen---Really Listen |

59
(1)

| | |
| --- | --- |
| | Style Guide: Musical Styles You're Most Likely to Hear |

60
(1)
61
(4)
65
(17)
65
(2)
67
(1)

| | |
| --- | --- |
| | A Real Encounter: An Angel over America |

67
(2)
69
(3)
69
(1)
69
(1)
70
(1)
71
(1)

| | |
| --- | --- |
| | The Experience: Playing Along |

72
(2)

| | |
| --- | --- |
| | Style Guide: A User's Guide to the Theater |

74
(2)
74
(1)

| | |
| --- | --- |
| | Historical Types and Traditions |

75
(1)
76
(6)

| | |
| --- | --- |
| | Opera and Musical Theater |

82
(15)

| | |
| --- | --- |
| | Opera---The Greatest Art? |

82
(3)
84
(1)
85
(1)

| | |
| --- | --- |
| | A Real Encounter: Opera's Unrepentant Sinner |

85
(2)

| | |
| --- | --- |
| | Open for Debate: Operatic Remakes . . . or Rip-offs? |

86
(1)
87
(2)
87
(1)
87
(2)

| | |
| --- | --- |
| | The Experience: Stories in Song |

89
(1)

| | |
| --- | --- |
| | Style Guide: Operatic Operators |

90
(3)

| | |
| --- | --- |
| | A Companion To Opera And Musical Theater |

93
(4)
97
(15)
97
(1)
98
(2)

| | |
| --- | --- |
| | A Real Encounter: The Continuity of Dance |

100
(1)
101
(3)
101
(1)
101
(1)
102
(2)
104
(1)

| | |
| --- | --- |
| | The Experience: Move to the Music |

104
(1)

| | |
| --- | --- |
| | Style Guide: Great Names in Dance |

105
(3)
105
(1)

| | |
| --- | --- |
| | Choreographer and Company |

106
(1)
107
(1)

| | |
| --- | --- |
| | A Companion To Ballet And Dance |

108
(4)

| | |
| --- | --- |
| | The Printed Image: Prints, Photos, Digital Art |

112
(18)

| | |
| --- | --- |
| | The Arts of Mechanical Reproducibility |

112
(2)

| | |
| --- | --- |
| | Open for Debate: Falsifiable Photographs |

114
(1)

| | |
| --- | --- |
| | The Tool Kit: Printmaking |

114
(3)
114
(2)
116
(1)
116
(1)
117
(1)

| | |
| --- | --- |
| | The Tool Kit: Photography |

117
(5)
117
(1)
118
(1)
119
(1)
120
(1)
121
(1)
121
(1)

| | |
| --- | --- |
| | The Tool Kit: Digital Images |

122
(1)

| | |
| --- | --- |
| | The Experience: Pictures, Pictures Everywhere |

122
(2)

| | |
| --- | --- |
| | Style Guide: Masters of the Printed Image |

124
(1)

| | |
| --- | --- |
| | A Companion To The Printed Image |

125
(5)
130
(11)
130
(1)

| | |
| --- | --- |
| | A Real Encounter: Poetry as a Hunger |

131
(1)
132
(2)
133
(1)
133
(1)
134
(1)
134
(1)
134
(1)
135
(1)

| | |
| --- | --- |
| | The Experience: The Power of Reading |

135
(1)

| | |
| --- | --- |
| | Style Guide: Varieties of the Novel |

136
(2)

| | |
| --- | --- |
| | A Companion To Literature |

138
(3)
141
(15)

| | |
| --- | --- |
| | The Novel of the Twentieth Century |

141
(1)
142
(1)

| | |
| --- | --- |
| | A Real Encounter: A Shot Heard `Round the Film World |

143
(1)
144
(5)
144
(2)
146
(1)
146
(1)
147
(1)
148
(1)
148
(1)

| | |
| --- | --- |
| | The Experience: Watching While Thinking |

149
(1)

| | |
| --- | --- |
| | Style Guide: Movie Genres |

150
(2)

| | |
| --- | --- |
| | A Companion To The Movies |

152
(4)
156
(6)
156
(2)
158
(2)
160
(2)
Index
162