Note: Supplemental materials are not guaranteed with Rental or Used book purchases.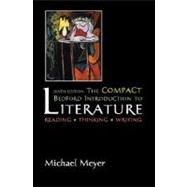 The Compact Bedford Introduction to Literature; Reading, Thinking , Writing
ISBN13:
9780312398811
by
Michael Meyer
Questions About This Book?
What version or edition is this?
This is the 6th edition with a publication date of 8/1/2002.
What is included with this book?
The Used copy of this book is not guaranteed to include any supplemental materials. Typically, only the book itself is included.
Summary
Ideally suited for courses emphasizing writing about literature, this new compact edition of The Bedford Introduction to Literature offers all the distinctive features of Michael Meyer's best-selling introduction to literature in a shorter, less expensive paperback format. With its rich array of selections, its many innovative editorial features, and now fully integrated with its own companion Web site, this new compact edition of the most comprehensive three-genre literature anthology available provides more options than ever before to help students read, think, and write effectively about literature.
Table of Contents
| | |
| --- | --- |
| | Resources for Writing about Literature |

Inside front
Preface for Instructors
ix
Introduction: Reading Imaginative Literature
1
(6)
1
(2)

| | |
| --- | --- |
| | A narrow Fellow in the Grass |

2
(1)
3
(2)

| | |
| --- | --- |
| | The Changing Literary Canon |

5
(2)
FICTION
7
(488)
9
(272)
11
(32)

| | |
| --- | --- |
| | Reading Fiction Responsively |

11
(9)
12
(3)

| | |
| --- | --- |
| | A SAMPLE PAPER: Differences in Responses to Kate Chopin 's "The Story of an Hour" |

15
(5)

| | |
| --- | --- |
| | Explorations and Formulas |

20
(2)

| | |
| --- | --- |
| | A Composite of a Romance Tip Sheet |

22
(4)

| | |
| --- | --- |
| | PHOTO: Romance Novel Cover |

25
(1)

| | |
| --- | --- |
| | A Comparison of Two Stories |

26
(17)
27
(8)
35
(5)

| | |
| --- | --- |
| | PERSPECTIVE: KAY MUSSELL, Are Feminism and Romance Novels Mutually Exclusive? |

40
(1)

| | |
| --- | --- |
| | PERSPECTIVE: THOMAS JEFFERSON, On the Dangers of Reading Fiction |

41
(2)
43
(21)
43
(3)

| | |
| --- | --- |
| | Questions for Responsive Reading and Writing |

44
(2)

| | |
| --- | --- |
| | A Sample Paper in Progress |

46
(13)
46
(2)
48
(1)

| | |
| --- | --- |
| | Revising: First and Second Drafts |

48
(11)

| | |
| --- | --- |
| | FINAL DRAFT: Fulfillment or Failure? Marriage in A Secret Sorrow and "A Sorrowful Woman" |

59
(5)
64
(34)
65
(7)
72
(2)
74
(9)

| | |
| --- | --- |
| | PERSPECTIVE: WILLIAM FAULKNER, On "A Rose for Emily" 82 ANDRE DUBUS, Killings |

83
(14)

| | |
| --- | --- |
| | PERSPECTIVE: A, L. BADER, Nothing Happens in Modern Short Stories |

97
(1)
98
(36)
99
(4)

| | |
| --- | --- |
| | The Prisoner Who Wore Glasses |

103
(5)
108
(25)

| | |
| --- | --- |
| | PERSPECTIVE ON MELVILLE: NATHANIEL HAWTHORNE, On Herman Melville 's Philosophic Stance |

133
(1)
134
(22)
136
(6)

| | |
| --- | --- |
| | PERSPECTIVE: ERNEST HEMINGWAY, On What Every Writer Needs |

142
(1)
143
(4)

| | |
| --- | --- |
| | PERSPECTIVE: RON HANSEN, On "Nebraska" as an Unconventional Short Story |

147
(1)

| | |
| --- | --- |
| | IND AFF, or Out of Love in Sarajevo |

147
(7)

| | |
| --- | --- |
| | PERSPECTIVE: FAY WELDON, On the Importance of Place in "IND AFF" |

154
(2)
156
(42)

| | |
| --- | --- |
| | Third-Person Narrator (Nonparticipant) |

157
(2)

| | |
| --- | --- |
| | First-Person Narrator (Participant) |

159
(39)
167
(2)

| | |
| --- | --- |
| | The Lady with the Pet Dog |

169
(18)

| | |
| --- | --- |
| | PERSPECTIVE: ANTON CHEKHOV, On Morality in Fiction |

187

| | |
| --- | --- |
| | The Lady with the Pet Dog |

182
(13)

| | |
| --- | --- |
| | PERSPECTIVE: MATTHEW C. BRENNAN, Point of View and Plotting in Chekhov s and Oates 's "The Lady with the Pet Dog" |

195
(3)
198
(22)
201
(4)

| | |
| --- | --- |
| | COLETTE [Sidonie-Gabrielle Colette], |

205
(3)
208
(11)

| | |
| --- | --- |
| | PERSPECTIVE: MORDECAI MARCUS, What is an Initiation Story? |

219
(1)
220
(24)

| | |
| --- | --- |
| | The Bride Comes to Yellow Sky |

223
(9)
232
(4)
236
(3)

| | |
| --- | --- |
| | The Story of the Good Little Boy |

239
(5)

| | |
| --- | --- |
| | 9. Style, Tone, and Irony |

244
(26)
244
(2)
246
(1)
247
(23)
248
(2)

| | |
| --- | --- |
| | PERSPECTIVE: JOHN BARTH, On Minimalist Fiction |

250
(1)

| | |
| --- | --- |
| | PERSPECTIVE: T. CORAGHESSAN BOYLE, Carnal Knowledge |

251
(15)

| | |
| --- | --- |
| | PERSPECTIVE: PUNYAKANTE WIJENAIKE, Anoma |

266
(4)

| | |
| --- | --- |
| | 10. Combining the Elements of Fiction |

270
(11)
270
(1)
271
(1)
271
(5)

| | |
| --- | --- |
| | Questions for Writing: Developing a Topic into a Revised Thesis |

276
(5)
281
(156)

| | |
| --- | --- |
| | 11. A Study of Nathaniel Hawthorne |

283
(40)

| | |
| --- | --- |
| | A Brief Biography and Introduction |

283
(34)

| | |
| --- | --- |
| | PHOTO: Nathaniel Hawthorne |

284
(3)
287
(10)
297
(9)
306
(11)

| | |
| --- | --- |
| | Perspectives on Hawthorne |

317
(5)
317
(2)

| | |
| --- | --- |
| | Hawthorne on the Power of the Writers Imagination |

319
(1)

| | |
| --- | --- |
| | Hawthorne on His Short Stories |

320
(1)

| | |
| --- | --- |
| | On Nathaniel Hawthorne s Tragic Vision |

321
(1)

| | |
| --- | --- |
| | Suggested Topics for Longer Papers |

322
(1)

| | |
| --- | --- |
| | 12. A Study of Flannery O'Connor |

323
(49)
323
(1)

| | |
| --- | --- |
| | A Brief Biography and Introduction |

324
(43)

| | |
| --- | --- |
| | A Good Man Is Hard to Find |

327
(11)
338
(15)
353
(14)
367
(4)
367
(1)

| | |
| --- | --- |
| | O'Connor on the Materials of Fiction |

367
(1)

| | |
| --- | --- |
| | O'Connor on the Use of Exaggeration and Distortion |

368
(1)

| | |
| --- | --- |
| | On O'Connor's Refusal to "Do Pretty" |

369
(1)

| | |
| --- | --- |
| | The Function of Violence in O'Connor's Fiction |

369
(1)

| | |
| --- | --- |
| | On O'Connor's Use of History |

370
(1)

| | |
| --- | --- |
| | Suggested Topics for Longer Papers |

371
(1)

| | |
| --- | --- |
| | 13. A Critical Case Study: William Faulkner's "Barn Burning" |

372
(27)
373
(1)

| | |
| --- | --- |
| | WILLIAM FAULKNER, Barn Burning |

373
(13)
386
(12)

| | |
| --- | --- |
| | Blood Ties in "Barn Burning" |

386
(1)

| | |
| --- | --- |
| | Abner Snopes as a Victim of Class |

387
(2)

| | |
| --- | --- |
| | Conflict in "Barn Burning" |

389
(3)

| | |
| --- | --- |
| | Narrative Strategy in "Barn Burning" |

392
(1)

| | |
| --- | --- |
| | Questions for Writing: Incorporating the Critics |

393
(2)

| | |
| --- | --- |
| | AN EXCERPT FROM A SAMPLE PAPER: The Fires of Class Conflict in "Barn Burning" |

395
(3)

| | |
| --- | --- |
| | Suggested Topics for Longer Papers |

398
(1)

| | |
| --- | --- |
| | 14. A Cultural Case Study: James Joyce's "Eveline" |

399
(17)
400
(1)

| | |
| --- | --- |
| | PHOTO: James Joyce in Paris |

401
(7)
408
(7)

| | |
| --- | --- |
| | PHOTO: Poole Street, Dublin |

408
(1)

| | |
| --- | --- |
| | Resources of Ireland (From the Alliance Temperance Almanack for 1910) |

409
(3)

| | |
| --- | --- |
| | A Letter Home from an Irish Emigrant in Australia |

412
(1)

| | |
| --- | --- |
| | A Plot Synopsis o f The Bohemian Girl |

413
(2)

| | |
| --- | --- |
| | Suggested Topics for Longer Papers |

415
(1)

| | |
| --- | --- |
| | 15. A Thematic Case Study: The Nature of Storytelling |

416
(21)
416
(19)
417
(3)

| | |
| --- | --- |
| | How to Tell a True War Story |

420
(10)
430
(5)

| | |
| --- | --- |
| | Suggested Topics for Longer Papers |

435
(2)
437
(58)

| | |
| --- | --- |
| | 16. Stories for Further Reading |

439
(34)
439
(2)

| | |
| --- | --- |
| | The Horse Dealers Daughter |

441
(12)
453
(2)
455
(7)
462
(5)
467
(6)

| | |
| --- | --- |
| | 17. An Album of Contemporary Stories |

473
(22)
473
(13)
486
(4)
490
(5)
POETRY
495
(430)
495
(238)
497
(33)

| | |
| --- | --- |
| | Reading Poetry Responsively |

497
(3)
498
(1)
499
(1)
500
(1)
500
(17)
502
(1)
503
(1)

| | |
| --- | --- |
| | A SAMPLE ANALYSIS: Tossing Metaphors Together in "Catch" |

504
(4)
508
(1)
509
(8)

| | |
| --- | --- |
| | A Study of Reading Habits |

517
513
(1)
514
(1)
515
(1)
515
(2)

| | |
| --- | --- |
| | Suggestions for Approaching Poetry |

517
(1)
518
(6)
520
(1)
520
(2)
522
(1)

| | |
| --- | --- |
| | PERSPECTIVE: ROBERT FRANCIS, On "Hard" Poetry |

523
(1)
524
(6)
524
(1)

| | |
| --- | --- |
| | Elderly Lady Crossing on Green |

525
(1)
526
(1)

| | |
| --- | --- |
| | A Beautiful Girl Combs Her Hair |

527
(1)
528
(2)
530
(7)
530
(7)

| | |
| --- | --- |
| | Questions for Responsive Reading and Writing |

531
(1)

| | |
| --- | --- |
| | A SAMPLE ANALYSIS: Memory in Elizabeth Bishop's "Manners" |

532
(1)
533
(4)

| | |
| --- | --- |
| | 20. Word Choice, Word Order, and Tone |

537
(33)
537
(2)

| | |
| --- | --- |
| | Denotations and Connotations |

539
(4)

| | |
| --- | --- |
| | The Death of the Ball Turret Gunner |

540
(2)
542
(1)
543
(1)
543
(4)
544
(1)
545
(1)
546
(1)

| | |
| --- | --- |
| | Latin Night at the Pawnshop |

547
(1)

| | |
| --- | --- |
| | Diction and Tone in Four Love Poems |

547
(9)

| | |
| --- | --- |
| | To the Virgins, to Make Much of Time |

547
(2)
549
(1)

| | |
| --- | --- |
| | PERSPECTIVE: BERNARD DUYFHUIZEN, "To His Coy Mistress": On How a Female Might Respond |

550
(2)
552
(1)
553
(3)
556
(9)

| | |
| --- | --- |
| | The Convergence of the Twain |

556
(1)
557
(1)
558
(1)
559
(1)
560
(1)
561
(2)
563
(1)
563
(1)
564
(1)

| | |
| --- | --- |
| | A Note on Reading Translations |

565
(1)

| | |
| --- | --- |
| | Four Translations of a Poem by Sappho |

566
(4)

| | |
| --- | --- |
| | Immortal Aphrodite of the broidered throne (Translated by Henry T. Wharton) |

566
(1)

| | |
| --- | --- |
| | Beautiful-throned, immortal Aphrodite (Translated by T. W. Higginson) |

566
(1)

| | |
| --- | --- |
| | Invocation to Aphrodite (Translated by Richard Lattimore) |

567
(1)

| | |
| --- | --- |
| | On the throne of many hues, Immortal Aphrodite (Translated by Diane Rayor) |

568
(2)
570
(19)

| | |
| --- | --- |
| | Poetry's Appeal to the Senses |

570
(9)
571
(1)
572
(1)
573
(1)
574
(1)
575
(1)
576
(2)
578
(1)
579
(10)
579
(1)
580
(1)
581
(1)

| | |
| --- | --- |
| | What It's Like to Be a Black Girl (For Those of You Who Aren't) |

582
(1)
583
(1)
583
(1)
584
(1)

| | |
| --- | --- |
| | In a Station of the Metro |

585
(1)
585
(2)

| | |
| --- | --- |
| | PERSPECTIVE: T. E. HULME, On the Differences between Poetry and Prose |

587
(2)
589
(20)

| | |
| --- | --- |
| | From Macbeth (Act V, Scene v) |

590
(1)
591
(3)
591
(1)

| | |
| --- | --- |
| | Presentiment-is that long Shadow-on the lawn- |

592
(1)
593
(1)
593
(1)
594
(4)
594
(1)

| | |
| --- | --- |
| | The Hand That Signed the Paper |

595
(1)
596
(2)
598
(1)
598
(11)
598
(1)
599
(1)
600
(1)
601
(1)
602
(1)
603
(1)

| | |
| --- | --- |
| | A Valediction: Forbidding Mourning |

603
(2)
605
(1)
605
(1)
606
(1)

| | |
| --- | --- |
| | PERSPECTIVE: JOHN R. SEARLE, Figuring Out Metaphors |

607
(2)

| | |
| --- | --- |
| | 23. Symbol, Allegory, and Irony |

609
(24)
609
(2)

| | |
| --- | --- |
| | Acquainted with the Night |

610
(1)
611
(3)
612
(2)
614
(4)

| | |
| --- | --- |
| | EDWIN ARLINGTON ROBINSON, |

614
(1)
615
(1)
616
(1)

| | |
| --- | --- |
| | next to of course god america i |

617
(1)

| | |
| --- | --- |
| | A Man Said to the Universe |

618
(1)
618
(15)
618
(1)
619
(1)
620
(1)
621
(1)

| | |
| --- | --- |
| | Traveling through the Dark |

621
(1)
622
(1)
623
(1)
624
(1)
625
(1)
626
(1)
627
(1)
628
(2)
630
(1)
630
(1)
631
(1)

| | |
| --- | --- |
| | PERSPECTIVE: EZRA POUND, On Symbols |

632
(1)
633
(24)
633
(7)
634
(1)
635
(1)
636
(1)

| | |
| --- | --- |
| | A Bird came down the Walk- |

637
(2)
639
(1)
640
(4)
640
(1)

| | |
| --- | --- |
| | From "The Cataract of Lodore" |

640
(3)

| | |
| --- | --- |
| | PERSPECTIVE: DAVID LENSON, On the Contemporary Use of Rhyme |

643
(1)
644
(2)
644
(2)
646
(11)
646
(1)

| | |
| --- | --- |
| | LEWIS CARROLL [Charles Lutwidge Dodgson], |

646
(1)
647
(1)
648
(1)
649
(1)

| | |
| --- | --- |
| | From An Essay on Criticism |

650
(1)
651
(1)
652
(1)
652
(1)
653
(1)
654
(1)

| | |
| --- | --- |
| | PERSPECTIVE: DYLAN THOMAS, On the Words in Poetry |

654
(3)
657
(21)
657
(5)

| | |
| --- | --- |
| | From "Song of the Open Road" |

658
(3)
661
(1)

| | |
| --- | --- |
| | Suggestions for Scanning a Poem |

662
(2)
663
(1)
663
(1)
664
(14)
664
(1)

| | |
| --- | --- |
| | When I was one-and-twenty |

665
(1)
666
(1)
667
(1)
667
(1)

| | |
| --- | --- |
| | Sure You Can Ask Me a Personal Question |

668
(1)
669
(1)
670
(1)
671
(1)
671
(1)
672
(1)
673
(1)
674
(1)

| | |
| --- | --- |
| | A Colonial Epitaph Annotated |

675
(1)

| | |
| --- | --- |
| | PERSPECTIVE: LOUISE BOGAN, On Formal Poetry |

676
(2)
678
(26)
679
(2)

| | |
| --- | --- |
| | Loveliest of trees, the cherry now |

679
(1)
680
(1)
681
(7)

| | |
| --- | --- |
| | On First Looking into Chapman 's Homer |

682
(1)

| | |
| --- | --- |
| | The World Is Too Much with Us |

682
(1)

| | |
| --- | --- |
| | Shall I compare thee to a summers day? |

683
(1)

| | |
| --- | --- |
| | My mistress' eyes are nothing like the sun |

684
(1)

| | |
| --- | --- |
| | I will put Chaos into fourteen lines |

685
(1)
685
(1)
686
(1)
687
(1)
688
(2)

| | |
| --- | --- |
| | Do not go gentle into that good night |

688
(1)

| | |
| --- | --- |
| | Villanelle for a Cool April |

689
(1)
690
(3)
690
(1)
691
(2)
693
(1)
693
(1)
693
(1)
693
(1)
693
(1)
694
(1)

| | |
| --- | --- |
| | There was a young lady named Bright |

694
(1)

| | |
| --- | --- |
| | The limericks never averse |

694
(1)
695
(1)
695
(1)
695
(1)
695
(1)
696
(1)
696
(1)
697
(2)
697
(2)
699
(1)
700
(1)
700
(4)
701
(1)

| | |
| --- | --- |
| | PERSPECTIVE: ROBERT MORGAN, On the Shape o f a Poem |

702
(1)

| | |
| --- | --- |
| | PERSPECTIVE: ELAINE MITCHELL, Form |

703
(1)
704
(17)
704
(1)

| | |
| --- | --- |
| | From "I Sing the Body Electric" |

705
(1)

| | |
| --- | --- |
| | PERSPECTIVE: WALT WHITMAN, On Rhyme and Meter |

706
(1)
707
(1)

| | |
| --- | --- |
| | After Making Love We Hear Footsteps |

708
(1)
709
(1)
710
(1)

| | |
| --- | --- |
| | Cutting Loose on an August Night |

710
(1)

| | |
| --- | --- |
| | Emily Dickinson's Defunct |

711
(1)
712
(1)
713
(1)

| | |
| --- | --- |
| | The Translator at the Reception for Latin American Writers |

714
(1)

| | |
| --- | --- |
| | First Party at Ken Kesey' s with Hell's Angels |

715
(1)
716
(1)
716
(2)
718
(1)
719
(1)
720
(1)
720
(1)

| | |
| --- | --- |
| | 28. Combining the Elements of Poetry |

721
(12)
721
(1)
722
(1)
723
(1)

| | |
| --- | --- |
| | Asking Questions about the Elements |

723
(2)
724
(1)
725
(1)

| | |
| --- | --- |
| | A SAMPLE INFORMAL OUTLINE |

725
(1)
726
(9)

| | |
| --- | --- |
| | A SAMPLE EXPLICATION: The Use of Conventional Metaphors for Death in John Donne's "Death Be Not Proud" |

726
(7)
733
(144)

| | |
| --- | --- |
| | 29. A Study of Emily Dickinson |

735
(2)
735
(2)

| | |
| --- | --- |
| | An Introduction to Her Work |

737
(21)

| | |
| --- | --- |
| | PHOTO: Facsimile o f manuscript page, "What Soft - Cherubic Creatures-" |

738
(1)

| | |
| --- | --- |
| | If I can stop one Heart from breaking |

739
(1)
740
(1)

| | |
| --- | --- |
| | The Thought beneath so slight a film- |

741
(1)

| | |
| --- | --- |
| | To make a prairie it takes a clover and one bee |

742
(1)

| | |
| --- | --- |
| | Success is counted sweetest |

742
(1)

| | |
| --- | --- |
| | These are the days when Birds come back- |

743
(1)

| | |
| --- | --- |
| | Water, is taught by thirst |

743
(1)

| | |
| --- | --- |
| | How many times these low feet staggered- |

744
(1)

| | |
| --- | --- |
| | Portraits are to daily faces |

744
(1)

| | |
| --- | --- |
| | Some keep the Sabbath going to Church- |

745
(1)

| | |
| --- | --- |
| | "Heaven"-is what I cannot reach! |

746
(1)
746
(1)
747
(1)

| | |
| --- | --- |
| | Nature-sometimes sears a Sapling- |

748
(1)

| | |
| --- | --- |
| | I would not paint-a picture- |

748
(1)

| | |
| --- | --- |
| | What Soft-Cherubic Creatures- |

749
(1)

| | |
| --- | --- |
| | The Soul selects her own Society- |

750
(1)

| | |
| --- | --- |
| | Much Madness is divinest Sense- |

750
(1)
751
(1)

| | |
| --- | --- |
| | This was a Poet-It is That |

752
(1)

| | |
| --- | --- |
| | After great pain, a formal feeling comes- |

752
(1)

| | |
| --- | --- |
| | I heard a Fly buzz-when I died- |

753
(1)

| | |
| --- | --- |
| | Because I could not stop for Death - |

754
(1)

| | |
| --- | --- |
| | The Wind begun to knead the Grass- |

755
(1)

| | |
| --- | --- |
| | A loss of something ever felt I - |

756
(1)
756
(1)
757
(1)

| | |
| --- | --- |
| | Tell all the Truth but tell it slant- |

757
(1)

| | |
| --- | --- |
| | Perspectives on Dickinson |

758
(7)

| | |
| --- | --- |
| | Dickinson's Description of Herself |

758
(1)

| | |
| --- | --- |
| | THOMAS WENTWORTH HIGGINSON, |

| | |
| --- | --- |
| | On Meeting Dickinson for the First Time |

759
(1)
760
(1)

| | |
| --- | --- |
| | On Dickinson's Sense of Privation |

760
(1)

| | |
| --- | --- |
| | SANDRA M. GILBERT and SUSAN GUBAR, |

| | |
| --- | --- |
| | On Dickinson's White Dress |

761
(1)

| | |
| --- | --- |
| | On "I heard a Fly buzz-when l died-" |

762
(1)

| | |
| --- | --- |
| | Questions for Writing about an Author in Depth |

763
(2)

| | |
| --- | --- |
| | A Sample In-Depth Study: Religious Faith in Four Poems by Emily Dickinson |

765
(5)

| | |
| --- | --- |
| | "Faith" is a fine invention |

765
(1)
765
(1)
766
(1)

| | |
| --- | --- |
| | Apparently with no surprise |

766
(4)

| | |
| --- | --- |
| | Suggested Topics for Longer Papers |

770
(1)

| | |
| --- | --- |
| | 30. A Study of Robert Frost |

771
(31)
771
(3)
772
(2)

| | |
| --- | --- |
| | An Introduction to His Work |

774
(18)

| | |
| --- | --- |
| | PHOTO: Facsimile of manuscript page, "Neither Out Far nor In Deep" |

774
(2)
776
(2)
778
(1)
778
(2)
780
(3)
783
(1)
784
(2)
786
(1)
787
(1)
788
(1)
788
(1)

| | |
| --- | --- |
| | Stopping by Woods on a Snowy Evening |

789
(1)
789
(1)
790
(1)
791
(1)

| | |
| --- | --- |
| | Neither Out Far nor In Deep |

791
(1)
792
(9)

| | |
| --- | --- |
| | "In White": Frosts Early Version of "Design" |

792
(1)

| | |
| --- | --- |
| | Frost on the Living Part of a Poem |

793
(1)

| | |
| --- | --- |
| | On Frosts Realistic Technique |

793
(1)

| | |
| --- | --- |
| | Frost on the Figure a Poem Makes |

794
(2)

| | |
| --- | --- |
| | Frost on the Way to Read a Poem |

796
(1)

| | |
| --- | --- |
| | On Frost as a Terrifying Poet |

797
(2)

| | |
| --- | --- |
| | A Parodic Interpretation of "Stopping by Woods on a Snowy Evening" |

799
(1)
800
(1)

| | |
| --- | --- |
| | Suggested Topics for Longer Papers |

801
(1)

| | |
| --- | --- |
| | 31. A Study of Langston Hughes |

802
(27)
802
(2)
803
(1)

| | |
| --- | --- |
| | The Negro Speaks of Rivers |

804
(1)

| | |
| --- | --- |
| | An Introduction to His Work |

804
(19)

| | |
| --- | --- |
| | PHOTO: Facsimile of manuscript page, "Old Walt" |

805
(2)
807
(1)
808
(1)
809
(1)
809
(1)
810
(1)
811
(1)
812
(1)
813
(1)
813
(1)
814
(1)
815
(1)
816
(1)
816
(1)

| | |
| --- | --- |
| | Rent-Party Shout: For a Lady Dancer |

817
(1)
818
(1)
818
(1)
819
(1)
820
(1)
820
(1)

| | |
| --- | --- |
| | Un-American Investigators |

821
(1)
822
(1)
822
(1)
823
(5)

| | |
| --- | --- |
| | Hughes on Racial Shame and Pride |

823
(1)

| | |
| --- | --- |
| | Hughes on Harlem Rent Parties |

824
(1)

| | |
| --- | --- |
| | The Essential Optimism of Hughes and Whitman |

825
(1)

| | |
| --- | --- |
| | Hughes's Attitude toward Religion |

826
(1)

| | |
| --- | --- |
| | The Romanticization of Africa in the 1920's |

827
(1)

| | |
| --- | --- |
| | Suggested Topics for Longer Papers |

828
(1)

| | |
| --- | --- |
| | 32. A Critical Case Study: T. S. Eliot's "The Love Song of J. Alfred Prufrock" |

829
(17)

| | |
| --- | --- |
| | The Love Song of J. Alfred Prufrock |

829
(1)
830
(4)
834
(11)

| | |
| --- | --- |
| | Hints of Eliot in Prufrock |

834
(1)

| | |
| --- | --- |
| | The Problem of Tone in Prufrock |

835
(1)

| | |
| --- | --- |
| | The "Overwhelming Question "for Prufrock |

836
(2)

| | |
| --- | --- |
| | Society and Character in "The Love Song of J. Alfred Prufrock" |

838
(2)

| | |
| --- | --- |
| | A Personal Analysis of "The Love Song of J. Alfred Prufrock" |

840
(5)

| | |
| --- | --- |
| | Suggested Topics for Longer Papers |

845
(1)

| | |
| --- | --- |
| | 33. A Cultural Case Study: Louise Erdrich's "Dear John Wayne" |

846
(15)
847
(1)
847
(3)
850
(10)

| | |
| --- | --- |
| | From an Interview with Louise Erdrich |

850
(2)

| | |
| --- | --- |
| | PAINTING: Thomas Birch, Settlers Moving West |

852
(1)
853
(2)

| | |
| --- | --- |
| | From an Interview with John Wayne |

855
(4)

| | |
| --- | --- |
| | PHOTO: John Wayne As Cavalry Officer |

859
(1)

| | |
| --- | --- |
| | CHIEF LUTHER STANDING BEAR, |

| | |
| --- | --- |
| | An Indian Perspective on the Great Plains |

860
(1)

| | |
| --- | --- |
| | Suggested Topics for Longer Papers |

860
(1)

| | |
| --- | --- |
| | 34. Two Thematic Case Studies: The Love Poem and Teaching and Learning |

861
(16)
861
(7)

| | |
| --- | --- |
| | The Passionate Shepherd to His Love |

862
(1)

| | |
| --- | --- |
| | Not marble, nor the gilded monuments |

863
(1)

| | |
| --- | --- |
| | To My Dear and Loving Husband |

864
(1)

| | |
| --- | --- |
| | ELIZABETH BARRETT BROWNING, |

| | |
| --- | --- |
| | How Do I Love Thee? Let Me Count the Ways |

865
(1)
866
(1)
866
(1)
867
(1)

| | |
| --- | --- |
| | Poems about Teaching and Learning |

868
(7)

| | |
| --- | --- |
| | From all the Jails the Boys and Girls |

868
(1)
869
(2)
871
(1)
871
(2)

| | |
| --- | --- |
| | The Schoolroom on the Second Floor of the Knitting Mill |

873
(1)
874
(1)

| | |
| --- | --- |
| | Suggested Topics for Longer Papers |

875
(2)
877
(48)

| | |
| --- | --- |
| | 35. Poems for Further Reading |

879
(32)
879
(1)
880
(1)
881
(1)

| | |
| --- | --- |
| | Snowfall in the Afternoon |

881
(1)

| | |
| --- | --- |
| | Before the Birth of One of Her Children |

881
(1)
882
(1)
882
(1)

| | |
| --- | --- |
| | GEORGE GORDON, LORD BYRON, |

883
(1)

| | |
| --- | --- |
| | Kubla Khan: or, a Vision in a Dream |

883
(2)

| | |
| --- | --- |
| | Sonnet to the River Otter |

885
(1)
885
(1)
885
(1)
886
(1)

| | |
| --- | --- |
| | In Time of "The Breaking of Nations" |

887
(1)
887
(1)
888
(1)
889
(1)
890
(1)
891
(1)
892
(1)
892
(1)
892
(1)

| | |
| --- | --- |
| | To an Athlete Dying Young |

893
(1)
894
(1)
894
(1)

| | |
| --- | --- |
| | To One Who Has Been Long in City Pent |

895
(1)
896
(1)
896
(1)

| | |
| --- | --- |
| | For the Anniversary of My Death |

897
(1)

| | |
| --- | --- |
| | I, Being Born a Woman and Distressed |

897
(1)

| | |
| --- | --- |
| | When I consider how my light is spent |

897
(1)

| | |
| --- | --- |
| | Crows in a Winter Composition |

898
(1)
898
(1)

| | |
| --- | --- |
| | The Nymphs Reply to the Shepherd |

899
(1)

| | |
| --- | --- |
| | CHRISTINA GEORGINA ROSSETTI, |

900
(1)

| | |
| --- | --- |
| | That time of year thou mayst in me behold |

900
(1)

| | |
| --- | --- |
| | When forty winters shall besiege thy brow |

901
(1)
901
(1)
902
(1)
903
(1)
903
(1)

| | |
| --- | --- |
| | On Being Brought from Africa to America |

904
(1)
904
(1)

| | |
| --- | --- |
| | When I Heard the Learn'd Astronomer |

904
(1)

| | |
| --- | --- |
| | Thinking about Bill, Dead of AIDS |

905
(1)
905
(1)
906
(1)

| | |
| --- | --- |
| | Lines Written in Early Spring |

906
(1)
907
(1)

| | |
| --- | --- |
| | Crazy Jane Talks with the Bishop |

907
(1)
908
(1)
909
(1)
909
(2)

| | |
| --- | --- |
| | 36. An Album of Contemporary Poems |

911
(16)
911
(2)
913
(1)
914
(1)
915
(2)
917
(1)
918
(2)
920
(1)
921
(1)
922
(3)
DRAMA
925
(574)
927
(324)
929
(33)

| | |
| --- | --- |
| | Reading Drama Responsively |

929
(15)
931
(11)

| | |
| --- | --- |
| | PERSPECTIVE: SUSAN GLASPELL, From the Short Story Version of Trifles |

942
(2)
944
(4)
948
(14)

| | |
| --- | --- |
| | From "The Pitch, "a Seinfeld Episode |

949
(10)

| | |
| --- | --- |
| | PERSPECTIVE: ELAYNE RAPPING, On Television Sitcoms |

959
(3)
962
(7)
962
(7)

| | |
| --- | --- |
| | Questions for Responsive Reading and Writing |

963
(1)

| | |
| --- | --- |
| | A SAMPLE PAPER: The Feminist Evidence in Trifles |

964
(5)
969
(58)
969
(1)

| | |
| --- | --- |
| | Theatrical Conventions of Greek Drama |

970
(3)

| | |
| --- | --- |
| | PHOTO: Drawing of a Classical Greek Theater |

972
(1)
973
(45)

| | |
| --- | --- |
| | Oedipus the King (Translated by Robert Fagles) |

975
(43)

| | |
| --- | --- |
| | Perspectives on Sophocles |

1018
(8)
1018
(2)
1020
(2)

| | |
| --- | --- |
| | Another Translation of a Scene from Oedipus the King |

1022
(2)
1024
(1)

| | |
| --- | --- |
| | On Oedipus and Human Freedom |

1025
(1)

| | |
| --- | --- |
| | On Oedipus the King as a Political Play |

1026
(1)

| | |
| --- | --- |
| | Suggested Topics for Longer Papers |

1026
(1)

| | |
| --- | --- |
| | 40. A Study of William Shakespeare |

1027
(98)

| | |
| --- | --- |
| | PORTRAIT: William Shakespeare |

1027
(1)
1028
(4)

| | |
| --- | --- |
| | PHOTO: Drawing of the Globe Theatre |

1031
(1)

| | |
| --- | --- |
| | The Range of Shakespeare's Drama: History, Comedy, and Tragedy |

1032
(3)

| | |
| --- | --- |
| | A Note on Reading Shakespeare |

1035
(83)

| | |
| --- | --- |
| | Othello the Moor of Venice |

1036
(82)

| | |
| --- | --- |
| | Perspectives on Shakespeare |

1118
(6)

| | |
| --- | --- |
| | Objections to the Elizabethan Theater by the Mayor of London |

1118
(1)

| | |
| --- | --- |
| | On Boy Actors in Female Roles |

1119
(1)

| | |
| --- | --- |
| | On Shakespeare's Characters |

1120
(1)

| | |
| --- | --- |
| | On Desdemona's Role in Othello |

1121
(1)

| | |
| --- | --- |
| | On Othello s Heroic Struggle |

1122
(1)

| | |
| --- | --- |
| | On the Value of Comedy in the Face of Tragedy |

1122
(2)

| | |
| --- | --- |
| | Suggested Topics for Longer Papers |

1124
(1)
1125
(56)
1125
(2)
1127
(1)

| | |
| --- | --- |
| | Theatrical Conventions of Modern Drama |

1128
(53)

| | |
| --- | --- |
| | A Doll House (Translated by Rolf Fjelde) |

1129
(50)

| | |
| --- | --- |
| | PERSPECTIVE: HENRIK IBSEN, Notes for A Doll House |

1179
(2)

| | |
| --- | --- |
| | 42. A Critical Case Study: Henrik Ibsen's A Doll House |

1181
(12)
1181
(1)
1182
(10)

| | |
| --- | --- |
| | A Nineteenth-Century Husbands Letter to His Wife |

1182
(2)

| | |
| --- | --- |
| | RARRY WITHAM and JOHN LUTTERBIE, |

| | |
| --- | --- |
| | A Marxist Approach to A Doll House |

1184
(2)

| | |
| --- | --- |
| | A Psychoanalytic Reading of Nora |

1186
(2)

| | |
| --- | --- |
| | Is A Doll House a Feminist Text? |

1188
(2)

| | |
| --- | --- |
| | Questions for Writing: Applying a Critical Strategy |

1190
(2)

| | |
| --- | --- |
| | Suggested Topics for Longer Papers |

1192
(1)

| | |
| --- | --- |
| | 43. A Cultural Case Study: David Henry Hwang's M. Butterfly |

1193
(58)
1194
(1)
1194
(2)
1196
(46)
1242
(8)

| | |
| --- | --- |
| | A Plot Synopsis o f Madame Butterfly |

1242
(1)

| | |
| --- | --- |
| | The News Source for M. Butterfly |

1243
(2)

| | |
| --- | --- |
| | PHOTO: Shi Pei Pu in The Story of the Butterfly |

1245
(1)

| | |
| --- | --- |
| | A Theater Review of M. Butterfly |

1246
(1)

| | |
| --- | --- |
| | An Interview with David Henry Hwang |

1247
(1)

| | |
| --- | --- |
| | An Interview with David Henry Hwang |

1248
(2)

| | |
| --- | --- |
| | Suggested Topics for Longer Papers |

1250
(1)
1251
(248)

| | |
| --- | --- |
| | 44. Plays for Further Reading |

1253
(248)
1253
(45)

| | |
| --- | --- |
| | PERSPECTIVE: TENNESSE WILLIAMS, Production Notes to The Glass Menagerie |

1298
(2)

| | |
| --- | --- |
| | PERSPECTIVE: TENNESSE WILLIAMS, On Theme |

1300
(1)
1300
(67)

| | |
| --- | --- |
| | PERSPECTIVE: ARTHUR MILLER, |

| | |
| --- | --- |
| | Tragedy and the Common Man |

1367
(2)

| | |
| --- | --- |
| | PERSPECTIVE: ARTHUR MILLER, |

1369
(1)
1370
(64)

| | |
| --- | --- |
| | PERSPECTIVE: THOMAS P. ADLER, The Political Basis of Lorraine Hansberry's Art |

1434
(1)
1435
(8)
1443
(7)
1450
(2)
1452
(44)
1496
(3)
CRITICAL THINKING AND WRITING
1499
(90)

| | |
| --- | --- |
| | 45 Critical Strategies for Reading |

1501
(27)
1501
(2)

| | |
| --- | --- |
| | The Literary Canon: Diversity and Controversy |

1503
(2)
1505
(2)
1507
(2)
1509
(2)
1511
(4)

| | |
| --- | --- |
| | Literary History Criticism |

1512
(1)
1513
(1)

| | |
| --- | --- |
| | New Historicist Criticism |

1513
(1)
1514
(1)
1515
(2)
1516
(1)

| | |
| --- | --- |
| | Gay and Lesbian Criticism |

1517
(1)
1517
(2)

| | |
| --- | --- |
| | Reader-Response Strategies |

1519
(2)

| | |
| --- | --- |
| | Deconstructionist Strategies |

1521
(2)
1523
(5)
1528
(36)

| | |
| --- | --- |
| | The Purpose and Value of Writing about Literature |

1528
(1)
1529
(1)

| | |
| --- | --- |
| | Annotating the Text and Journal Note Taking |

1530
(2)
1532
(1)
1533
(3)
1536
(3)
1539
(1)
1540
(3)

| | |
| --- | --- |
| | Writing the Introduction and Conclusion |

1541
(1)
1542
(1)
1543
(2)
1544
(1)
1545
(1)

| | |
| --- | --- |
| | Types of Writing Assignments |

1546
(18)
1546
(1)

| | |
| --- | --- |
| | A SAMPLE EXPLICATION: A Reading of Dickinson s "There's a certain Slant of light" |

1547
(1)

| | |
| --- | --- |
| | "There's a certain Slant of light" |

1547
(1)

| | |
| --- | --- |
| | A SAMPLE ANALYSIS: The A & P as a State of Mind |

1552
(4)
1556
(9)

| | |
| --- | --- |
| | A SAMPLE COMPARISON: The Struggle for Women's Self Definition in A Doll House and M. Butterfly |

1559
(5)

| | |
| --- | --- |
| | 47. The Literary Research Paper |

1564
(20)
1565
(1)
1565
(4)

| | |
| --- | --- |
| | Annotated List of References |

1566
(1)
1567
(1)

| | |
| --- | --- |
| | Online Resources for Research and Writing |

1568
(1)

| | |
| --- | --- |
| | Evaluating Sources and Taking Notes |

1569
(2)

| | |
| --- | --- |
| | Developing a Thesis and Organizing the Paper |

1571
(1)
1572
(1)
1572
(12)
1574
(3)
1577
(1)

| | |
| --- | --- |
| | A SAMPLE RESEARCH PAPER: How the Narrator Cultivates a Rose for Emily |

1578
(6)

| | |
| --- | --- |
| | 48. Taking Essay Examinations |

1584
(5)

| | |
| --- | --- |
| | Preparing for an Essay Exam |

1584
(2)
1584
(1)

| | |
| --- | --- |
| | Take Notes and Annotate the Text |

1584
(1)
1585
(1)
1586
(1)

| | |
| --- | --- |
| | Closed-Book versus Open-Book Exams |

1586
(1)
1586
(1)

| | |
| --- | --- |
| | Strategies for Writing Essay Exams |

1587
(2)
Glossary of Literary Terms
1589
1622
(4)

| | |
| --- | --- |
| | Index of Authors and Titles |

1626
Inside back