Note: Supplemental materials are not guaranteed with Rental or Used book purchases.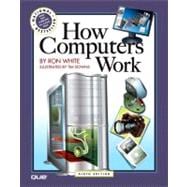 Questions About This Book?
What version or edition is this?
This is the 9th edition with a publication date of 11/14/2007.
What is included with this book?
The New copy of this book will include any supplemental materials advertised. Please check the title of the book to determine if it should include any CDs, lab manuals, study guides, etc.
The Used copy of this book is not guaranteed to include any supplemental materials. Typically, only the book itself is included.
The eBook copy of this book is not guaranteed to include any supplemental materials. Typically only the book itself is included.
Summary
The best illustrated look at the world of personal computing is back newly revised and updated.
Author Biography
About the Author
RON WHITE is the former executive editor of PC Computing magazine, where he developed the popular How It Works illustration to explain the new technologies that were emerging in computing at a prodigious rate. He is also the author of the best-selling How Digital Photography Works, and books on software, MP3, and digital cameras. His writing and photography have appeared in some of the leading magazines in the nation. He can be reached at ron@ronwhite.com.
About the Illustrator
TIMOTHY EDWARD DOWNS is the national award-winning illustrator of How Computers Work and How Digital Photography Works. Tim has been involved in all facets of graphic design in his illustrious career. From illustrator to creative director, Tim has led teams of artists and designers in advertising agencies, marketing communications firms, and consumer magazines to better tell their stories through illustration, photography, typography, and design. "Our job doesn't start when the writer hits Save. In order to effectively communicate the tone or the concept of the piece, we need to know and understand the story from the original brainstorm all the way through final execution," reminds Tim. Examples of Tim's design, illustration, and photographic work can be seen at http://www.timothyedwarddowns.com.
Table of Contents
Introduction
p. xii
Boot-Up Process
p. 2
Getting to Know the Hardware
p. 10
How Circuits Juggle Data
p. 20
How a PC Comes Alive
p. 30
How an Operating System Controls Hardware
p. 36
How Microchips are the PC's Brain
p. 46
How Transistors Manipulate Data
p. 52
How a Microprocessor Works
p. 62
How Software Works
p. 80
How Programming Languages Work
p. 94
How Windows Works
p. 104
How Software Applications Do Your Work
p. 118
Data Storage
p. 146
How a Computer's Long-Term Memory Works
p. 154
How Disk Drives Save Information
p. 166
How Little Things Make Drives Faster and Bigger
p. 176
How PCs Use Light to Remember Data
p. 184
Input/Output Devices
p. 194
How Data Gets Into Your PC
p. 202
How Scanners Capture Words and Images
p. 212
How Computers Use Power
p. 220
How Serial Ports Triumph
p. 228
How a Computer Display Works
p. 242
How Digital Photography Works
p. 252
Games and Multimedia
p. 260
How Multimedia Sound Works
p. 266
How Multimedia Video Works
p. 278
How Game Hardware Puts You In the Action
p. 286
How Games Create 3D Worlds
p. 296
How the Internet Works
p. 306
How Local Area Networks Work
p. 314
How PCs Connect to the Internet
p. 324
How the Internet Moves Data
p. 332
How We Reach Each Other Through the Net
p. 338
How Wireless Sets PCs Free
p. 350
How the Net Provides Video and Audio on Demand
p. 360
How the World Wide Web Works
p. 366
How Internet Security Fights Off PC Invaders
p. 378
How Printers Work
p. 398
How Black-and-White Printing Works
p. 404
How Color Printing Works
p. 414
Index
p. 426
Table of Contents provided by Publisher. All Rights Reserved.
Excerpts
= 0) {slash = '\\';} else {slash = '/';}openLoc = figLoc.substring(0, figLoc.lastIndexOf(slash) + 1);while (pPage.substring(0,3) == '../') {openLoc = openLoc.substring(0, openLoc.lastIndexOf(slash, openLoc.length - 2)+ 1);pPage = pPage.substring(3, pPage.length + 1);}popUpWin =window.open('','popWin','resizable=1,scrollbars=1,location=0,toolbar=0,width=525,height=394');figDoc = popUpWin.document;zhtm= ' ' + pPage + ' ';zhtm += ' ';zhtm += ' ';zhtm += ' ';zhtm += '' + pPage.substring(pPage.lastIndexOf('/') + 1, pPage.length) + '';zhtm += ' ';figDoc.write(zhtm);figDoc.close();}// modified 3.1.99 RWE v4.1 --> Introduction Introduction"Any sufficiently advanced technology is indistinguishable from magic." -- Arthur C. ClarkeSORCERERS have their magic wands--powerful, potentially dangerous tools with lives of their own. Witches have their familiars--creatures disguised as household beasts that could, if they choose, wreak the witches' havoc. Mystics have their golems--beings built of wood and tin brought to life to do their masters' bidding.We have our personal computers.PCs, too, are powerful creations that often seem to have a life of their own. Usually, they respond to a wave of a mouse or a spoken incantation by performing tasks we couldn't imagine doing ourselves without some sort of preternatural help. But even as computers successfully carry out our commands, it's often difficult to quell the feeling that there's some wizardry at work here.And then there are the times when our PCs, like malevolent spirits, rebel and open the gates of chaos onto our neatly ordered columns of numbers, our carefully wrought sentences, and our beautifully crafted graphics. When that happens, we're often convinced that we are, indeed, playing with power not entirely under our control. We become sorcerers' apprentices, whose every attempt to right things leads to deeper trouble.Whether our personal computers are faithful servants or imps, most of us soon realize there's much more going on inside those silent boxes than we really understand. PCs are secretive. Open their tightly sealed cases and you're confronted with poker-faced components. Few give any clues as to what they're about. Most of them consist of sphinx-like microchips that offer no more information about themselves than some obscure code printed on their impenetrable surfaces. The maze of circuit tracings etched on the boards is fascinating, but meaningless, hieroglyphics. Some crucial parts, such as the hard drive and power supply, are sealed with printed omens about the dangers of peeking inside--omens that put to