Note: Supplemental materials are not guaranteed with Rental or Used book purchases.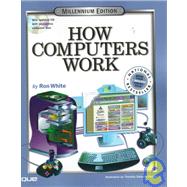 Summary
Written for users of PCs built around an Intel processor and running Microsoft Windows, this book from Ron White will fully explain how your computer works and how you can best utilize your system. A CD-ROM is included.
Author Biography
Ron White is a senior editor at PC Computing, where he writes the How It Works features and the Freeloader column. Founder of one of the earliest PC user groups, he has been writing about computers for 20 years. The second edition of How Computers Work won an award for best non-fiction computer book from the Computer Press Association.
Table of Contents
Introduction
Boot-Up Process
p. 2
Getting to Know the Hardware
p. 10
How a Computer Wakes Up
p. 16
How a Disk Boot Works
p. 20
How an Operating System Controls Hardware
p. 26
Computers of the Next Millennium
p. 38
How Software Works
p. 42
How Programming Languages Work
p. 56
How Windows Works
p. 64
How Software Applications Work
p. 76
How Software Will Work
p. 102
Microchips
p. 106
How a Transistor Works
p. 112
How RAM Works
p. 116
How a Microprocessor Works
p. 122
How Microchips Will Work
p. 130
Data Storage
p. 134
How Disk Storage Works
p. 140
How a Floppy Drive Works
p. 152
How a Hard Drive Works
p. 156
How Disk Drives Increase Speed and Storage
p. 160
How Removable Storage Works
p. 168
How Storage Will Work
p. 180
Input/Output Devices
p. 184
How Energy Turns Into Data
p. 192
How a Bus Works
p. 200
How Computer Ports Work
p. 208
How a Keyboard Works
p. 220
How a Computer Display Works
p. 224
How Pointing Devices Work
p. 232
How Game Controllers Work
p. 238
How a Modem Works
p. 244
How Scanners and Optical Character Recognition Work
p. 252
How Portable Computers Work
p. 258
How High-Tech Input/Output Works
p. 266
How Input/Output Will Work
p. 276
Multimedia
p. 280
How CD-ROM and DVD Work
p. 286
How Multimedia Sound Works
p. 296
How Multimedia Video Works
p. 306
How Virtual Reality Works
p. 310
How Multimedia Will Work
p. 320
How the Internet Works
p. 324
How Local Area Networks Work
p. 330
How a PC Connects to the Internet
p. 340
How Email Works
p. 350
How Internet Video and Audio Work
p. 354
How the World Wide Web Works
p. 360
How the Internet Will Work
p. 368
How Printers Work
p. 372
How Basic Printing Works
p. 376
How Color Printing Works
p. 386
How Printers Will Work
p. 396
Index
p. 398
Table of Contents provided by Syndetics. All Rights Reserved.