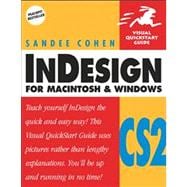 InDesign CS2 for Macintosh and Windows Visual QuickStart Guide
by
Cohen, Sandee
List Price: $34.99
In Stock Usually Ships in 24-48 Hours
Questions About This Book?
What version or edition is this?
This is the 1st edition with a publication date of 9/26/2005.
What is included with this book?
The Used copy of this book is not guaranteed to inclue any supplemental materials. Typically, only the book itself is included.
Summary
Trusted format and a master teacher make this guide the choice for becoming a page layout pro using InDesign CS2 - quickly and easily!
Author Biography
Sandee Cohen is the graphics curriculum instructor for the New School Computer Instruction Center in New York City as well as a lively speaker at many conferences (including Seybold Seminars, Macworld Expo, and Thunder Lizard events). She also has written Visual QuickStart Guides on Macromedia Fireworks and Macromedia FreeHand in addition to coauthoring other books on graphics and desktop publishing.
Table of Contents
Introduction
xiii
1
(16)
2
(8)
10
(4)
14
(1)
15
(1)
16
(1)
17
(32)
18
(2)
20
(3)
23
(1)

| | |
| --- | --- |
| | Using the Document Presets |

24
(2)
26
(2)
28
(4)

| | |
| --- | --- |
| | Working with Document Grids |

32
(1)

| | |
| --- | --- |
| | Changing the Magnification |

33
(2)

| | |
| --- | --- |
| | View and Pasteboard Controls |

35
(2)

| | |
| --- | --- |
| | Using the Zoom and Hand Tools |

37
(2)

| | |
| --- | --- |
| | Using the Navigator Palette |

39
(2)
41
(1)
42
(3)
45
(4)
49
(32)
50
(3)
53
(1)
54
(2)
56
(2)

| | |
| --- | --- |
| | Using the Character Palette |

58
(1)

| | |
| --- | --- |
| | Setting the Typeface and Point Size |

59
(1)
60
(2)

| | |
| --- | --- |
| | Setting Line and Character Spacing |

62
(2)

| | |
| --- | --- |
| | Applying Text Distortions |

64
(1)
65
(1)

| | |
| --- | --- |
| | Applying Paragraph Formatting |

66
(1)

| | |
| --- | --- |
| | Setting Alignment and Indents |

67
(2)

| | |
| --- | --- |
| | Inserting a Manual Indent |

69
(1)

| | |
| --- | --- |
| | Setting Paragraph Effects |

70
(1)

| | |
| --- | --- |
| | Working with Hidden Characters |

71
(1)
72
(3)
75
(1)

| | |
| --- | --- |
| | Setting Text Frame General Controls |

76
(3)

| | |
| --- | --- |
| | Using the Control Palette for Text |

79
(1)

| | |
| --- | --- |
| | Using Special Text Characters |

80
(1)
81
(36)
82
(1)
83
(2)
85
(1)
86
(2)
88
(2)
90
(1)

| | |
| --- | --- |
| | Using the Transform Tools |

91
(5)

| | |
| --- | --- |
| | Using the Transform Palette |

96
(4)

| | |
| --- | --- |
| | Using the Transform Commands |

100
(2)

| | |
| --- | --- |
| | Using the Arrange Commands |

102
(1)
103
(3)

| | |
| --- | --- |
| | Grouping and Pasting Into Objects |

106
(4)

| | |
| --- | --- |
| | Using the Control Palette for Objects |

110
(1)
111
(2)

| | |
| --- | --- |
| | Using the Info Palette with Objects |

113
(1)
114
(1)
115
(2)
117
(30)
118
(2)
120
(4)

| | |
| --- | --- |
| | Defining and Storing Swatches |

124
(8)
132
(2)
134
(4)
138
(2)
140
(1)

| | |
| --- | --- |
| | Creating Gradient Swatches |

141
(3)
144
(1)
145
(2)
147
(32)
148
(4)
152
(7)

| | |
| --- | --- |
| | Creating Custom Stroke Styles |

159
(7)

| | |
| --- | --- |
| | Adding Arrows and Corner Effects |

166
(1)
167
(4)

| | |
| --- | --- |
| | Adding Drop Shadows and Feathers |

171
(2)

| | |
| --- | --- |
| | Using the Pathfinder Commands |

173
(3)
176
(2)
178
(1)
179
(14)
180
(1)
181
(1)
182
(1)

| | |
| --- | --- |
| | Changing Curves and Corner Points |

183
(1)
184
(2)
186
(2)
188
(2)
190
(1)
191
(1)

| | |
| --- | --- |
| | Adding or Deleting Points on Paths |

192
(1)
193
(38)
194
(2)

| | |
| --- | --- |
| | Using Bridge to Place Artwork |

196
(1)
197
(3)

| | |
| --- | --- |
| | Setting the Image Import Options |

200
(4)

| | |
| --- | --- |
| | Working with Images Inside Frames |

204
(2)
206
(1)

| | |
| --- | --- |
| | Fitting Graphics in Frames |

207
(3)
210
(3)
213
(1)
214
(4)
218
(1)
219
(1)
220
(4)

| | |
| --- | --- |
| | Importing Transparent Images |

224
(2)
226
(4)

| | |
| --- | --- |
| | Applying Effects to Images |

230
(1)
231
(20)
232
(5)
237
(3)

| | |
| --- | --- |
| | Working with Paragraph Rules |

240
(4)

| | |
| --- | --- |
| | Inline and Anchored Objects |

244
(7)
251
(38)

| | |
| --- | --- |
| | Changing the Pages Palette |

252
(1)
253
(2)

| | |
| --- | --- |
| | Navigating and Moving Pages |

255
(4)

| | |
| --- | --- |
| | Creating and Separating Spreads |

259
(2)
261
(3)
264
(4)
268
(1)

| | |
| --- | --- |
| | Working with Master Pages |

269
(5)
274
(1)

| | |
| --- | --- |
| | Working with Page Numbers |

275
(2)
277
(5)

| | |
| --- | --- |
| | Creating a Table of Contents |

282
(5)
287
(2)
289
(8)

| | |
| --- | --- |
| | Creating and Deleting Layers |

290
(2)

| | |
| --- | --- |
| | Setting the Layer Options |

292
(3)
295
(2)
297
(8)

| | |
| --- | --- |
| | Storing Items in a Library |

298
(2)

| | |
| --- | --- |
| | Applying Library Items to a Page |

300
(1)

| | |
| --- | --- |
| | Setting the Library Display |

301
(1)

| | |
| --- | --- |
| | Searching and Sorting Libraries |

302
(2)

| | |
| --- | --- |
| | Creating and Using Snippets |

304
(1)
305
(36)
306
(1)
307
(3)
310
(1)

| | |
| --- | --- |
| | Creating and Using Tables |

311
(5)

| | |
| --- | --- |
| | Navigating Through Tables |

316
(1)
317
(2)

| | |
| --- | --- |
| | Working with Rows and Columns |

319
(6)

| | |
| --- | --- |
| | Adjusting Tables within a Text Frame |

325
(1)

| | |
| --- | --- |
| | Working with Headers and Footers |

326
(2)
328
(1)
329
(3)

| | |
| --- | --- |
| | Setting Borders, Strokes, and Fills |

332
(3)

| | |
| --- | --- |
| | Alternating Strokes and Fills |

335
(3)

| | |
| --- | --- |
| | Adding Diagonal Lines in Cells |

338
(1)

| | |
| --- | --- |
| | Using the Table or Control Palettes |

339
(2)
341
(26)
342
(1)
342
(4)

| | |
| --- | --- |
| | Finding and Changing Text |

346
(4)
350
(2)

| | |
| --- | --- |
| | Finding and Changing Text (continued) |

352
(1)
353
(1)
354
(2)
356
(3)
359
(2)
361
(1)
362
(1)

| | |
| --- | --- |
| | Using the Eyedropper on Text |

363
(2)
365
(2)
367
(32)
368
(2)
370
(3)

| | |
| --- | --- |
| | Defining Text Styles (continued) |

373
(5)

| | |
| --- | --- |
| | Loading and Importing Styles |

378
(4)

| | |
| --- | --- |
| | Applying Styles and Style Overrides |

382
(1)
383
(2)

| | |
| --- | --- |
| | Redefining and Deleting Styles |

385
(2)

| | |
| --- | --- |
| | Automatic Drop Cap Styling |

387
(2)
389
(4)
393
(1)
394
(2)

| | |
| --- | --- |
| | Defining Object Styles (continued) |

396
(1)

| | |
| --- | --- |
| | Working with Object Styles |

397
(1)

| | |
| --- | --- |
| | Using the Quick Apply Feature |

398
(1)
399
(16)
400
(1)

| | |
| --- | --- |
| | Using Adobe Paragraph Composer |

401
(1)

| | |
| --- | --- |
| | Applying Justification Controls |

402
(4)
406
(2)
408
(3)
411
(1)
411
(2)
413
(2)
415
(8)
416
(4)

| | |
| --- | --- |
| | Saving and Loading Color Settings |

420
(2)
422
(1)
423
(36)

| | |
| --- | --- |
| | Types of Interactive Elements |

424
(1)
425
(9)
434
(1)
435
(3)
438
(2)
440
(3)
443
(2)
445
(2)

| | |
| --- | --- |
| | General Button Properties |

447
(1)

| | |
| --- | --- |
| | Setting the Button States |

448
(5)
453
(1)
454
(2)

| | |
| --- | --- |
| | Applying Behaviors (continued) |

456
(1)

| | |
| --- | --- |
| | Deleting or Deactivating Behaviors |

457
(1)

| | |
| --- | --- |
| | Exporting Interactive PDFs |

458
(1)
459
(32)
460
(1)

| | |
| --- | --- |
| | Print Dialog Box Categories |

461
(2)

| | |
| --- | --- |
| | Setting the General Print Options |

463
(1)

| | |
| --- | --- |
| | Choosing the Setup Controls |

464
(1)
465
(2)
467
(2)

| | |
| --- | --- |
| | Setting the Output Controls |

469
(2)

| | |
| --- | --- |
| | Working with Separations Preview |

471
(1)

| | |
| --- | --- |
| | Separations Preview Plate Settings |

472
(1)

| | |
| --- | --- |
| | Working with Separations Preview (continued) |

473
(1)

| | |
| --- | --- |
| | Color Separations and Ink Manager |

474
(2)

| | |
| --- | --- |
| | Setting the Graphics Options |

476
(1)

| | |
| --- | --- |
| | Setting the Advanced Options |

477
(1)

| | |
| --- | --- |
| | Flattener Presets and Preview |

478
(4)

| | |
| --- | --- |
| | Working with Print Presets |

482
(2)
484
(1)

| | |
| --- | --- |
| | Creating PostScript Files |

485
(1)

| | |
| --- | --- |
| | Creating a Preflight Report |

486
(3)
489
(2)
491
(28)

| | |
| --- | --- |
| | Setting the Export File Options |

492
(1)
493
(1)
493
(2)
495
(3)
498
(3)
501
(2)
503
(1)
504
(2)
506
(2)
508
(3)

| | |
| --- | --- |
| | InDesign Interchange Format |

511
(1)
511
(2)
513
(3)
516
(1)
517
(2)
519
(30)

| | |
| --- | --- |
| | Modifying Keyboard Shortcuts |

520
(3)

| | |
| --- | --- |
| | Setting the Preferences Categories |

523
(1)

| | |
| --- | --- |
| | The Preference Categories |

523
(4)

| | |
| --- | --- |
| | General Preferences Controls |

527
(2)
529
(2)

| | |
| --- | --- |
| | Advanced Type Preferences |

531
(1)
532
(2)

| | |
| --- | --- |
| | Units & Increments Preferences |

534
(1)
535
(1)

| | |
| --- | --- |
| | Guides & Pasteboard Preferences |

536
(1)
537
(3)
540
(1)
541
(1)

| | |
| --- | --- |
| | Story Editor Display Preferences |

542
(1)

| | |
| --- | --- |
| | Display Performance Preferences |

543
(2)

| | |
| --- | --- |
| | Appearance of Black Preferences |

545
(1)

| | |
| --- | --- |
| | File Handling Preferences |

546
(1)
547
(1)
548
(1)
Index
549