Note: Supplemental materials are not guaranteed with Rental or Used book purchases.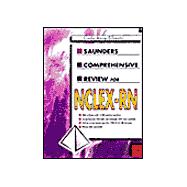 Saunders Comprehensive Review for Nclex-Rn
ISBN13:
9780721677958
by
Silvestri, Linda Anne
Elsevier Science Health Science div
Summary
This outstanding resource thoroughly reviews all areas of the latest test plan for the NCLEX-RN exam. An outline format offers easy access to essential information on topics such as maternity, pediatric, medical-surgical, psychiatric, and gerontologic nursing, fundamental skills, and pharmacology and is organized in the same manner as the new test plan. Practice exams at the end of each chapter ith answers, rationales, test-taking strategies, and reference sources strengthen users' understanding. A FREE CD-ROM includes the 2,700 practice questions from the text, as well as 600 additional questions and answers.
Table of Contents
UNIT I NCLEX-RN Preparation
1
(24)
3
(11)
14
(3)

| | |
| --- | --- |
| | 3 The NCLEX-RN Examination: From a Student's Perspective |

17
(2)
19
(6)
UNIT II Issues in Nursing
25
(34)
27
(9)
32
(1)
33
(3)

| | |
| --- | --- |
| | 6 Ethical and Legal Issues |

36
(13)
42
(3)
45
(4)

| | |
| --- | --- |
| | 7 Leadership and Management Issues |

49
(10)
54
(1)
55
(4)
UNIT III Nursing Sciences
59
(108)

| | |
| --- | --- |
| | 8 Fluids and Electrolytes |

61
(20)
72
(2)
74
(7)
81
(10)
87
(1)
88
(3)
91
(17)
99
(3)
102
(6)
108
(16)
116
(2)
118
(6)

| | |
| --- | --- |
| | 12 Total Parenteral Nutrition (TPN) |

124
(12)
127
(3)
130
(6)
136
(17)
143
(2)
145
(8)

| | |
| --- | --- |
| | 14 Administration of Blood Products |

153
(14)
157
(3)
160
(7)
UNIT IV Fundamental Skills
167
(76)

| | |
| --- | --- |
| | 15 Providing a Safe Environment |

169
(8)
173
(1)
174
(3)

| | |
| --- | --- |
| | 16 Administering Medication and Intravenous Solutions |

177
(18)
183
(5)
188
(7)
195
(8)
199
(1)
200
(3)

| | |
| --- | --- |
| | 18 Perioperative Nursing Care |

203
(18)
213
(2)
215
(6)
221
(10)
226
(1)
227
(4)

| | |
| --- | --- |
| | 20 Care of a Client with a Tube |

231
(12)
238
(1)
239
(4)
UNIT V Growth and Development Across the Life Span
243
(10)

| | |
| --- | --- |
| | 21 Theories of Growth and Development |

245
(8)
249
(1)
250
(3)
UNIT VI Maternity Nursing
253
(128)

| | |
| --- | --- |
| | 22 Female Reproductive System |

256
(7)
259
(1)
260
(3)

| | |
| --- | --- |
| | 23 Obstetrical Assessment |

263
(5)
264
(1)
265
(3)
268
(14)
274
(3)
277
(5)

| | |
| --- | --- |
| | 25 Risk Conditions Related to Pregnancy |

282
(24)
294
(3)
297
(9)
306
(19)
312
(4)
316
(9)

| | |
| --- | --- |
| | 27 Problems with Labor and Delivery |

325
(11)
328
(2)
330
(6)
336
(6)
338
(1)
339
(3)

| | |
| --- | --- |
| | 29 Postpartum Complications |

342
(8)
344
(2)
346
(4)
350
(23)
361
(4)
365
(8)

| | |
| --- | --- |
| | 31 Maternity and Newborn Medications |

373
(8)
376
(3)
379
(2)
UNIT VII Pediatric Nursing
381
(142)

| | |
| --- | --- |
| | 32 Growth and Development |

385
(14)
392
(2)
394
(5)

| | |
| --- | --- |
| | 33 Neurological, Cognitive, and Psychosocial Disorders |

399
(15)
403
(3)
406
(8)

| | |
| --- | --- |
| | 34 Eye, Ear, and Throat Disorders |

414
(9)
415
(3)
418
(5)
423
(12)
427
(3)
430
(5)

| | |
| --- | --- |
| | 36 Cardiovascular Disorders |

435
(7)
438
(1)
439
(3)

| | |
| --- | --- |
| | 37 Gastrointestinal Disorders |

442
(20)
451
(4)
455
(7)

| | |
| --- | --- |
| | 38 Metabolic and Endocrine Disorders |

462
(7)
465
(1)
466
(3)

| | |
| --- | --- |
| | 39 Renal and Urinary Disorders |

469
(9)
471
(2)
473
(5)

| | |
| --- | --- |
| | 40 Integumentary Disorders |

478
(5)
480
(1)
481
(2)

| | |
| --- | --- |
| | 41 Musculoskeletal Disorders |

483
(7)
486
(1)
487
(3)

| | |
| --- | --- |
| | 42 Acquired Immunodeficiency Syndrome |

490
(5)
491
(1)
492
(3)

| | |
| --- | --- |
| | 43 Hematological Disorders |

495
(6)
497
(1)
498
(3)
501
(12)
505
(3)
508
(5)

| | |
| --- | --- |
| | 45 Infectious and Communicable Diseases |

513
(10)
515
(2)
517
(6)
UNIT VIII Pediatric Medications and Calculations
523
(14)

| | |
| --- | --- |
| | 46 Pediatric Medications and Calculations |

526
(11)
529
(2)
531
(6)
UNIT IX The Adult Client with an Integumentary Disorder
537
(48)
540
(31)
553
(5)
558
(13)

| | |
| --- | --- |
| | 48 Integumentary Medications |

571
(14)
576
(3)
579
(6)
UNIT X The Adult Client with an Oncological Disorder
585
(54)
588
(40)
609
(5)
614
(14)

| | |
| --- | --- |
| | 50 Antineoplastic Medications |

628
(11)
632
(2)
634
(5)
UNIT XI The Adult Client with an Endocrine Disorder
639
(56)
643
(32)
656
(7)
663
(12)
675
(20)
682
(4)
686
(9)
UNIT XII The Adult Client with a Gastrointestinal Disorder
695
(70)

| | |
| --- | --- |
| | 53 Gastrointestinal System |

699
(44)
715
(9)
724
(19)

| | |
| --- | --- |
| | 54 Gastrointestinal Medications |

743
(11)
746
(3)
749
(5)
754
(11)
759
(2)
761
(4)
UNIT XIII The Adult Client with a Respiratory Disorder
765
(80)

| | |
| --- | --- |
| | 56 The Respiratory System |

769
(47)
789
(8)
797
(19)

| | |
| --- | --- |
| | 57 Client with Tuberculosis |

816
(17)
824
(2)
826
(7)

| | |
| --- | --- |
| | 58 Respiratory Medications |

833
(12)
838
(2)
840
(5)
UNIT XIV The Adult Client with a Cardiovascular Disorder
845
(86)

| | |
| --- | --- |
| | 59 Cardiovascular Disorders |

849
(61)
880
(10)
890
(20)

| | |
| --- | --- |
| | 60 Cardiovascular Medications |

910
(21)
922
(3)
925
(6)
UNIT XV The Adult Client with a Renal System Disorder
931
(80)
936
(58)
958
(12)
970
(24)
994
(17)
998
(4)
1002
(9)
UNIT XVI The Adult Client with an Eye or Ear Disorder
1011
(38)
1014
(25)
1029
(3)
1032
(7)

| | |
| --- | --- |
| | 64 Ophthalmic and Otic Medications |

1039
(10)
1045
(1)
1046
(3)
UNIT XVII The Adult Client with a Neurological Disorder
1049
(80)
1053
(58)
1074
(11)
1085
(26)

| | |
| --- | --- |
| | 66 Neurological Medications |

1111
(18)
1020
(3)
1023
(6)
UNIT XVIII The Adult Client with a Musculoskeletal Disorder
1129
(68)

| | |
| --- | --- |
| | 67 The Musculoskeletal System |

1133
(54)
1151
(11)
1162
(25)

| | |
| --- | --- |
| | 68 Musculoskeletal Medications |

1187
(10)
1190
(2)
1192
(5)
UNIT XIX The Adult Client with a Mental Health Disorder
1197
(98)

| | |
| --- | --- |
| | 69 Foundations of Psychiatric Mental Health Nursing |

1203
(12)
1206
(3)
1209
(6)
1215
(11)
1217
(1)
1218
(8)

| | |
| --- | --- |
| | 71 Mental Health Disorders |

1226
(25)
1235
(6)
1241
(10)
1251
(11)
1256
(2)
1258
(4)

| | |
| --- | --- |
| | 73 Crisis Theory and Intervention |

1262
(20)
1267
(5)
1272
(10)

| | |
| --- | --- |
| | 74 Psychiatric Medications |

1282
(13)
1288
(2)
1290
(5)
UNIT XX The Gerontological Client
1295
(22)

| | |
| --- | --- |
| | 75 The Gerontological Client |

1299
(18)
1307
(3)
1310
(7)
UNIT XXI Comprehensive Test
1317
(85)
1317
(31)
1348
(54)
General Bibliography
1402
(1)
Index
1403