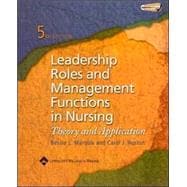 List Price: $53.28
Usually Ships in 2-3 Business Days
Questions About This Book?
What version or edition is this?
This is the 5th edition with a publication date of 2/3/2005.
What is included with this book?
The Used copy of this book is not guaranteed to inclue any supplemental materials. Typically, only the book itself is included.
Summary
Now in its Fifth Edition, this foremost leadership and management text incorporates application with theory and emphasizes critical thinking, problem solving, and decision making. More than 225 case studies and learning exercises promote critical thinking and interactive discussion. This edition includes 46 new case studies in settings such as acute care, ambulatory care, long-term care, and community health. The book addresses timely nursing leadership and management issues, such as leadership development, staffing, delegation, ethics and law, organizational, political, and personal power, management and technology, and more. Web links and learning exercises appear in each chapter. An Instructor's CD-ROM includes a testbank and PowerPoint slides.
Table of Contents
| | |
| --- | --- |
| | UNIT 1: A NEW APPROACH TO LEADERSHIP AND MANAGEMENT |

1
(66)

| | |
| --- | --- |
| | Decision Making, Problem Solving, and Critical Thinking: Requisites for Successful Leadership and Management |

1
(23)

| | |
| --- | --- |
| | Decision Making, Problem Solving, and Critical Thinking |

2
(1)

| | |
| --- | --- |
| | Vicarious Learning to Increase Problem-Solving and Decision-Making Skills |

3
(3)

| | |
| --- | --- |
| | Theoretical Approaches to Problem Solving and Decision Making |

6
(3)

| | |
| --- | --- |
| | Critical Elements in Problem Solving and Decision Making |

9
(4)

| | |
| --- | --- |
| | Individual Variations in Decision Making |

13
(2)

| | |
| --- | --- |
| | Overcoming Individual Vulnerability in Decision Making |

15
(2)

| | |
| --- | --- |
| | Decision Making in Organizations |

17
(7)

| | |
| --- | --- |
| | Introduction to Management and Management Decision Making |

24
(22)

| | |
| --- | --- |
| | Historical Development of Management Theory |

26
(5)

| | |
| --- | --- |
| | Management Decision-Making Technology |

31
(5)

| | |
| --- | --- |
| | Pitfalls in Using Decision-Making Tools |

36
(3)
39
(7)
46
(21)

| | |
| --- | --- |
| | Differences Between Leadership and Management |

47
(1)

| | |
| --- | --- |
| | Historical Development of Leadership Theory |

48
(1)

| | |
| --- | --- |
| | Evolution of Leadership Theory |

49
(3)

| | |
| --- | --- |
| | Contemporary Theories of Leadership |

52
(5)

| | |
| --- | --- |
| | Leadership and Management for Nursing's Future |

57
(3)

| | |
| --- | --- |
| | Integrating Leadership and Management Skills |

60
(7)

| | |
| --- | --- |
| | UNIT 2: FOUNDATION FOR EFFECTIVE LEADERSHIP AND MANAGEMENT |

67
(78)
67
(28)
70
(1)

| | |
| --- | --- |
| | Ethical Problem Solving and Decision Making |

70
(8)

| | |
| --- | --- |
| | Ethical Frameworks for Decision Making |

78
(1)

| | |
| --- | --- |
| | Principles of Ethical Reasoning |

79
(3)

| | |
| --- | --- |
| | ANA Code of Ethics and Professional Standards |

82
(2)

| | |
| --- | --- |
| | Ethical Dimensions in Leadership and Management |

84
(3)

| | |
| --- | --- |
| | Integrating Leadership Roles and Management Functions in Ethics |

87
(8)

| | |
| --- | --- |
| | Legal and Legislative Issues |

95
(29)
96
(2)
98
(1)

| | |
| --- | --- |
| | Legal Doctrines and the Practice of Nursing |

99
(2)
101
(2)

| | |
| --- | --- |
| | Avoiding Malpractice Claims |

103
(3)
106
(2)
108
(1)
108
(1)

| | |
| --- | --- |
| | Other Legal Responsibilities of the Manager |

109
(6)

| | |
| --- | --- |
| | Legal Considerations of Managing a Diverse Workforce |

115
(1)

| | |
| --- | --- |
| | Professional Versus Institutional Licensure |

116
(1)

| | |
| --- | --- |
| | Integrating Leadership Roles and Management Functions in Legal and Legislative Issues |

117
(7)

| | |
| --- | --- |
| | Patient, Subordinate, and Professional Advocacy |

124
(21)
125
(1)
125
(5)
130
(2)
132
(5)

| | |
| --- | --- |
| | Integrating Leadership Roles and Management Functions in Advocacy |

137
(8)

| | |
| --- | --- |
| | UNIT 3: ROLES AND FUNCTIONS IN PLANNING |

145
(124)

| | |
| --- | --- |
| | The Planning Hierarchy and Strategic Planning |

145
(25)
146
(2)
148
(1)

| | |
| --- | --- |
| | Vision and Mission Statements |

148
(1)

| | |
| --- | --- |
| | The Organization's Philosophy Statement |

149
(3)

| | |
| --- | --- |
| | Societal Philosophies and Values |

152
(1)

| | |
| --- | --- |
| | Individual Philosophies and Values |

152
(3)
155
(2)
157
(2)
159
(1)

| | |
| --- | --- |
| | Overcoming Barriers to Planning |

159
(1)

| | |
| --- | --- |
| | Strategic Planning in the Organization |

160
(3)

| | |
| --- | --- |
| | Integrating Leadership Roles and Management Functions in Planning |

163
(7)
170
(21)

| | |
| --- | --- |
| | The Development of Change Theory |

172
(3)

| | |
| --- | --- |
| | Driving and Restraining Forces |

175
(2)
177
(1)

| | |
| --- | --- |
| | Resistance: The Expected Response to Change |

178
(2)

| | |
| --- | --- |
| | Planned Change as a Collaborative Process |

180
(1)

| | |
| --- | --- |
| | The Leader--Manager as a Role Model During Planned Change |

181
(1)

| | |
| --- | --- |
| | Organizational Aging: Change as a Means of Renewal |

181
(1)

| | |
| --- | --- |
| | Organizational Change Associated with Nonlinear Dynamics |

182
(1)

| | |
| --- | --- |
| | Is the Nursing Profession in Need of Renewal? |

183
(1)

| | |
| --- | --- |
| | Integrating Leadership Roles and Management Functions in Planned Change |

184
(7)
191
(23)

| | |
| --- | --- |
| | Three Basic Steps in Time Management |

193
(4)
197
(9)

| | |
| --- | --- |
| | Integrating Leadership Roles and Management Functions in Time Management |

206
(8)
214
(31)
217
(3)

| | |
| --- | --- |
| | Steps in the Budgetary Process |

220
(1)
221
(5)

| | |
| --- | --- |
| | Cost-Effectiveness as a Unit Manager's Goal |

226
(1)
226
(2)
228
(1)
229
(2)

| | |
| --- | --- |
| | The Managed Care Movement |

231
(1)

| | |
| --- | --- |
| | Driving and Restraining Forces for the Managed Care Movement |

232
(1)

| | |
| --- | --- |
| | The Future of Managed Care |

233
(2)

| | |
| --- | --- |
| | Integrating Leadership Roles and Management Functions in Fiscal Planning |

235
(10)
245
(24)

| | |
| --- | --- |
| | Justifications for Career Development |

247
(1)
248
(1)

| | |
| --- | --- |
| | The Organization's Responsibility for Career Management |

249
(2)

| | |
| --- | --- |
| | Competency Assessment and Speciality Certification as Part of Career Management |

251
(1)
252
(1)

| | |
| --- | --- |
| | The Structured Coaching Interview |

253
(3)
256
(1)
257
(2)

| | |
| --- | --- |
| | The Employee's Responsibility for Career Planning |

259
(1)
260
(1)

| | |
| --- | --- |
| | Preparing a Professional Portfolio |

261
(2)
263
(1)

| | |
| --- | --- |
| | Integrating Leadership Roles and Management Functions in Career Development |

264
(5)

| | |
| --- | --- |
| | UNIT 4: ROLES AND FUNCTIONS IN ORGANIZING |

269
(80)
269
(34)
270
(2)

| | |
| --- | --- |
| | Components of Organizational Structure |

272
(6)

| | |
| --- | --- |
| | Types of Organization Structures |

278
(3)

| | |
| --- | --- |
| | Decision Making Within the Organizational Hierarchy |

281
(1)
281
(2)

| | |
| --- | --- |
| | Limitations of Organization Charts |

283
(1)
284
(4)

| | |
| --- | --- |
| | Shared Governance: The Organizational Design of the 21st Century? |

288
(2)

| | |
| --- | --- |
| | Organizations and Magnet Status |

290
(1)

| | |
| --- | --- |
| | Committee Structure in an Organization |

291
(3)

| | |
| --- | --- |
| | Integrating Leadership Roles and Management Functions Associated with Organizational Structure |

294
(9)

| | |
| --- | --- |
| | Understanding Organizational, Political, and Personal Power |

303
(24)
305
(3)
308
(5)

| | |
| --- | --- |
| | Strategies for Building a Personal Power Base |

313
(3)
316
(4)

| | |
| --- | --- |
| | Integrating Leadership Roles and Management Functions When Using Authority and Power in Organizations |

320
(7)
327
(22)

| | |
| --- | --- |
| | Modes of Organizing Patient Care |

328
(10)

| | |
| --- | --- |
| | Disease Management and Case Management |

338
(2)

| | |
| --- | --- |
| | Selecting the Optimum Mode of Organizing Patient Care |

340
(2)

| | |
| --- | --- |
| | Differentiated Nursing Practice |

342
(1)

| | |
| --- | --- |
| | Integrating Leadership Roles and Management Functions in Organizing Patient Care |

343
(6)

| | |
| --- | --- |
| | UNIT 5: ROLES AND FUNCTIONS IN STAFFING |

349
(94)

| | |
| --- | --- |
| | Preliminary Staffing Functions: Employee Recruitment, Selection, Placement, and Indoctrination |

349
(37)

| | |
| --- | --- |
| | Planning for Staffing and Responding to Shortages |

350
(4)
354
(3)
357
(1)
358
(10)
368
(3)
371
(1)
372
(4)

| | |
| --- | --- |
| | Integrating Leadership Roles and Management Functions in Preliminary Staffing Responsibilities |

376
(10)

| | |
| --- | --- |
| | Meeting Staff Socialization and Educational Needs for Team Building |

386
(30)

| | |
| --- | --- |
| | Socialization and Resocialization |

387
(2)

| | |
| --- | --- |
| | Clarifying Role Expectations Through Role Models, Preceptors, and Mentors |

389
(2)

| | |
| --- | --- |
| | Assistance in Meeting Role Demands |

391
(1)

| | |
| --- | --- |
| | Overcoming Motivational Deficiencies |

392
(1)

| | |
| --- | --- |
| | Employees with Unique Socialization Needs |

393
(5)
398
(11)

| | |
| --- | --- |
| | Integrating Leadership and Management in Team Building via Socialization and Education |

409
(7)

| | |
| --- | --- |
| | Staffing Needs and Scheduling Policies |

416
(27)

| | |
| --- | --- |
| | Unit Manager's Responsibilities in Meeting Staffing Needs |

418
(6)

| | |
| --- | --- |
| | Workload Measurement Tools |

424
(5)

| | |
| --- | --- |
| | The Relationship Between Nursing Care Hours, Staffing Mix, and Quality of Care |

429
(2)

| | |
| --- | --- |
| | Generational Considerations for Staffing |

431
(1)

| | |
| --- | --- |
| | The Impact of a Shortage of Nursing Staff Upon Staffing |

432
(1)

| | |
| --- | --- |
| | Fiscal and Ethical Accountability for Staffing |

433
(2)

| | |
| --- | --- |
| | Integrating Leadership Roles and Management Functions in Staffing |

435
(8)

| | |
| --- | --- |
| | UNIT 6: ROLES AND FUNCTIONS IN DIRECTING |

443
(138)

| | |
| --- | --- |
| | Creating a Motivating Climate |

443
(24)

| | |
| --- | --- |
| | Intrinsic Versus Extrinsic Motivation |

445
(1)
446
(7)

| | |
| --- | --- |
| | Creating a Motivating Climate |

453
(3)

| | |
| --- | --- |
| | Strategies for Creating a Motivating Climate |

456
(1)

| | |
| --- | --- |
| | Professional Support Systems for the Manager |

457
(1)

| | |
| --- | --- |
| | Integrating Leadership Roles and Management Functions in Motivating |

458
(9)

| | |
| --- | --- |
| | Organizational, Interpersonal, and Group Communication |

467
(32)

| | |
| --- | --- |
| | The Communication Process |

468
(2)

| | |
| --- | --- |
| | Variables Affecting Organizational Communication |

470
(2)

| | |
| --- | --- |
| | Organizational Communication Strategies |

472
(1)

| | |
| --- | --- |
| | Channels of Communication |

473
(1)
474
(1)

| | |
| --- | --- |
| | Written Communication Within the Organization |

475
(4)

| | |
| --- | --- |
| | Interpersonal Communication in a Multicultural Workplace |

479
(5)
484
(4)

| | |
| --- | --- |
| | The Impact of Technology on Organizational Communication |

488
(1)
489
(1)

| | |
| --- | --- |
| | Integrating Leadership Roles and Management in Organizational and Interpersonal Communication |

490
(9)
499
(24)
500
(3)
503
(2)

| | |
| --- | --- |
| | Delegation as a Function of Professional Nursing |

505
(8)

| | |
| --- | --- |
| | Integrating Leadership Roles and Management Functions in Delegation |

513
(10)
523
(30)

| | |
| --- | --- |
| | The History of Conflict Management |

524
(3)
527
(1)
528
(1)
529
(4)
533
(2)
535
(7)

| | |
| --- | --- |
| | Alternative Dispute Resolution |

542
(1)
542
(1)

| | |
| --- | --- |
| | Integrating Leadership Skills and Management Functions in Managing Conflict |

543
(10)

| | |
| --- | --- |
| | Understanding Collective Bargaining, Unionization, and Employment Laws |

553
(28)

| | |
| --- | --- |
| | Unions and Collective Bargaining |

554
(1)

| | |
| --- | --- |
| | Historical Perspective of Unionization in America |

554
(4)

| | |
| --- | --- |
| | American Nurses Association and Collective Bargaining |

558
(1)

| | |
| --- | --- |
| | Employee Motivation to Join or Reject Unions |

558
(3)

| | |
| --- | --- |
| | Union Organizing Strategies |

561
(1)

| | |
| --- | --- |
| | Managers' Role During Union Organizing |

562
(2)

| | |
| --- | --- |
| | Effective Labor--Management Relations |

564
(2)
566
(8)

| | |
| --- | --- |
| | State Health Facilities Licensing Boards |

574
(1)

| | |
| --- | --- |
| | Integrating Leadership Roles and Management Functions in Working with Unions and Employment Laws |

575
(6)

| | |
| --- | --- |
| | UNIT 7: ROLES AND FUNCTIONS IN CONTROLLING |

581
(98)
581
(34)

| | |
| --- | --- |
| | Defining Quality Health Care |

583
(1)

| | |
| --- | --- |
| | Quality Control as a Process |

584
(3)

| | |
| --- | --- |
| | The Development of Standards |

587
(2)

| | |
| --- | --- |
| | Audits as a Quality Control Tool |

589
(4)

| | |
| --- | --- |
| | Total Quality Management/Toyota Production System |

593
(2)

| | |
| --- | --- |
| | Who Should Be Involved in Quality Control? |

595
(4)

| | |
| --- | --- |
| | External Impacts on Quality Control |

599
(8)

| | |
| --- | --- |
| | Integrating Leadership Roles and Management Functions in Quality Control |

607
(8)
615
(27)

| | |
| --- | --- |
| | Using the Performance Appraisal to Motivate Employees |

616
(3)

| | |
| --- | --- |
| | Strategies to Ensure Accuracy and Fairness in the Performance Appraisal |

619
(2)

| | |
| --- | --- |
| | Performance Appraisal Tools |

621
(9)

| | |
| --- | --- |
| | Planning the Appraisal Interview |

630
(1)

| | |
| --- | --- |
| | Overcoming Appraisal Interview Difficulties |

630
(3)
633
(1)

| | |
| --- | --- |
| | Coaching: A Mechanism for Informal Performance Appraisal |

634
(1)

| | |
| --- | --- |
| | Integrating Leadership Roles and Management Functions in Conducting Performance Appraisals |

635
(7)

| | |
| --- | --- |
| | Problem Employees: Rule Breakers, Marginal Employees, and the Chemically or Mentally Impaired |

642
(37)

| | |
| --- | --- |
| | Constructive Versus Destructive Discipline |

644
(1)

| | |
| --- | --- |
| | Self-Discipline and Group Norms |

645
(1)
646
(2)

| | |
| --- | --- |
| | Discipline as a Progressive Process |

648
(3)

| | |
| --- | --- |
| | Disciplinary Strategies for the Nurse--Manager |

651
(6)
657
(1)

| | |
| --- | --- |
| | Disciplining the Unionized Employee |

658
(1)
659
(2)

| | |
| --- | --- |
| | The Chemically Impaired Employee |

661
(10)

| | |
| --- | --- |
| | Integrating Leadership Roles and Management Functions Through Discipline |

671
(8)
Appendix: Suggestions and Solutions to Special Learning Exercises
679
(10)
Glossary
689
(12)
Index
701